Good Goals for the New Year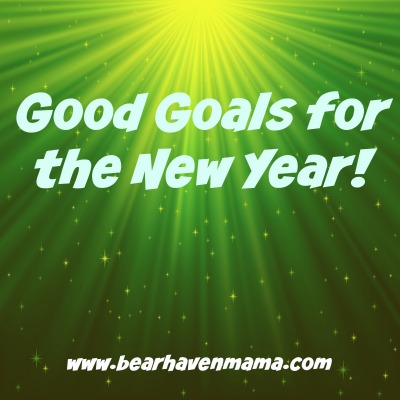 by Delia (Contributing Writer)

Every year, I jumped on the bandwagon of setting a New Year's resolution.  This year instead of making a resolution, I made a list of goals.  Things I want to accomplish, but not really resolutions.  Resolutions are things that tend to be stuck to strictly within the first few weeks of the year and then when we screw up and "fail" we give up entirely.  We often backslide even farther than where we started.  I am starting with this list of goals for the New Year.
Listen more/talk less:  I want to work on my listening skills.  I too frequently listen to respond rather than listening to truly understand.  This is going to take some work.

Communicate with friends and family more:  Call them, and send encouraging notes, birthday cards, and anniversary cards.  Visit my parents more, ask questions, learn more about their lives.

Use my free time more effectively:  knit, paint, make handmade gifts for Christmas.  I waste so much time  at the end of the day just watching TV

Write more: I have ideas for books I want to write and  I want to keep writing for this blog

Learn to say no:  I say yes to helping with too many things.  I always think that no one else is going to do it.  Sometimes, I think people just expect me to step up and do things so they don't volunteer.  At some point I need to step back and let others take their turn.  I need to keep my sanity which is difficult sometimes

Get more exercise:  Even if it is just more steps during the day, I am going to focus on being more active and taking care of me.  I need to lose weight, but I don't want to be concentrated on the negative of weight loss.  I would rather look toward improving my health through increased activity.  If that results in weight loss…great.  If not, that is fine too.

I am reaching out to friends to have them help me be more accountable to my goals.  I am going to be gentle with myself.  If I slide with one of my goals, I will just allow myself to move on and try again.  Women in particular need to stop beating themselves up for not being successful when we try something.  When we slip, we just need to give ourselves another chance.  Let's make a vow to just keep trying this year.  It doesn't matter how many times we fall down; it matters how many times we get back up.