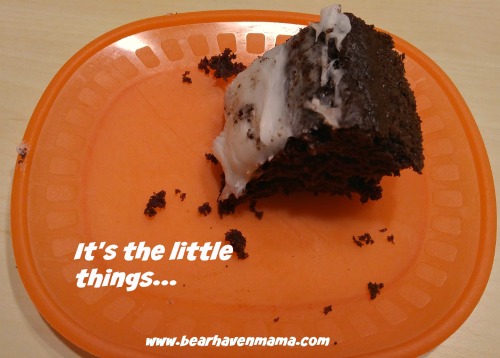 This week I celebrated a birthday. We are supposed to celebrate it later this week as my husband was just getting done with his hitch on this day. To tell you the truth, I was a little bummed. My birthday is two weeks and one day after Christmas and often gets overlooked and sometimes forgotten because of the holiday season. I say that I am okay with it because I am used to it, but honestly, it would be nice to be treated like a princess on my special day. That is why I felt my heart swell when I came home from running errands and taking Sissy to dance to see my son made this for me for my special day!


My son has never really made a cake, and yet it did not stop him from making me a devil's food chocolate cake with cream cheese icing. My son is a superstar and really made me feel like it really was my day. Also, for his first try, it was very yummy!
It does not take grand gestures to let someone know they are important or loved. It is the little things, like baking a cake, that make all the difference.