5 Reasons to Celebrate Your Holiday Break With Kids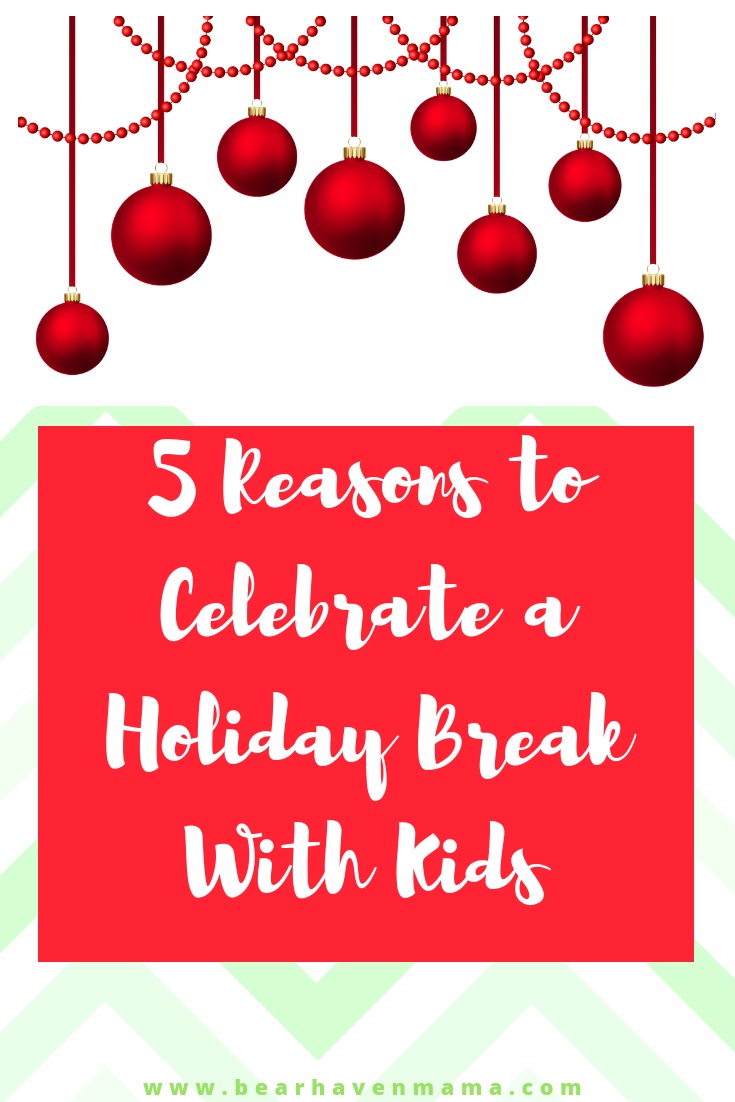 Every year, I see the memes this time of year of moms pulling out their hair over the kids running amok during their holiday break, and I get it. Whether your kids are homeschooled or go to traditional school, this time of year creates some chaos in that the normal routine is pulled from them. Trying to cram in visits to everyone for Christmas and the addition of the amount of cookies, candies, and sweets can make all of us go a little buggy. However, if you are a parent who is home with your kids for the duration of it, you can make it an enjoyable time. Here are my top five reasons to enjoy this time and make it your own, instead of being frazzled
1. A Break from Extra-Curriculars
As much as I love my kids' dance studio, their scout groups, and all the other things they do, I love not playing taxi service for a week or two. I like the freedom of being able to make or not make plans without worrying about being somewhere else at a certain time. Yesterday, I took a much needed nap without worrying about picking anyone up from dance. It felt luxurious!
2.  An Opportunity To Do Some of The Things You Wanted To Do Before Christmas
Obviously, if you missed Santa, you probably missed him for the year, but there are plenty of other things that go on through New Year's or until Epiphany that you can still do. A lot of zoos do holiday events until the New Year. If you are like my family and like to see holiday light displays, most of those are still up. Take a day to watch all the holiday movies you missed with your kids in your jammies. Bake cookies. Just don't over do it! Have fun with it!
3. A Great Time to do Kid Dates
I know that when school starts back up, we all get busy. I homeschool, and we get really busy with lessons, activities, and clubs. During the holiday break, it is a great time to get that one on one time with your kids. I love doing kid dates. Granted, these days I get more kid dates with Crankles than anyone else, but I try to make dates with my other two whenever I can. I love that one on one time. It is a great way to connect and get your kids to open up to you more. They don't even have to be fancy. Sometimes, my older daughter and I stay up late and binge on a show together. My son and I like to go cruising around town listening to music. I find out more from these than going about our day to day activities. It is my most treasured time with them.
4.  A Chance to Take Care of Projects
Do you have some projects around the house that you wanted the kids to do with you… ie cleaning rooms, organizing their things, wardrobe purges, …etc… Now is the time to do it! Make a day and take care of what needs done. Winter breaks are a great time to get the cleaning bug and get stuff done!
5. A Chance to Enjoy Them
Yes, I know this sounds cheesy, and yes, I know all of us need a break from our kids now and then. I am a firm believer that to be a good mommy, I need time alone. However, this time of year is usually the longest stretch of a break you have until summer. I was looking at home movies the other day from when my oldest daughter was the same age as my youngest daughter. She seemed so little, and now she is twelve. My son had this cute little kid voice as he was 7 in the video. That kid…he will be 16 and wanting to drive in June. I know that it gets chaotic. I know that sometimes I want to pull my hair out or sometimes even want to pack things up and get away for a day or two. However, at the end of the day, the thing I want the most is to soak this time in as much as I can.
Final thoughts
I am not saying that your kids will be perfect angels or that you are going to enjoy every moment of the break. However, thinking about these reasons and finding ways to make the days go smoother will make better memories and help you all enjoy the break! What are you doing with your family this holiday break? I would love to hear from you in the comments below!