ARTistic Pursuits Homeschool Art Curriculum Review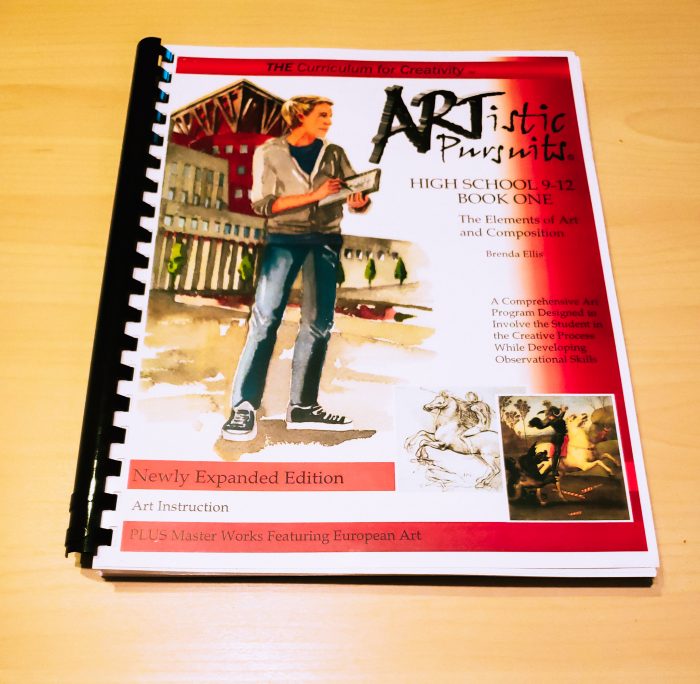 Disclaimer: I received a FREE copy of this Artistic Pursuits: High School 9-12 Book 1 Homeschool Art Curriculum through the HOMESCHOOL REVIEW CREW in exchange for my honest review. I was not required to write a positive review nor was I compensated in any other way. For more information, please visit my disclosures page.
*Misfit Mama Bear Haven is reader supported. This means that when you purchase through affiliate links on this site, I may receive a small commission, at no cost to you. Misfit Mama Bear Haven is a participant in the Amazon Services LLC Associates Program, an affiliate advertising program designed to provide a means for sites to earn advertising fees by advertising and linking to amazon.com.*
My oldest daughter spends a lot of time honing her art skills, and recently we have been using the Artistic Pursuits High School 9-12 Book One Art Curriculum from Artistic Pursuits. If you are looking for an in-depth art course that combines technique and art history, then you definitely want to read our review!
What Is Artistic Pursuits Homeschool Art Curriculum?
Artistic Pursuits provides a complete fine arts program with art instruction, art history, and art projects. The only thing you need to purchase separately is the art supplies to complete the projects. Artistic Pursuits has programs from elementary all through high school. For students in lower levels, a parent may need to give some assistance. For the high school art courses, the work can be done independently.
In addition to the courses available on their website, you can also find free video lessons for beginning drawing students at https://artisticpursuits.mykajabi.com/blog. 
What We Like About Artistic Pursuits
We take art pretty seriously in our household. Maybe it has to do with the fact that my father-in-law was a fabulous artist and former art professor at Lock Haven University. We have artwork all over our house, and we started art courses with all three kids at an early age.
My older daughter not only loves to draw, but she loves history, especially art history. I thought this would be a great course for her because it combines some of her favorite things.
In My Daughter's Words
Here is what my daughter had to say about the Artistic Pursuits High School 9-12 Homeschool Art Curriculum:
Artistic Pursuits is a great art program. It has helped my art a bit, especially with prospective. I love that it teaches elements of art, the difference between mediums, what different pencils are used for,  and much more! Overall it's really nice, and i will continue to use it.
Sissy wants to get better at different types of drawing. The lessons definitely give her ways to learn and improve. Here is one of the drawings she did for the course:
Final Thoughts
If you are searching for a high school homeschool art curriculum, I highly suggest you check out  the Artistic Pursuits High School 9-12 Book One Art Curriculum from Artistic Pursuits. Also be sure to check them out on social media as well:
Facebook: https://www.facebook.com/ArtisticPursuitsInc/
Twitter: https://twitter.com/ARTisticPursui1
Instagram: https://www.instagram.com/artisticpursuitsinc/
You can also read more reviews by the Homeschool Review Crew by clicking the link below! As always, I welcome your questions and thoughts! If you found this review helpful, be sure to check out some of my other reviews! Don't forget to follow me on social media and subscribe to the blog at the bottom or side of the page (depending on whether you are using a desktop or mobile device)!