Catch Grossology at the GLSC before it's Gone!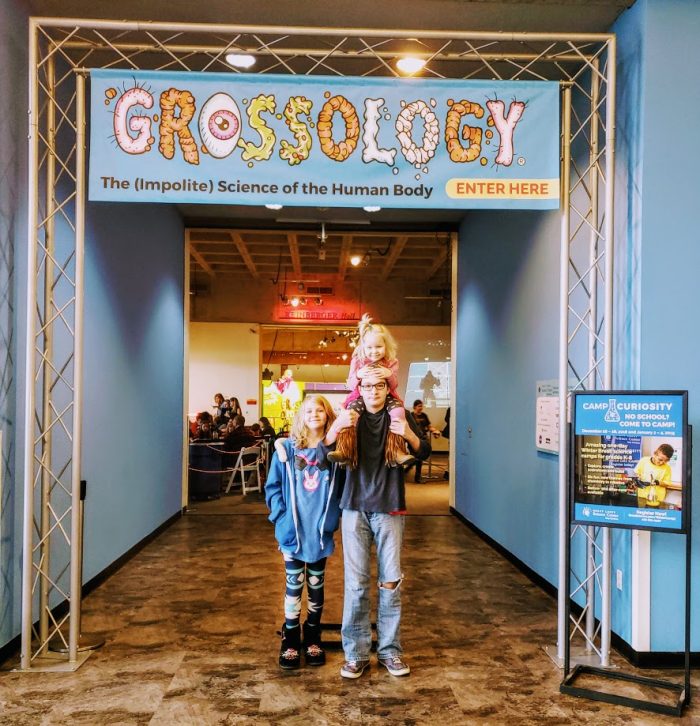 Are your kids fascinated by farts, burps, boogers, and other bodily functions? If so, you need to check out the Grossology exhibit at the Great Lakes Science Center before it closes January 6!
*Misfit Mama Bear Haven is reader supported. This means that when you purchase through affiliate links on this site, I may receive a small commission, at no cost to you. Misfit Mama Bear Haven is a participant in the Amazon Services LLC Associates Program, an affiliate advertising program designed to provide a means for sites to earn advertising fees by advertising and linking to amazon.com.*
Grossology: The (Impolite) Science of the Human Body opened there October 12 and runs through January 6, 2019. Through this interactive exhibit, kids get to explore the good, the bad, and the downright disgusting ways our bodies work. It's a great way to disguise your science lessons in a fun way! Your kids will have fun playing games and interacting with the demonstrations that they won't realize they are actually learning.
Grossology is based on the book with the same name by Sylvia Branzei. Using terms that kids already use and being at their level, it makes science fun and gives a great learning tool that kids of all ages can enjoy.
My big kids had a blast playing a pinball game based on the workings of the intestines. They got to tinker with a set up that showed why and how people vomit. It was totally disgusting but a lot of fun. As a homeschooling mom, I love finding ways to make learning fun, and exhibits like this provide a hands on approach that makes the lessons really stick in their heads.
If you are planning on taking a child that has sensory processing issues, please note that you might want to wait until after the New Year when it is less crowded as the lights, sounds, and activity may be overstimulating. Our youngest did not make it through the exhibit but wants to come back to visit another day. The wonderful thing though about the Great Lakes Science Center is that there is a ton of other things to do and places to go within other exhibits that helped her stay calm. Plus, you can always step outside and look at the boats if you do happen to go on a very busy day.
This was our first experience at the Great Lakes Science Center, and I will be covering the rest of the Science Center next week. It is pretty easy to navigate, and parking is pretty easy as there is a parking garage attached. We can't wait to visit again and see what new exhibits they bring next!
Have you been to the Grossology exhibit, either at the Great Lakes Science Center or somewhere else? If so, what part did you or your kids enjoy the most? As always, I love hearing from you, and don't forget to subscribe and follow me on my other social media channels for stories, fun, and solidarity in parenting!
(*We did receive passes in exchange for my review. All opinions are my own!)