Connections Stationary Letter Writing Kit for Kids Review from Byron's Games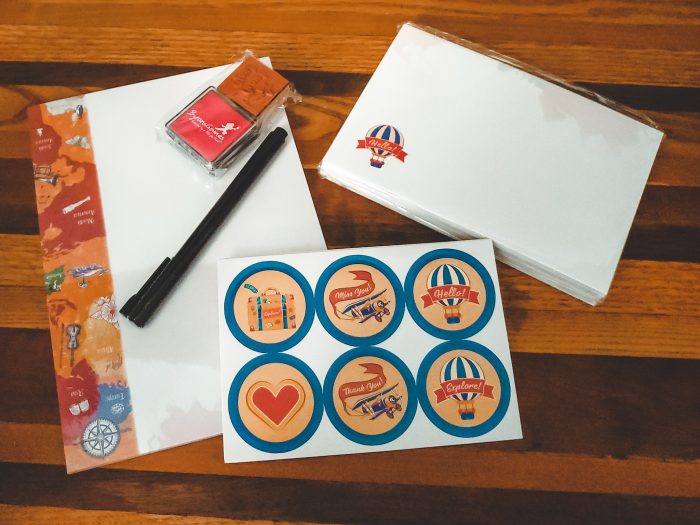 Disclaimer: I received a FREE copy of this Connections Letter Writing Kit for Kids from Byron's Games product through the HOMESCHOOL REVIEW CREW in exchange for my honest review. I was not required to write a positive review nor was I compensated in any other way.
*Misfit Mama Bear Haven is reader supported. This means that when you purchase through affiliate links on this site, I may receive a small commission, at no cost to you. Misfit Mama Bear Haven is a participant in the Amazon Services LLC Associates Program, an affiliate advertising program designed to provide a means for sites to earn advertising fees by advertising and linking to amazon.com.*
My youngest daughter wants to start writing letters to her friends and grandparents, so when I got the opportunity to review this  Connections Stationary Letter Writing Kit for Kids from Byron's Games, I thought this would be perfect to help her get started! This letter writing kit has everything she needs to get started!
A Bit about Byron's Games
Byron's Games is named after Byron, who at 6 years old spent a month in the hospital for an illness. During that time, he got the inspiration to create games and activities to help kids like him learn and have fun through their hospital stay and beyond.  In 2018, thanks to a Kickstarter program, he got that chance! He also donated his game Continent Race to over 130 children's hospitals nationwide.
Pretty cool, huh?
It is always awesome to see someone take something bad and turn it into something amazing. As a former small toy store owner, these are just the stories I love to see when picking toys, games, and activities for my kids! I love for my kids to be inspired!
What's inside the Connections Stationary Letter Writing Kit for Kids?
This letter writing kit contains everything a child needs to get started learning to write letters to family and friends! The contents include:
stationery paper
envelopes
stickers
pen
stamper set
The stickers contain different themes so your child can write a note to say hello or one to say thank you for something! Teaching children to write letters is a great way to express gratitude and develop their emotional intelligence.  Being able to decorate the letters just adds to the fun! To see more about the kit and how to use it, be sure to check out the video below!
What we Loved About this Letter Writing Kit for Kids
I love the story behind Byron's Games, so I was already on board to try this kit out! I was also impressed with the quality of the paper and products used. This letter writing kit really does contain everything your child needs to start writing letters. When we are done, we can neatly store everything back in the box for future usage too!
I feel letter writing is becoming a lost art. In this digital age of social media, even writing an email doesn't happen as much anymore. I hardly ever receive a letter from anyone…except for my grandma. Grandma sends letters and cards to us. She doesn't have the internet either, so teaching the kids to write letters to her is a great way to let her know how much we love her!
Find Out More about Byron's Games and the Connections Letter Writing Kit for Kids
If you would like to learn more about the Connections Stationary Kit Letter Writing Kit for kids from Byron's Games, check them out on social media:
Facebook: https://www.facebook.com/ByronsGames
Twitter: https://twitter.com/ByronsGames
Instagram: https://www.instagram.com/byronsgames/
Also, don't forget to check out the other Byron's Games reviews by clicking the Homeschool Review Crew link below! I hope you found this review helpful. Don't forget to check me out on social media too for reviews, parenting advice and fails, and fun memes!