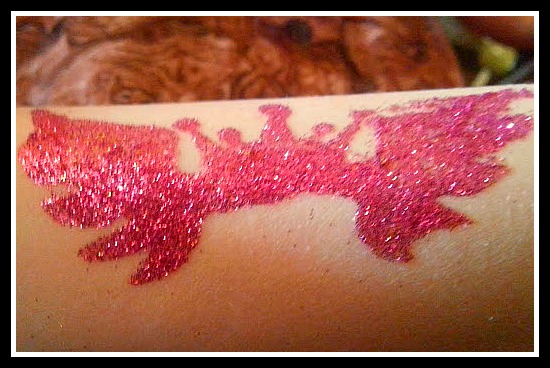 Face painting is a great activity to add to a party, a playdate, or a rainy day activity. The kids and I love to get creative which is why we were eager to review some products from FacePaint.com.


I have used different face stamps in the past for parties that I have done, and kids really love it! It's a fun activity to do when everyone is arriving to keep them occupied. Sissy was so happy to have a day of trying out these face stamps on me and her. She made sure that she put on her favorite tea hat just for the occasion!

These particular face stamp kits are great. I liked using the paints over the markers that I am used to using because the markers dry up whereas these paints can have a bit of water added to them. The sponges are soft, and the paint washes right off in the event that you mess up, which I often do because I don't always have the steadiest of hands. It is completely non-toxic, and the paint shows up nicely as you can see demonstrated on Sissy! I can't wait to bust these stamps out for our next big playdate with our friends!
Bubby, Sissy, and I also experimented with the Glimmer Body Art Party in a Box. These kits are great and easy to use!

The Glimmer Body Art Party in a Box comes with everything you need to make fun glitter body tattoos, and the kit is easy to use! You apply the stencil, peel, apply the body glue, remove stencil, brush on the glitter with the small brush, and brush off the excess with the large brush. I practiced on Bubby and did a star in gold glitter. My first attempt, as you can see turned out okay, but when I did the pink tattoo on Sissy, it turned out much better! We had a lot of fun making glittery art on our arms. These tattoos will last up to seven days too, which the kids loved! The only suggestion I make is that when you use this, make sure you have a plastic tablecloth or something down to catch the extra glitter!

We had a blast trying out these kits from Face Paint and can't wait to try out some of the other products on their website! Face Paint carries everything from face paints, to powder makeup, and tattoos. You can find them at www.facepaint.com and also on Facebook. Their kits and supplies would definitely be a fun idea to add to your next event!
*I received the kits used in this review from Face Paint as compensation for the review. However, all opinions are my own.