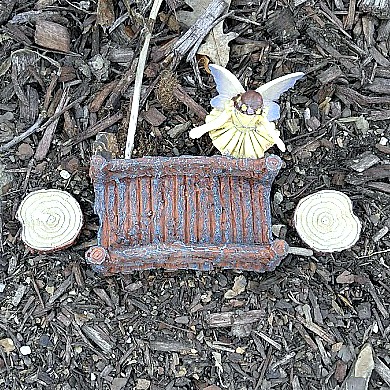 I have what people call a brown thumb. This is problematic right now because our new house has several flower beds. I decided that since I am not really good with plants, I might do some other things in those gardens that don't interfere with the plants that seem to grow on their own. Thank goodness they do that by themselves.


I have been noticing Fairy Garden stuff everywhere…at Target, Home Depot, and even the dollar stores. Miss Crankles volunteered to be my partner in crime on this project, and she happily picked out pieces to start our project.
We decided that the fairies needed some houses, so we grabbed a few houses, and I am going to paint some more at ceramics class.


To make it more interesting, I told her the fairies lived there. Then we set a fairy figure by the swing set so that he could push any fairies on the swing that may come upon our little garden.
We also thought they needed a place to sit, so we positioned a table and chairs. Then we placed another fairy there to await company.


To finish the start of our fairy garden, we put a little bridge with a fairy to welcome others to our little fairy garden.


The key to making this fun has been telling a story as we have been creating this garden. Miss Crankles is small, but she has a big imagination and loves being told how the fairies are going to visit the garden at night and stay in our little fairy houses and swing on our fairy swing. Adding whimsy to your life can make you feel like a kid too. Telling her the story and seeing her excitement makes me want to believe that maybe at night while I sleep, the fairies will play in the little garden we made.
What kinds of things do you do to spark imagination? I would love to hear your story in the comments below!