Glow In The Dark Unicorn Blanket Review, fun for pretend play! (and a giveaway)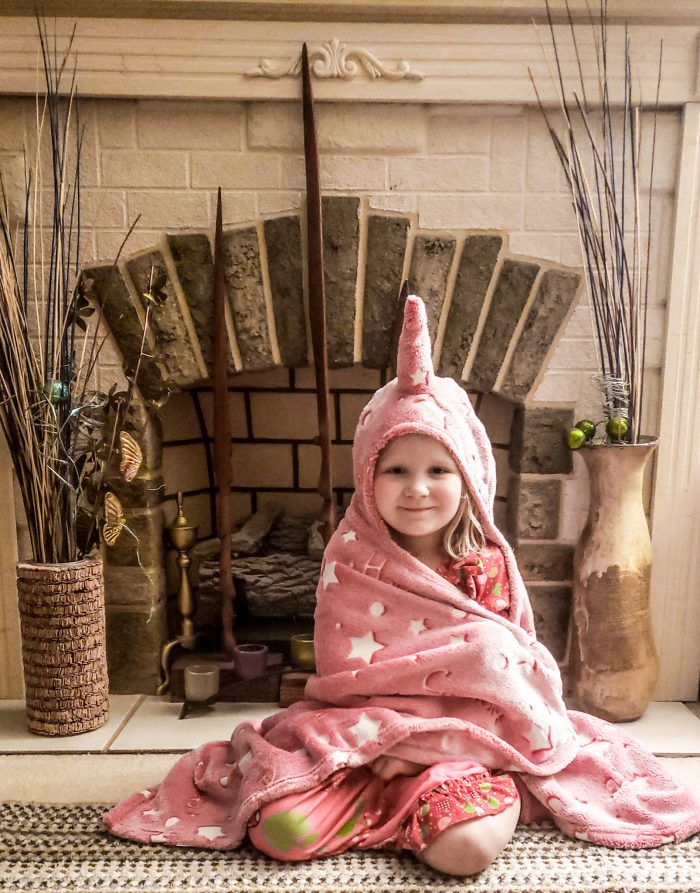 *Misfit Mama Bear Haven is reader supported. This means that when you purchase through affiliate links on this site, I may receive a small commission, at no cost to you. Misfit Mama Bear Haven is a participant in the Amazon Services LLC Associates Program, an affiliate advertising program designed to provide a means for sites to earn advertising fees by advertising and linking to amazon.com.*
I love products and toys that spark imagination! So when we got the opportunity to review this cute glow in the dark unicorn from Liderstar recently, I knew Miss Crankles would have fun with it! It's a blanket and a way to play pretend! How awesome is that?
*This post is sponsored by Liderstar, but all opinions are my own
About the Blanket
If you saw my review for the Glow In the Dark Mermaid Blanket, you probably already see the similarities in the design of this one!
This blanket still uses the UV Flashlight, already included, to activate the glow in the dark properties. To get the blanket to glow, all you have to do is shine the flashlight on the blanket for about a minute. Then, turn off the lights for a fun, glow in the dark experience!
It also is hypoallergenic and made from a microfiber that doesn't shed.
Unlike the mermaid one, the glow in the dark unicorn blanket is more of a blanket than a sack. It has a hood with a unicorn horn. Your child can wrap up in the blanket or pretend to be a unicorn. Because my daughter loves to play dress up, she loves to run around pretending she is a unicorn!
What We Love About the Glow in The Dark Unicorn Blanket
As someone who worked for years as a toy store owner and children's entertainer, I love anything that sparks imaginative play. Miss Crankles loves to dress up in costumes, and she also loves unicorns. She uses her Liderstar blankets to cuddle up and watch movies, but she also loves to pretend she is a unicorn with it.
This blanket is big enough that you could give it to a teenager, or even an adult that loves all things unicorn. I originally thought that I would give this one to Sissy to review. However, Crankles fell in love with it right away. She says that she and her sister will share both blankets…for now.
The glow in the dark properties are a nice touch. It makes for some before bedtime fun. However, if that is not your thing, the blanket is cute even when it doesn't glow in the dark. I really love how soft it is too!
Where to Buy
You can purchase the Glow in the Unicorn Blanket on Amazon and the Liderstar website. They also have some other fun products too! Find out more about the company by checking them out on social media as well:
Facebook: https://www.facebook.com/liderstarofficial/
Instagram: https://www.instagram.com/liderstar_official/
Pinterest: https://www.pinterest.com/officialliderstar/
YouTube: https://www.youtube.com/channel/UCmsfN_fPSZ3zJz9mLRf5kKw
If you found this review helpful, be sure to check out some of my other reviews! Don't forget to follow me on social media and subscribe to the blog at the bottom or side of the page (depending on whether you are using a desktop or mobile device)!
And Now for a Giveaway for a Glow in the Dark Unicorn Blanket!
Liderstar is giving one lucky reader a Glow in the Dark Unicorn Blanket, so here are all the deets!
This giveaway is through Rafflecopter and goes until 07/31/2020 at 11:59 pm EST! For giveaway rules and disclosures, please see my disclosure page!
To enter, click the Rafflecopter Link to get started and good luck!
Also…check out these other fun giveaways by some of my blogger friends!
You are invited to the Inlinkz link party!