How Teaching Textbooks Makes Homeschooling Year Round Easier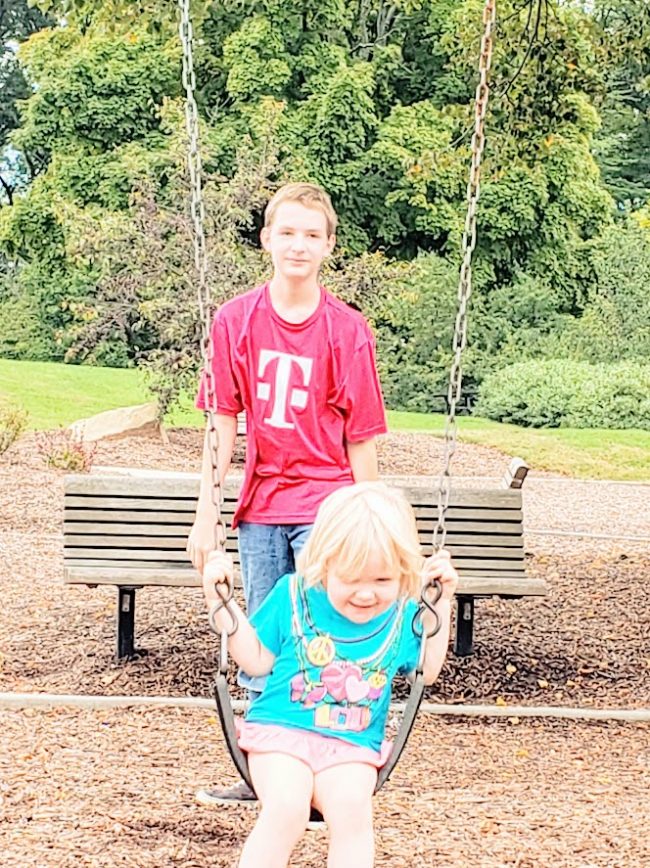 While homeschooling all year long sounds daunting to some, my family participates in learning activities even in summer. Because one of my children struggles in some subjects,  like mathematics, this allows my kids to keep learning at their own pace in order to retain the knowledge all year long. It is one of the reasons I am grateful to have the Teaching Textbooks curriculum this year for the kids.
*This post contains affiliate links, which means I may receive a small commission, at no cost to you, if you make a purchase through a link! Misfit Mama Bear Haven is a participant in the Amazon Services LLC Associates Program, an affiliate advertising program designed to provide a means for sites to earn advertising fees by advertising and linking to amazon.com.*
Today's post about homeschool math on Misfit Mama Bear Haven is sponsored by Teaching Textbooks. 
What Does Homeschool All Year Long Look Like?
When you hear me say "homeschool all year long," I bet you think I am talking about long hours of instruction when it's 80 degrees and the pool is calling. Don't worry, it's nothing like that. Generally for us, our school time is on the lighter side in the summer. We spend learning time doing things like unit studies, creative writing, and mathematics work. If my kids have a course they did not finish in the spring, they can finish it over the summer at their own pace. We take smaller breaks at different points in the year. However, I find that my kids learn best when they learn continuously.
I like to have curriculum that either comes with apps for our devices or is incredibly easy to take from place to place. We spend a lot of time at parks and traveling from place to place, so we got to be mobile. Also, since I work from home, I like to make sure that I won't have to spend hours of prep work either.  We have been doing this system for the last few years, and it works well for us. Plus, it helps my kids learn at their own pace.
How Teaching Textbooks Fits Our Homeschool Plan
As I said earlier, one of my children struggles with math. It was one of the reasons I homeschool my children all year round. Statistically, according to research done by NWEA, children lose 20-50% of their knowledge gained in reading and math over the course of a summer. Since my child already struggles, I want to help him retain as much as possible. It has been a challenge though to find a math curriculum that keeps his interest and helps him learn. Teaching Textbooks has been that program.
While I struggle still keeping my son on task as a whole because he is fifteen and very much a typical teenager in that he is ALWAYS on his phone, Teaching Textbooks has been the only math program in which he has been consistent. Teaching Textbooks is flexible. You can still buy hard copies, but they revamped it so that it is completely online. Plus it is mobile. The fact that it is mobile is great for us, especially in the summer when we take long car trips.
Because Teaching Textbooks teaches the lessons, administers tests, and grades the material, it takes a weight off my shoulders. While I excelled in mathematics, teaching math to three kids can get to be a bit much. It is one of the most labor intensive subjects for me to teach. I want my kids to have a great, well-rounded education, and I don't want to burn out homeschooling. Math is a very important part of education, and I am thankful to have found a curriculum that takes a load off for me and does a great job at educating my children.
Final Thoughts
I know that our way of homeschooling doesn't work for every homeschool family, and that is okay. You have to do what works for you. However, if you want to try it, I suggest finding programs that work for you and your children (and won't cause burnout). Teaching Textbooks has been a major asset to our homeschool life, and I am so glad to have it for the summer too as I look forward to having some fun this summer with the kids and also help them keep learning too.
If you homeschool all year round, I would love to hear what your homeschool day is like. Please feel free to share in the comments below and don't forget to follow @bearhavenmama on social media!
If you haven't tried Teaching Textbooks for yourself, now is your chance. Try it for free by clicking the link below!