How the Easter Storybook provides a great Lenten resource for you and your littles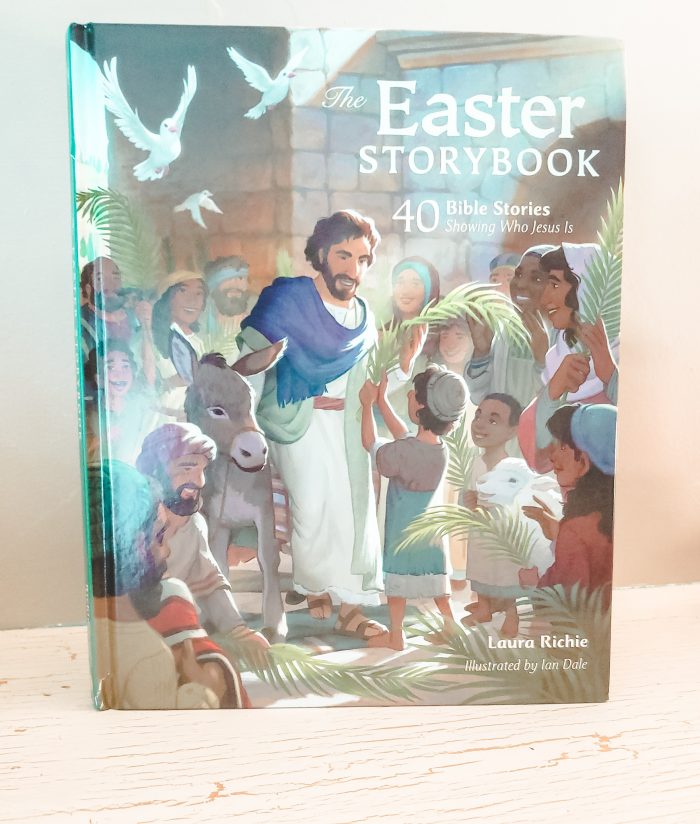 Disclaimer: I received a FREE copy of this The Easter Storybook: 40 Bible Stories Showing Who Jesus Is product through the HOMESCHOOL REVIEW CREW in exchange for my honest review. I was not required to write a positive review nor was I compensated in any other way. For more information, please visit my disclosures page.
*This post contains affiliate links, which means I may receive a small commission, at no cost to you, if you make a purchase through a link! Misfit Mama Bear Haven is a participant in the Amazon Services LLC Associates Program, an affiliate advertising program designed to provide a means for sites to earn advertising fees by advertising and linking to amazon.com.*
Crankles really enjoys Bible stories, so we have been enjoying reading The Easter Storybook by David C Cook publications during this Lenten season. This book contains 40 Bible stories from the life of Christ and is perfect for not only Easter time, but all year round!
A Bit About The Easter Storybook: 40 Bible Stories Showing Who Jesus Is
The Easter Storybook: 40 Bible Stories Showing Who Jesus Is is published by David C Cook. Publications by David C Cook provide great religious resources. Proceeds from them help spread the gospel all over the world. It was written by Laura Ritchie, who also wrote the bestselling The Advent Storybook. It works as a fitting companion to that book as well.
The book contains 40 full-color, beautifully illustrated stories about the life of Jesus Christ, beginning with the story of him at the temple as a boy, all the way through his ascension to heaven. It provides questions to spark conversations between you and your children about Jesus' life and why his death and resurrection matter. The Easter Storybook: 40 Bible Stories Showing Who Jesus Is can be a great resource at Easter, as a story a day will take you through most of the Lenten season. However, you could read it with your child throughout the year as well.
What We Love about The Easter Storybook
My youngest loves Bible stories. She has a small picture Bible that she likes for me to read with her on many nights as well. Her picture Bible doesn't have a lot of the stories about Jesus' life as it is a very shortened version for little ones.
A few years ago, my older daughter tried to explain the reason we celebrate Easter. Crankles was three at the time, and it didn't go the way Sissy thought it would.
What ended up happening was that Sissy told Crankles the story of Jesus dying on the cross and the resurrection, and Crankles freaked out and thought Jesus was a zombie. Obviously, she doesn't believe that anymore. However, when I got the opportunity to review this book with her, I immediately thought of that story and how I wanted to find a way to make the story of Jesus' crucifixion and resurrection more relate-able to her.
The Easter Storybook provided a great way to do just that! It starts with the story of Jesus at the temple and continues through his ascension to Heaven. Each story contains a beautifully illustrated photo, a Bible verse, and discussion questions at the bottom of the page. It is very fitting for children ages 4-8. Plus, if you use it for Lent, it breaks up to almost a story a day.
Final Thoughts
We quite enjoy reading The Easter Storybook right now. This book will definitely be one we will read again and again. It contains beautiful illustrations and tells the story of Jesus in a way littles can understand. Learn more about this book and David C Cook publications by checking out David C Cook on social media. Also, be sure to click the link below to read more Homeschool Review Crew reviews about this book!
Facebook: https://www.facebook.com/DavidCCookPublic
Twitter: https://twitter.com/David_C_Cook
Instagram: https://www.instagram.com/david.c.cook/
Pinterest: https://www.pinterest.com/davidccook/
YouTube: https://www.youtube.com/user/DavidCCookVideos
I hope you found my review helpful. As always, I look forward to your feedback! Don't forget to follow me on social media as well!