How to Leave your Facebook Newsfeed and Get What You Need!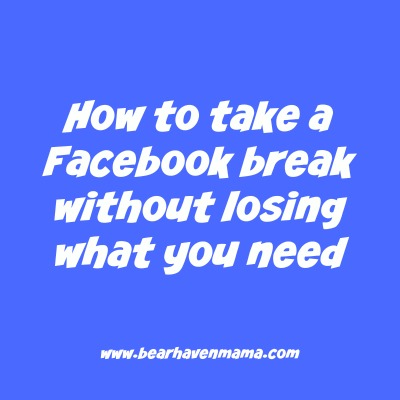 Social media has made its way into our lives in such a way that it is almost a part of us it seems at times. Being a blogger, social media is my best way to connect with readers and gain new readership, so leaving one of the big Social Media players like Facebook seems utterly impossible. However, this past year, with the election and all, I want to do just that. I dream of deactivating my account once and for all. Then I realize that as a blogger, I would just be shooting myself in the foot. Then I also realize that ALL of our homeschool groups are also on Facebook, and we do like our homeschool activities. I tried to just ignore the newsfeed when I would do social media on there or look up group stuff, but somehow I would get sucked into it over and over. This past weekend, I decided to make a change. To be honest, all of the constant bickering and bashing is just not good for my well-being, and I do not feel like engaging in it. If you are in a similar position, here are simple ways to step away from your newsfeed but keep involved in what you need.


Until recently, I did not realize that Facebook had a group app. I knew they had a page app, and I know about the messenger app. However, there is also a handy little app for groups. Once you download those apps onto your phone or tablet, you do not need Facebook. You can sign out forever if you would like. Sign into your group app, messenger app, and page app, and voila! You have access to your page and group content. Plus you can use Messenger too. Messenger is still handy if you are active in groups. You can choose to receive notifications. While I have had a few glitches, for the most part, it has been simple to use. One thing to remember is for the groups app, make sure that you have notifications turned on for the groups in which you want to stay in contact the most. You can still search your groups from the app, but it is easier to just have the notifications appear without it.
I miss silly Star Wars memes every once in a while, but I do have Instagram still. Instagram, at least my Instagram accounts, are much more drama free. I know it might seem silly that I am even writing all of this, but the thing is that because social media has become such a part of our lives, it really can wear down a person. Leaving it does not mean that I care any less about some of the issues that are hot topics there. It just means that stepping back from it gives me a clearer head so that I can be a better person and even a better activist for the causes I hold dear to my heart.
Even if you are not in the mindset of leaving Facebook, please remember to step back when you feel things are getting heated. Clear your mind.Don't get trapped in social media.
If you liked this article, please share! Sharing is caring!