Kingdom Code Complete Set Review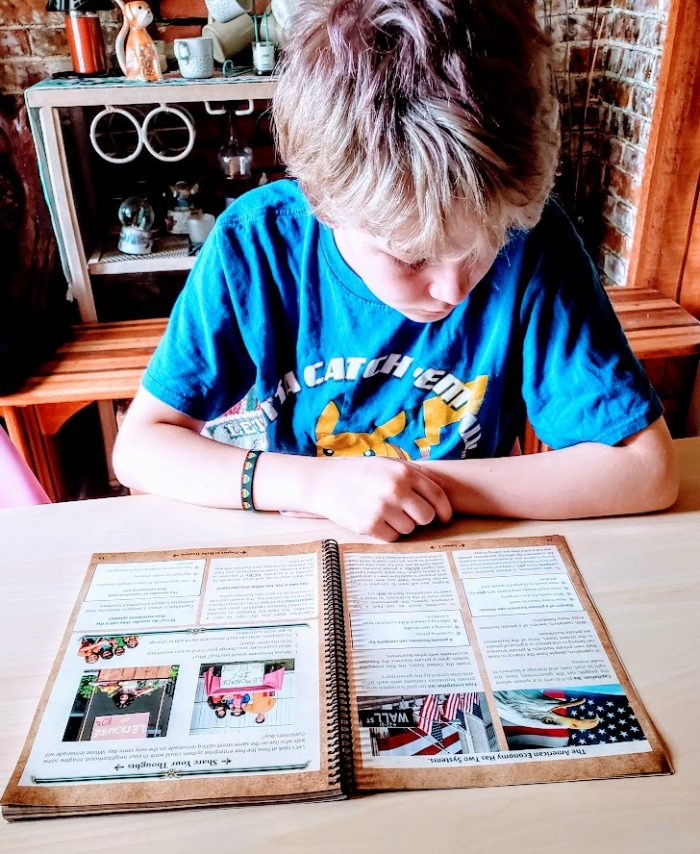 Ever since she was little, my older daughter has been interested in being a kid entrepreneur. When the opportunity rose for us to  review The Complete Starter Kit from The Kingdom Code so that she could learn how to budget and start her own business, she got super excited about the prospect!
*Misfit Mama Bear Haven is reader supported. This means that when you purchase through affiliate links on this site, I may receive a small commission, at no cost to you. Misfit Mama Bear Haven is a participant in the Amazon Services LLC Associates Program, an affiliate advertising program designed to provide a means for sites to earn advertising fees by advertising and linking to amazon.com.*
What Is Kingdom Code?
The Kingdom Code is a biblical based company that teaches students in grades 4-8 how to manage money, budget, and become entrepreneurs over the course of 34 weeks if you do it twice a week. The Complete Starter Kit includes:
The student textbook, a 244 page book designed to keep students ages 10-13 engaged
Activities, Forms, Notices that put the lessons into action
Worksheets that reinforce the concepts learned in the textbook
Teacher's Guide to help your student along
TKC Treasure Map that works as a reward system as your student works through the material
Flash Cards that include key terms
Posters that remind the students how to present themselves as business owners
Stickers for labeling
A receipt book
As you can see, it is a pretty comprehensive set up. All together, these tools provide your kid entrepreneur with the knowledge to organize and start a business, plus it helps them learn how to budget and keep finances in check along the way.
How this works for our family
Right now, my daughter is taking this course. If my son wishes to take it, we will purchase an extra set of student materials. Ever since she was little, my daughter has had an entrepreneurial spirit. When she was three, she came up with the idea of a sustainable restaurant and used to pretend to be its owner.
My Businesses
I started my first business when she was a baby and used to take her with me to work most days as I owned a party planning and children's toy store. My desire to want to help the family financially and learn how to run a successful business fed her desires. She got to see first hand how it was done and was always eager to learn. While we were all sad to let that business go when my health took a downward turn, my children loved being a part of my business through it all.
I want my children to have realistic expectations and also learn how to manage money properly. We are very big about budgeting and thinking things through so that we don't overextend ourselves financially, especially as the last few years have been difficult for us financially because of my illness, and also because of job loss and changes with my husband's career. We have used all of these experiences to bring home the importance of financial planning, budgeting, and not overextending one's self financially.
Last spring, my husband and I purchased a Pin Up Boutique business, and I have been working on re-branding it and restructuring it to fit my style of running it. While I do much of the work, my daughter often attends pop up shops with me. We often talk about how this business is for all of us and that I want her to be a part of it in case she wants to take it over someday.
My Daughter's Dreams
Because my daughter desires to find ways to earn extra money as a kid entrepreneur, she came up with the idea last year to sell some of her art at the annual unschooler's conference we attend. However, her first go at it was a bit messy even though she did manage to sell a lot of her drawings.
This year, using some of what she learned in The Kingdom Code, she came a bit more prepared. She used a better quality of paper. Also, she created better quality art work. Considering her quality and expenses also changed how she set her prices.
While she didn't sell everything this year, she did pretty well and even managed to barter her art for some other things that some of her friends were selling. After her experience, she wants to take this art business to the next level, and I want her to have the tools to do it the right way.
How Kingdom Code Helps My Kid Entrepreneur
While the beginning of the textbook seemed like review for my daughter, it gave a good foundation for planning. The worksheets make her think and plan her business ideas better. She is now considering adding buttons to her art business, and she is thinking about other avenues for selling her art.
In her opinion, she likes that it keeps you engaged and explains stuff in a very easy to understand way. She says it gives you a lot to do, and it helps you understand the material.  The projects are fun for her as well. It explains the meanings of the vocabulary in an easy to understand way as well. Overall, I think this will help her in expanding her business idea and lay the foundations for the future.
My thoughts
While I must admit that I hesitate in many homeschool courses with a very religious aspect, I like how the material presents itself for this program.  While some of the homeschool courses and curriculum I have reviewed the past several months has religious overtones, some of it can be modified for those of you who teach a secular homeschool. This course is not one of them.
As I stated earlier, the course presents itself in a very biblical way. If you teach a secular homeschool, this might not be the product for you. We really enjoy it, and I am glad that we got the opportunity to review The Complete Starter Kit from The Kingdom Code to help my kid entrepreneur.
If you want to learn more, please check out The Kingdom Code on social media, and don't forget to check out other reviews from the Homeschool Review Crew.
Facebook: https://www.facebook.com/TheKingdomCode/
Twitter: https://twitter.com/thekingdomcode
Pinterest: https://www.pinterest.com/thekingdomcode/
Instagram: https://www.instagram.com/thekingdomcode/