Last Minute Cheap Educational Gift Ideas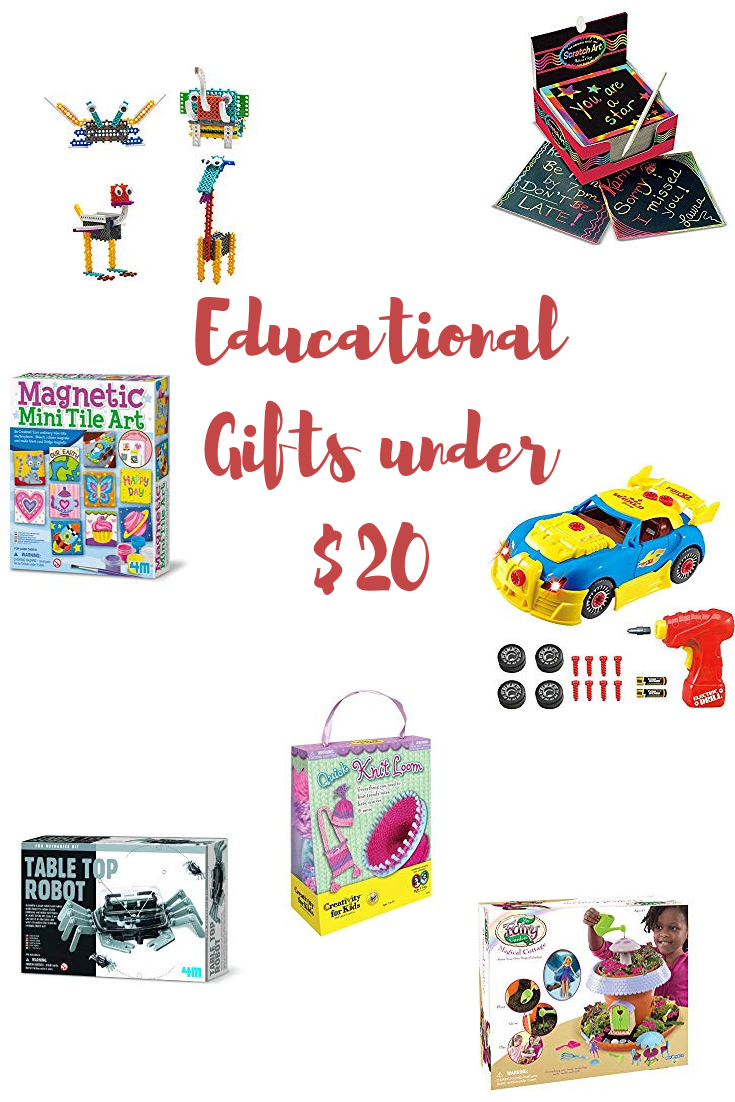 While my holiday shopping is finally done, I know many of you still have work to do! Just so you all know, I finish early only because I hate peopling this time of year, not because I am an overachiever. Ask anyone, I can't remember things, and I am a hot mess.
Anywho…
As someone who used to own a toy store, just bought another retail business, and put herself through college working retail, I end up being that person people come to when they need to find gifts for people. So I decided I should share some of my favorite things with all of you that would make great gifts for everyone on your list. The best part is that most of these can be found on Amazon, so if peopling is not your thing, I got you covered there too!
Since I homeschool, my first list features some great Educational gifts under $20!
Educational Gifts Under $20
Think Gizmos Take Apart Car. This is great for the kid who likes to take all your things apart. Maybe you can now keep your old DVD player safe. Do you still have one of those? No? Just me? Oh, still a fun toy!
4 in 1 Animal Building Kits. These are great little construction kits and promotes fun STEM activities. You can make a Crab, Elephant, Giraffe, or an Ostrich!
My Fairy Garden-Magical Cottage. This one is great for little kids. Miss Crankles and I did our first Fairy Garden together when she was three. You not only get everything you need for planting, but the fairies are designed for play. I love this one!
4M Magnetic Mini Tile Art. Create designs and stick them to metal surface with magnets. My kids put things like this all over our fridge. My fridge doubles as a mini art museum.
Creativity For Kids Quick Knit Loom. With a large circle loom and a two-sided hand loom, you have all the tools necessary to create whatever chic objects you want! Plus it comes with everything to get started!
Melissa & Doug Scratch Art Rainbow Mini Notes (125 ct) With Wooden Stylus. My kids love the Melissa and Doug Scratch Art. This gift works for big and little kids. It is great for crafty kids or as an activity to take with you when you want the kids to go device free for a bit!
4M Table Top Robot. 

The Table Top Robot is a hands-on science kit that teaches the basics of robotics by constructing a working robot crab. When it is activated, it does tricks. My son is 15 and still likes toys like this. He loves building things and tinkering with anything computer or electronic related.
Scientific Explorer My First Mind Blowing Science Kit. This 20 piece kit gives ideas for science experiments as well as the tools to perform them. It is a great starting point to get kids involved in Science!