Last Minute Cheap -ish Tween and Teen Gifts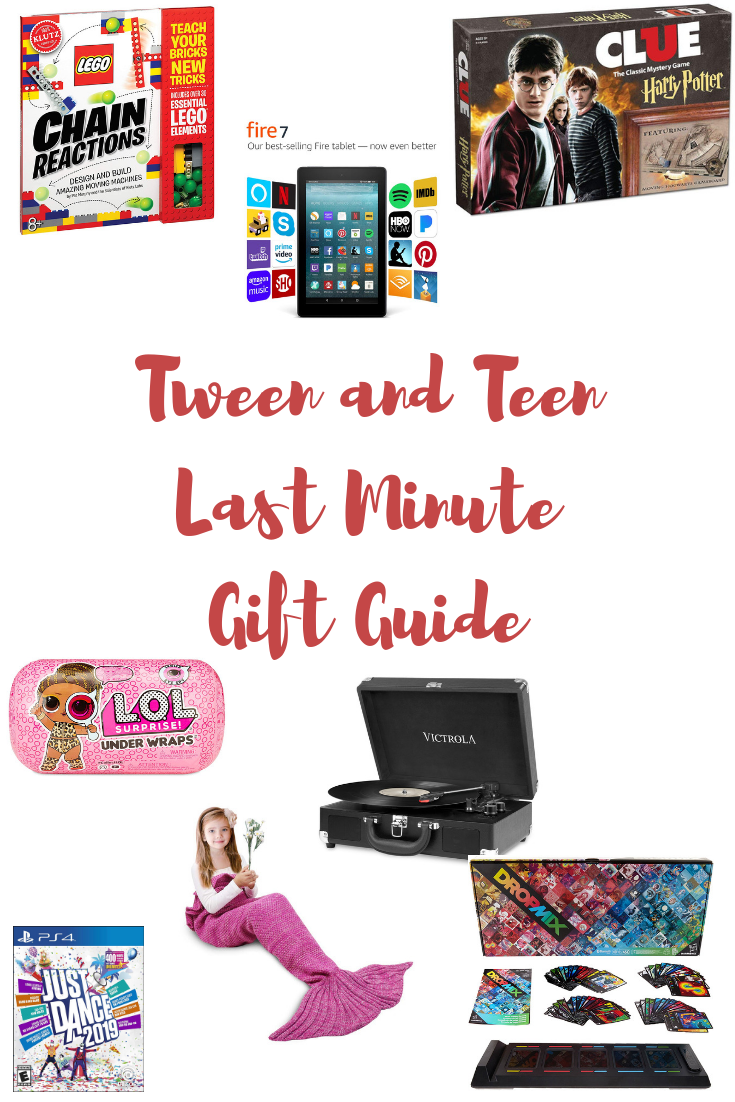 I know that I am cutting it short on this and making it really and truly last minute, but I do have some great gift ideas for the tween and teen set. Sissy, Bubby, and I handpicked these as great gifts, and if you hurry, you can still order most of these from Amazon. However, a lot of these you can find at some of your local stores too like Target and Walmart!
What Made the List
Just Dance 2019: Just Dance 2019 is the latest game in this dance game phenomenon! The kids and I got to review this game recently, and we love it. We have the PS4 version, and one of the cool bonuses with it is that you can download an app on your phone so that your phone is the controller. Not only does it get everyone moving, but it is great for playing solo, with friends, or with family for family night! Hands down, it is one of our favorite games!
2. Mermaid Tail Blanket: My oldest daughter has been asking for one of these for ages! This makes a great gift for holidays or anytime really, and it is super soft!
3. L.O.L. Surprise! Under Wraps Doll: Okay, so I am going to be totally honest here. I really don't get the obsession on this one, but these things were one of the hottest items last year, and they maintained popularity throughout this past year. Both my older daughter and younger daughter collect them. While Sissy is phasing out of the toy phase, she likes to collect them and display them on the shelves in her room. Also, currently, Amazon has some of the best prices on them!
4. DropMix Music Gaming System: We added this game because the kids love playing it at gatherings. While this one is a bit on the pricey side, it is totally worth it. The game was developed by Harmonix, the makers of Rock Band and Dance Central. The game comes with cards, but you can buy expansion packs. Using the app for the game and the cards, you get to create your own mixes of your favorite songs. It is great for when your kids have friends over or for family game night!
5. Klutz LEGO Chain Reactions Craft Kit: In case you are in doubt of my knowledge of things that teens and tweens would like, my 15 year old son wants this one. You can build 10 amazing moving machines, and it comes with an 80 page instructional book plus 30 essential Lego elements. While a lot of older kids end up being so connected to their devices, gifts like these encourage them to get away from their devices for a bit and use their brains. I love gifts like these, and I am glad that my son still does too!
6. Fire 7 Tablet with Alexa, 7″ Display: While this may not be as cheap as some of the other gifts on this list, these tablets start for under $50! All three of my kids have them. The big kids use these for homeschool quite often. We have the Kindle Unlimited subscription for reading, and this tablet works great for that. We use it with our youngest too because she plays educational games on it and also watches movies on it occasionally. For the price, it is a great value!
7. Victrola Vintage 3-Speed Bluetooth Suitcase Turntable with Speakers: My son and some of his friends are super into retro style items. He even owns some of his own Vinyl. This has been on his list for a while. His grandfather got him interested in listening to records when he would go and stay with them. He has a lot of great memories of them listening to music on his Pop Pop's stereo, and he wanted his own. This one is a great starter. The price point is not too bad, and it also has bluetooth! 
8. USAopoly Clue Harry Potter Board Game: The big kids still love board games, and they especially love renditions of their favorite games in their favorite fandoms. This Harry Potter take on the classic game of Clue will make your Harry Potter fans super happy!
I hope you found this list super helpful! Also, as part of my last minute gift guide, I am hosting a giveaway! If you haven't entered through one of the other gift guides, don't forget to enter now! For my giveaway disclosures, please see my disclosure page!