Let's Review the Victus Study Skills System!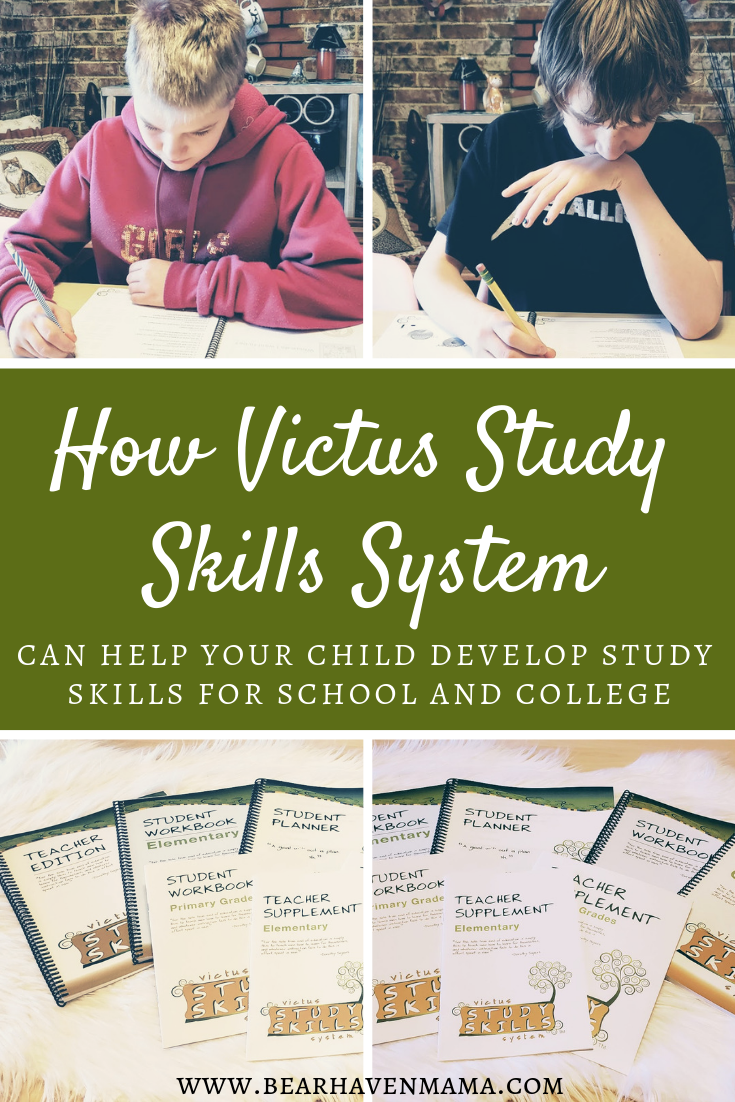 Have you ever had a child struggle with studying for something and wish there was something out there to teach your child better study habits? Well, guess what, that is exactly what the Victus Study Skills System does, and for the last few weeks, my family has been using the Level 2: Elementary (2/3-4/5)  and Level 3 (5/6-10/11) to learn better study skills! My family recently had the opportunity to receive and review the entire Victus Study Skills system for our honest review, so today I will be sharing how it has helped my family!
The product Line
Here is what all we received to read through and review:
Level 1: Primary (K-2/3)
Teacher Supplement
Student Workbook
Level 2: Elementary (2/3-4/5)
Teacher Supplement
Student Workbook
Level 3 (5/6-10/11)
Teacher Edition
Student Workbook
Level 4 (10/11-College)
College Student Workbook
Other Products
Student Planner
We used only the Level 2: Elementary (2/3-4/5) and the Level 3 (5/6-10/11) for our family. Even though Sissy is doing 6th/7th grade work, I thought the Elementary one still had enough information in it to help her. We plan on using the Primary (K-2/3) next year with Miss Crankles to give her foundations for starting school, and I am very grateful to have the Level 4 (10/11-College) Level as Bubby has already wants to prepare for college. He also took the student planner as he really likes to stay organized and scheduled. It helps him focus and learn better.
How it Works
This system is designed to be used according to your student's understanding and then you build on it and reinforce it year after year. For example, when I use the Level 1: Primary (K-2/3)  with Crankles next year, I will want to review it with her the next year and continue this program when she gets to Level 2 in the series. Bubby did the Level 3 (5/6-10/11) this year, and he will do the Level 4 (10/11-College) to reinforce what he learned this year and prepare him for academic studies outside of high school.
This series is designed to do with you child. It is not something they will do independently. The Teacher Edition helps guide you through the process of helping your child learn better study skills. Then your students will work through their workbooks as you go along with them. The Teacher Edition has supplements for Levels 1 and 2 so that you can adjust the level of learning to your child's current level.  I did the Level 2 with Sissy, and the way this worked was that I used the teacher's supplement to see what pages to use in the Teacher's edition to make it relevant to what she was doing in her workbook. It wasn't hard to follow the process. When I used the Teacher's Edition with Bubby, it was all just straight forward with him.
The program takes about 5 hours of instruction time. The suggestion for the Level 3 course instruction is to break it up into five one-hour sessions over the course of five days. When my son started Level 3, one of the first things we did was have him write out what he wanted to gain from this course. The course helps you answer three questions: Where am I now? Where do I want to be? How do I get there?
What My Kids Thought of Victus Study Skills System
Bubby thought this was a great idea and was eager to start. He said that he felt it gave him confidence and will help him as he studies for the rest of the school year.
Sissy said that it helped her rethink her study habits and will help her change some of her habits to learn more efficiently.
Final Thoughts
I love the concept of this as I worry about my kids and their study habits sometimes. With me dealing with health issues the last few years, I sometimes worry I missed something in teaching them good study habits and want them to be prepared for their homeschool experience and college experience, if that is what they want to do. Doing this with them gives me the peace of mind that I can help them develop those skills and see where they need to improve.
If you would like to see more about Victus Study Skills System, be sure to check out their website, and don't forget to check them out on social media as well!
Facebook: https://www.facebook.com/VictusStudySkillsSystem/
Twitter: https://twitter.com/victusstudy
Pinterest: https://www.pinterest.com/victusstudy/
YouTube: https://www.youtube.com/channel/UCZQ_3UrSbjae4ooEJhJI4bA
You can also see more reviews for the Victus Study Skills System by other Homeschool Review Crew Members!
As always, I would love to hear your thoughts too, so please share your comments and questions below!