Making Memories At the Ohio State Fair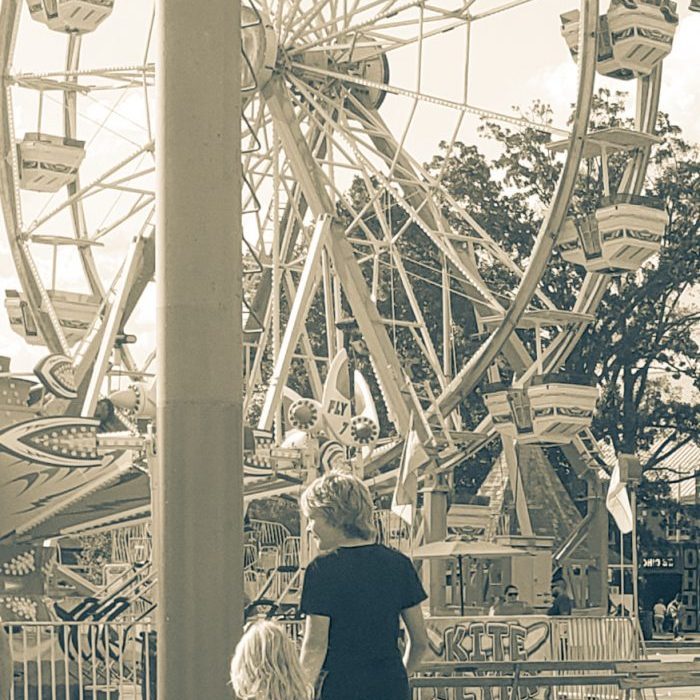 Growing up in rural Northwest Ohio, 4-H and fair life took up a good portion of my summer. The first time I stepped foot on the Ohio State Fairgrounds was because I placed first in the county with my clothing project. I went on to place first in my county a few more times over my teenage year, and while I never placed at a state level, it was an honor to go to Columbus to compete.
I love the atmosphere and fun that the fair provides, and when I was given the opportunity to head to the fair with my family to give them that experience and cover it on my blog and social media, I jumped at the chance to show my family and all of you my love for the Ohio State Fair!
The Rides
As we approached the fairgrounds, my kids got super excited at their first glimpse of ALL the rides. The Ohio State Fair puts together quite a display of amusements with a section for little kids and a section for big kids (and adults)! Since we arrived in the early afternoon, we took advantage of riding rides and then taking breaks to look at everything else the fair had to offer!
Fun Displays
With the weather being hot, taking a break in the buildings became essential. It also provides a lot of fun too! We got to learn a lot about farming, saw some great produce entries, explored the arts, played with model trains, and even saw a cool space display in the Marketplace! Here are some glimpses at some of the fun we had!
Fantastic Entertainment
Whether you want to see a live concert or see some free entertainment, you will find it all at the Ohio State Fair. My kids loved watching the parade and the All Ohio State Fair Band.
We also enjoyed a show by the Street Drum Corp. My oldest and my youngest were totally enthralled. Here is a little glimpse of their talents!
Every day has different acts for everyone! It really enhances your fair experience and gives a little something for everyone!
Animals
A fair isn't a fair without livestock, and the Ohio State Fair brings a lot of animals to see! While I never showed livestock at the Ohio State Fair, I did show lambs and rabbits at my county fair for years. We even got to see lambs being shown, and I got to explain the process with my kids. It made me so happy to share that with my kids! Here are just a few animals we saw in our day!
Nursing Stations and Quiet Spaces
One of the things I appreciated most was that I saw nursing stations and quiet stations while we explored the fair. We chose to go on the Sensory Friendly day because I thought it would be best for Miss Crankles. Creating spaces for parents with littles and those with a Sensory Processing Disorder, Autism, and other needs made me so happy to see. It makes sure that everyone gets to have fun at the fair!
Making Fun New Memories
For me, the Ohio State Fair was about sharing my childhood with my kids and also creating new memories as a family. I got to share some of my favorite parts of my summers as a kid, and I loved seeing the smiles on my kids' faces as we all shared a great family day!
If you didn't get to make it to the Ohio State Fair this year, be sure to put it into your must do summer list for next year! Also, don't forget to visit your local county fairs. Be sure to check out the exhibitor booths and the livestock to see what amazing things kids in 4-H have been doing all summer! If you did make it to the fair, what was your favorite part? As always, I would love to hear from you!
(Editor's Note: Photos in this post were a collaboration of the Misfit Mama Bear Haven Family and one of our favorite 4-H friends, @jjb_photograph1)