Operation Blessing: Recipes From Around The World Cookbook Review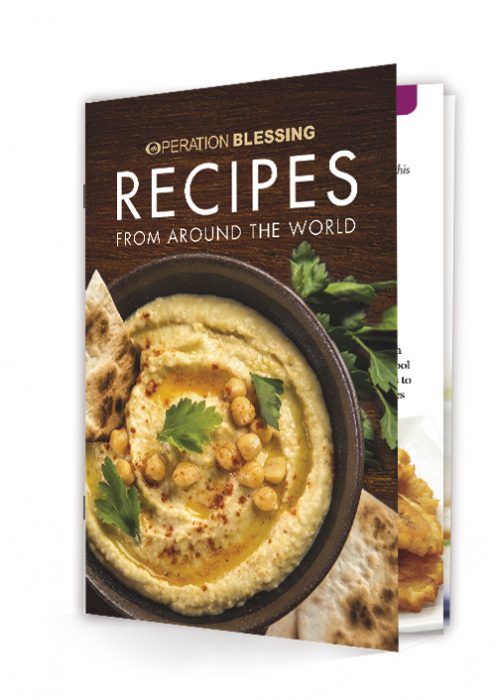 *Misfit Mama Bear Haven is reader supported. This means that when you purchase through affiliate links on this site, I may receive a small commission, at no cost to you. Misfit Mama Bear Haven is a participant in the Amazon Services LLC Associates Program, an affiliate advertising program designed to provide a means for sites to earn advertising fees by advertising and linking to amazon.com.*
My family and I love trying new food from around the world. That is why I was excited for the opportunity to review the Operation Blessing: Recipes From Around The World Cookbook.
I thought this would be a great way to support a great cause and introduce my family to new and exciting recipes. These recipes originated from 15 countries from all over the globe. Today I want to share a bit more about this cookbook with all of you!
About Operation Blessing
Operation Blesssing is a faith based organization. Their goal is to alleviate human need and suffering in the United States and around the world. Operation Blessing provides relief through disaster relief, medical aid, hunger relief, assisting with vulnerable children and orphan care, clean water and community development.
They place an emphasis on providing physical relief to those in immediate need. Also, they equip those they help with new knowledge to create sustainable solutions to combat poverty.
About the Operation Blessing: Recipes From Around The World Cookbook
The Operation Blessing: Recipes From Around The World Cookbook comes with recipes from 15 different countries. These countries include: Honduras, Mexico, Peru, Kenya, Israel, Haiti, Guatemala, El Salvador, Japan, Cambodia, Indonesia, Thailand, Philippines, China, and United States. The book is divided into sections based on the foods from that country. Plus, each section contains a bit about the area and the people, plus stories on how they have been helped by Operation Blessing.
The book is available on the Operation Blessing website by donation. The donations go towards their humanitarian efforts. The nice thing is that there is no suggested donation. Even if you can only donate a few dollars, you still receive a cookbook.
If you can't afford the cookbook, you can still receive a few recipes by mail! Operation Blessing will send you four free recipe cards. All you have to do is fill out the form.
My Thoughts…
Upon deciding to do this review, I did some research on Operation Blessing and enjoyed learning more about what they are doing. I want to teach my children to help others. We talk about issues from around the world and struggles that people have in our country and across the globe. Introducing this cookbook to my family reinforces this. I love that Operation Blessing not only helps others across the globe, but that they give people knowledge to help them move forward too.
We really enjoyed a lot of the recipes that we tried in this cookbook. Also, because I have food allergies, cooking international foods at home is better for me. I don't get to take the kids for as many international cuisine experiences. Cooking at home allows me to alter things in ways that makes it fun for me to eat as well.
If you know me, you know that learning about other countries is very important to me. Learning through food is also a delicious way to do it! We really enjoyed this cookbook. I hope that you and your family will enjoy it as well!
Don't forget to enter the giveaway!
Operation Blessing is also giving away a copy of the Recipes from Around the World Cookbook! Be sure to enter by clicking the link below! I hope you found this review helpful. What international cuisine do you like the most?