Pink Lemonade Shop Reusable Cloth Pads Review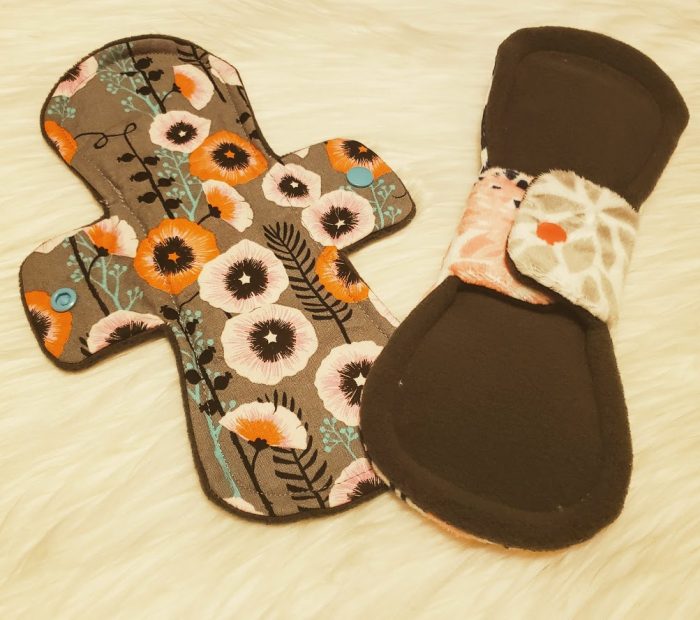 My journey with reusable cloth menstrual pads began a few years ago, and I have had a wonderful experience with them. When I got the opportunity to review Pink Lemonade Shop's reusable cloth pads for my honest review, I jumped at the chance to share about cloth pads to those of you thinking of making the switch or those of you with teen or tween daughters looking for options as they start menstruating.
My Journey to Reusable Cloth Menstrual Pads
I stumbled upon reusable cloth pads a few years ago by accident. It was one of those things where I was looking for one thing on Etsy and ended up somewhere entirely different. It happens! I became intrigued by the idea as I used disposable pads and pantyliners for years. The idea of washing them didn't phase me as I did cloth diapering for a while. Honestly, rinsing cloth pads really isn't that difficult once you get used to it. I sat down and thought about how much I spent on disposable products vs. how much an initial investment would cost to try reusable cloth pads. I realized that it would pay for itself rather quickly. I made the leap! A few years later, I am still happy with that choice, and so is my body.
When I researched switching, I read about how using cloth pads or pads without the synthetic materials, plastic, chemicals, and fragrances could help if you have issues during your period. For me, I have noticed a difference. I think part of it is due to taking better care of myself and making sure I take good vitamins and eat healthy, but I noticed that I don't cramp as much, and my periods are a bit more regular.
How Cloth Pads Work
Cloth pads have a snap that snaps around your underwear. For the best fit, you want to make sure that your underwear is form fitting as loose underwear can allow for the pad to shift. Pads from Pink Lemonade Shop come in a variety of sizes so you can choose smaller 6 inch pantyliners for light days and discharge or choose between 8 to 12 inch pads depending on the type of flow. They even carry a 13 inch pad for post-partum bleeding. If you are out and about, I suggest bringing extra pads and a wet bag to store soiled pads. You can rinse your pads in your bathroom, and to be honest, it isn't as bad as you might initially think. You can wash them in your washing machine and put them through your dryer. Easy peasy.
What I like About Pink Lemonade Shop Pads
Pink Lemonade Shop pads are very well-made! I have tried a few different brands over the years, and one of the first things I noticed about the Pink Lemonade Shop pads is that the snaps are super sturdy. I have had some others from a different brand that the snaps have given out or broke. These have staying power! The other thing is that the materials are great, and you can tell just by feeling them that they are super absorbent. This is important as you don't want to worry about leaking. Pink Lemonade Shop carries a wide selection of sizes and patterns, which I know that patterns shouldn't matter, but I like pretty patterns. Why shouldn't we be surrounded by pretty things when we are on our periods?
Pink Lemonade Shop also carries wet bags, starter kits, menstrual cups, and nursing covers and pads making them a one stop shop for post-partum mamas! I honestly wish I would have known about them after I had Crankles because it would have been super helpful.
Why Make the Switch
Making the switch from disposable to cloth is a very personal choice. Here are some things to consider:
Environmental Impact: The average woman uses 12-16,000 disposable pads or tampons in a lifetime
Better for You: By switching to cloth, you are avoiding all the chemicals and synthetic materials that disposables use. You may even notice a difference in your period
Cost effective: While you have an initial investment, you can save money long term by using reusable pads.
Final Thoughts
I am very happy making the switch, and while I thought that it might be weird to rinse out pads, wash them, and reuse them, it hasn't been a bad experience. I have noticed a change in my period which has been an added bonus. What do you think? Do you use reusable cloth pads? If so, what do you like best?
For more about Pink Lemonade Shop Cloth Reusable Pads, you can visit their website and also join their Exclusive Facebook Group!