Red Pack Tomatoes Review, Authentic Italian Gravy Recipe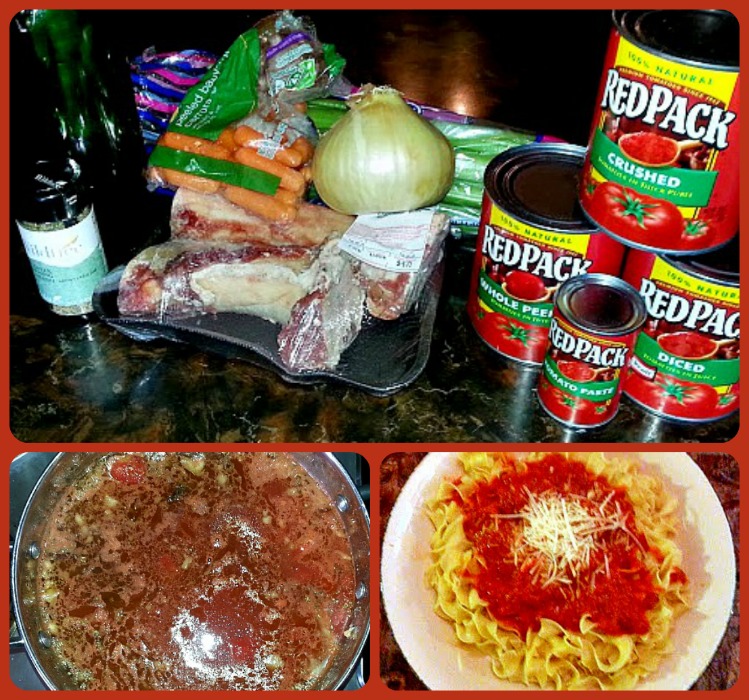 In our house, this bitter cold weather has lead to some awesome food. After all, a warm kitchen makes the house warmer which is why I was excited for Bear Haven Daddy to try some new Carnevale recipes for our family with fabulous Red Pack Tomatoes! For those of you not familiar with Carnevale, it is a traditional festival held in Italy during the winter that includes parties and delicious food!
*Misfit Mama Bear Haven is reader supported. This means that when you purchase through affiliate links on this site, I may receive a small commission, at no cost to you. Misfit Mama Bear Haven is a participant in the Amazon Services LLC Associates Program, an affiliate advertising program designed to provide a means for sites to earn advertising fees by advertising and linking to amazon.com.*
We used Red Pack Tomatoes for our Italian Gravy. Red Pack Tomatoes are grown in the Midwest where the distinct seasonal changes really impact their flavor. We got a great recipe from them, and here it is!
Authentic Italian Gravy

Ingredients:
| | |
| --- | --- |
| | |
| 1 | cup red wine, +2 tablespoons |
| 1/4 | cup extra virgin olive oil |
| 3 | baby back ribs, beef neck bones or short ribs |
| 1/2 | cup chopped onion |
| 1/2 | cup chopped celery |
| 1/2 | carrot, minced |
| 10 | garlic cloves, minced |
| | Salt and black pepper to taste |
| 2 | (6 ounce) cans Redpack® Tomato Paste |
| 4 | (28 ounce) cans Redpack® Whole Peeled Tomatoes In Juice, crushed with hands |
| 1 | (28 ounce) can Redpack® Tomato Sauce |
| 1 | quart water |
| 2 | tablespoons dried basil |
| 2 | tablespoons dried oregano |
| 1/4 | cup chopped fresh parsley |
| 1 | pound Italian sausage, cooked and drained, or meatballs |
Directions:
Preheat oven to 400 degrees F.  Place 1 cup red wine, oil, beef neck bones, onion, celery, carrots, garlic, salt and black pepper in a roasting pan; stir to coat.
Roast neck bones and vegetable mixture in oven until vegetables are tender, 1 hour.  Stir in about 2 tablespoons red wine while scraping any brown bits of food off the bottom of the pan.  Roast until vegetable are browned, about 30 minutes.
Pour vegetable mixture into a 16 quart stock pot over medium-low heat; simmer for 30 minutes.  Add REDPACK® TOMATO PASTE,REDPACK® WHOLE PEELED TOMATOES in JUICE, REDPACK® TOMATO SAUCE, water, basil, oregano and parsley; stir well.  Simmer, stirring occasionally, until sauce reduces, 4 to 6 hours.
Remove neck bones from sauce; scrape marrow out of bones.  Add marrow to sauce and simmer until dissolved, 1 to 2 hours.
Add choice of meat to sauce during the last ½ hour of cooking.
For a smooth sauce, blend in batches until smooth.  Add Italian sausage or other meat to sauce after blending.
Option: Cook pasta, a pound pasta in ½ gallon water, just until al dente.  After sauce has cooked add ¼ cup pasta water and al dente pasta.  Cook until pasta is completely cooked.  This allows the pasta and sauce to combine their flavors for an exceptional tasting meal.
My family and I really enjoyed eating this dish. My husband, the gourmet cook in our family, said that he loved using the Red Pack Tomatoes. They weren't too sweet and tasted fresh. I hope you enjoy this dish too!