Styled By KK Children's Special Occasion Wear Rentals Review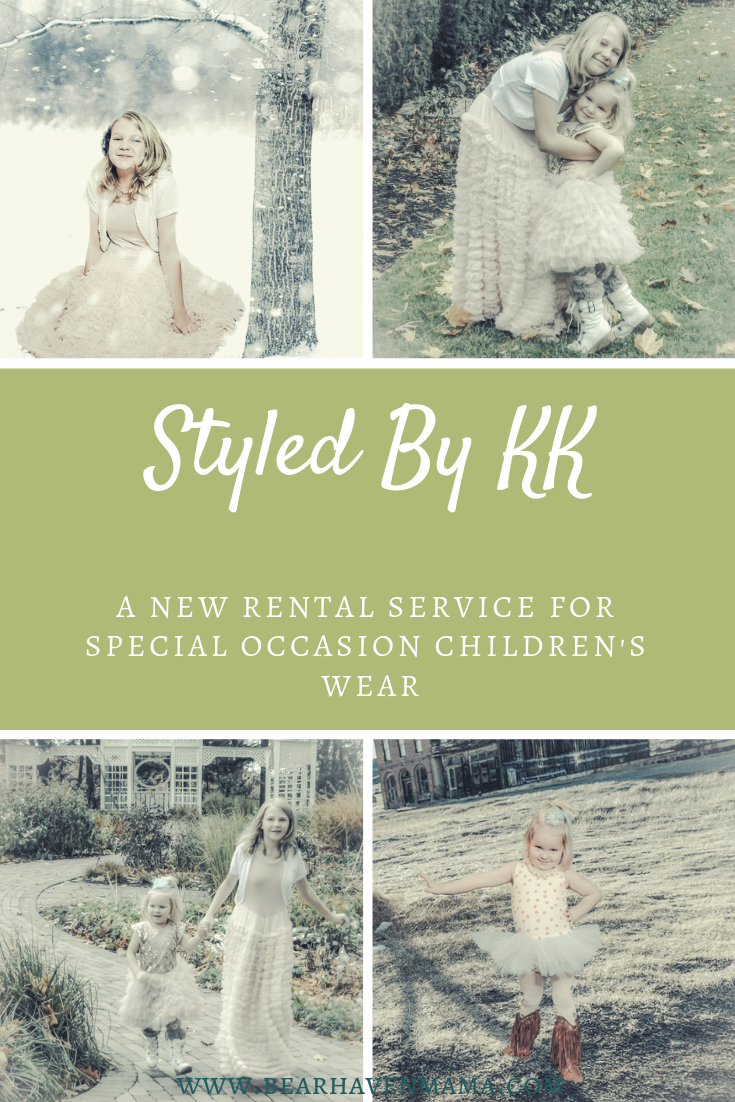 I am so happy to be collaborating with Styled By KK to share a review on her services! I was gifted a rental for our photo shoot in exchange for my honest review.  Please see my policies section for disclosure details.
Have you ever wanted to plan a fancy photo shoot for your kids but had sticker shock as to the costs involved for the cute dresses you want to use.  Maybe, you are looking for a cute Easter dress, but you know your child will only wear it once or twice before it gets thrown into the back of the closet.   When you only plan on using the outfit for one specific thing, it makes it hard to justify that kind of cost sometimes, and it also clutters your child's closet afterwards. However, Styled by KK provides an alternative to buying a pretty dress for a special occasion! Styled by KK lets you rent the outfit instead!
How it all began
Styled By KK is the brain child of Amy Kappel who wanted to solve the issue of what to do with special occasion dresses for her own child, Kayla (or KK for short). She would purchase dresses for KK to wear for birthdays, Christmas, and photos, and then they would just hang in the closet taking up space. The idea of renting dresses instead of purchasing them just made sense.
Renting Details
Currently, Styled By KK carries dresses by Little Dreamers Tutus, Tutu Du Monde, Wrare Doll, Dolly by Le Petite Tom, and Dollcake. She currently carries girls sizes 2-12. The rental period is six days, and she ships anywhere in the US. Renting is a great option for those wanting a high-end dress but not wanting to pay the price for one.  Some occasions for renting a dress include:
photo shoots
holidays
weddings
special events like parent/child dances or seeing a play or show
What We Loved
My girls felt like princesses in their dresses. While my twelve-year old is not a fan of fancy dresses, she liked feeling like a princess for a day.  In fact, we even met some princesses from Heroes and Tiaras while we were shooting in the cold! Miss Crankles still can't get over meeting all of her favorite princesses in one place! I was so happy that Styled By KK had a nice selection for both girls, as Miss Crankles is 4 and Sissy is 12. She even provided outfits that coordinated well. The dresses were gorgeous, and the process of renting was so simple. When the weather gets nicer, I can't wait to get some spring photos with both girls in dresses from Styled By KK.
How to Order
Currently, Styled By KK takes orders via Facebook. Her inventory is listed there, and you can see lots of examples of other girls wearing dresses rented from her. You can also check Styled By KK on Instagram as well. She has a lot available for upcoming holidays and photos for your kids!
Final thoughts
Reviewing Styled By KK made me realize I don't do enough family picture shoots like I used to do. I take pictures all the time for my blog and Instagram, but I don't have as many pictures for the walls like I used to do. When the big kids were little, I must have taken them for photos once a season. I even did nicer photos with them all the way up until I had Miss Crankles. I have gotten so accustomed to taking pictures with my phone that I haven't done fun shoots like this in a long time. I also haven't printed the pictures I take. This experience has made me want to go back to doing the fun shoots again and also printing out pictures so that I have them for our enjoyment but also to give to relatives.
When was the last time you had family photos? If it has been a while, make sure you check out Styled By KK before you set up your next photo session!