How Teaching Textbooks Put the Fun Back Into Our Math Lessons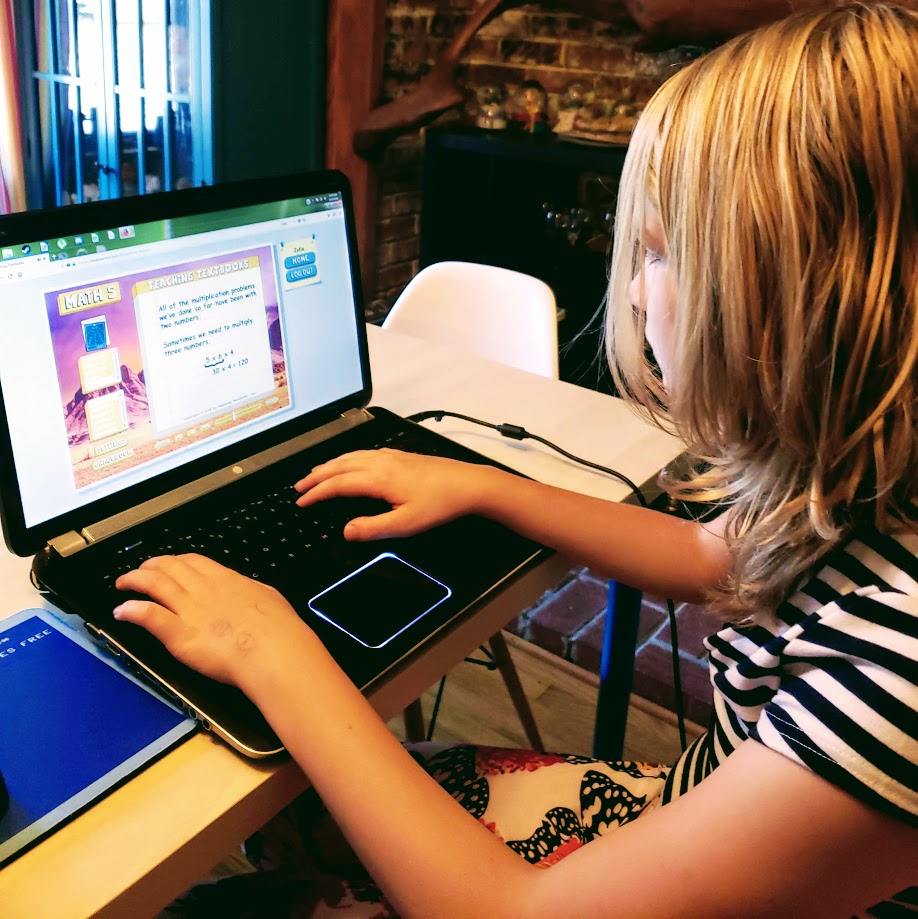 If you homeschool like me and a lot of my friends, then you are probably still enjoying doing ALL THE THINGS right now. Of course, when I say ALL THE THINGS, what I really mean is you are enjoying field trips to the zoo and park time without the crowds. However, now that the weather is starting to change, we are moving indoors more and more to start getting serious about our homeschool curriculum again. I wanted to take the time to start sharing about the things we have found and love, so I am starting with Teaching Textbooks as it has totally changed my kids' views on mathematics. Seriously, it is saving my sanity right now, or what is left of it!
Teaching Textbooks has gone through some changes since the first time I heard of it. It used to be composed of discs and books, and while you can still go that route, they now have a complete online version where the textbooks have been replaced by e-books, and you can use Windows, MAC, or Chromebook to go online to learn. Also, if you are on the go, you can even access it through your phone or tablet using the Puffin browser.
What I Love
I needed a good mathematics curriculum where I did not have to be there to answer questions all the time or spend time grading. With my return to blogging, running a business, and homeschooling the little one now too, I need a break. I need for the big kids to be able to do school work on their own so that I can work with the little one or work on job related tasks. The kids get out their laptops and sit down to learn. They don't really ever need me anymore, and I can log into my parent account and review what they have done. I don't need to check their work or grade anything! It is fabulous! You can even customize it to allow or not allow hints and second chance rules.
I also love the fact that they can literally do their mathematics anywhere! Having three kids at different stages means that they are all involved in different activities. The only things they have in common this year are the two co-ops in which we belong. Being able to easily take this with them without bringing a lot of extra books or even their computer means that they can easily work on their math while being between piano lessons. On super busy weeks, I never have to worry that they are going to get behind in math!
What Sissy Loves
Sissy is my hard to please girl when it comes to school work. We have gone through several math programs with her in the past few years, and she says that she loves using Teaching Textbooks because it is easy to use and straightforward. She also likes that she doesn't have too many quizzes, and she doesn't feel like she is being babied as she learns. The last part is a big deal for her because when she found out that it was an online, interactive program, she was not too thrilled. She has done a few others in the past and thought they would be childish. She is twelve, so being childish is a big no-no right now. I asked her to give it a chance as I have heard so many good things about the program. She was hooked fairly easily. It is so nice to not have to struggle daily to get her to do her math work!
What Bubby Loves
Bubby has always struggled with math. While most subjects come easily to him, math has always been a source of frustration. I feel his frustration as I try to help but see him fall further and further behind. He loves working with computers and hopes to go into engineering someday, so math will always be something he really needs. I told him to just take the placement test. Don't worry about what level it says. I had him take it for the grade level I thought he was, and I was right. He has been working at it for about a month now, and because I can see his grades, I can see that he is actually making progress! When I asked him for some feedback, here is what he had to say:
It's very easy to use.
He has the option to use the interface or the e-book
Makes learning easy as they break things down in order to understand everything
Runs on Shockwave, so he can use it on any computer that has a web browser and supports Shockwave.
Okay, so that last one is really only important to him because he has this collection of older computers and loves to play with old operating systems. Have I ever mentioned that he may be a tech hoarder?
Great Features
What makes Teaching Textbooks great, other than what I have already mentioned is that in addition to it being online and very mobile, it is less pricey than a lot of other math programs. It also has a pause button, where you can pause the curriculum for a bit if needed. This is great if your family is going on vacation or if there is some sort of illness that takes away from learning time. Also, if you have a problem, you can call or email for support.
How to Get Started
The best way to get started is to take the Teaching Textbooks Placement Test. After you take the placement test, you can sign up for a free trial! The free trial is good for the first 15 lessons, and it has no expiration! For more information about the free trial, click here. If you wish to start the free trial, click here. Just a side note: you do not need a credit card in order to do the free trial.
Final Thoughts
If you are struggling in finding a math program that will captivate your kids and encourage them to learn, I highly recommend giving Teaching Textbooks a try.  The free trial makes it easy to try, and the placement test will ensure that your children will start where they need to be. It's versatile and mobile. It even has some good payment options for bigger families. If you are homeschooling multiple age groups or starting to feel like you are being stretched too thin, Teaching Textbooks may be just the math curriculum you need. I hope you have found this review helpful, and I would love to hear your thoughts in the comments below!