Toddler Language Learning Fun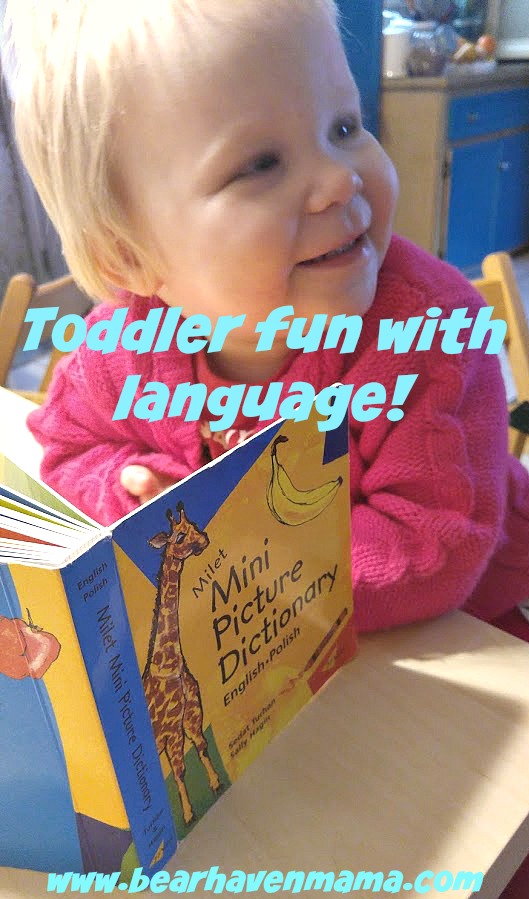 Lately, my littlest one actively tries to participate in homeschooling. Many times, I get out the Play Doh, felt books, or toddler games with her. A lot of times, I get the drawing supplies for her to use as well. However, my husband has been going through our vast collection of books and found our Polish-English toddler friendly board book dictionary. I thought this would be a great opportunity to introduce her to Polish sounds.


Through my own studies and experiences living abroad, I have had the opportunity to study four other languages other than English, Polish being one of them. I really want my children to learn at least one foreign language. Currently, my kids can say the word for "butt" in several languages, compliments of all of our exchange students. Thanks guys and gals! (I still love my exchange students, and they know my secret…which is that I curse in Polish and Serbo-Croatian in the car.) Through studies, I also know that children hear sounds in other languages that adults do not hear. It is one of the reasons why I have exposed my children to other languages at an early age. In fact, when I was in labor with Crankles, I played music by Darko Rundek. He is a Balkan singer, and I absolutely adore him.
The fun part about doing this too is that it helps me retain some of the languages I have studied over the years. Between my brain injury issues and lack of speaking, sometimes I get a bit rusty. Nonetheless, I would like to continue learning. I also want my kids to learn as well.
Board books with simple words in other languages and music from other countries is a great way to introduce your child to their first foreign language. It is also a great way to learn about the world around them. I strongly encourage it to all parents. You may even learn something too!
*Misfit Mama Bear Haven is reader supported. This means that when you purchase through affiliate links on this site, I may receive a small commission, at no cost to you. Misfit Mama Bear Haven is a participant in the Amazon Services LLC Associates Program, an affiliate advertising program designed to provide a means for sites to earn advertising fees by advertising and linking to amazon.com.*