When the Tiny House Movement isn't for you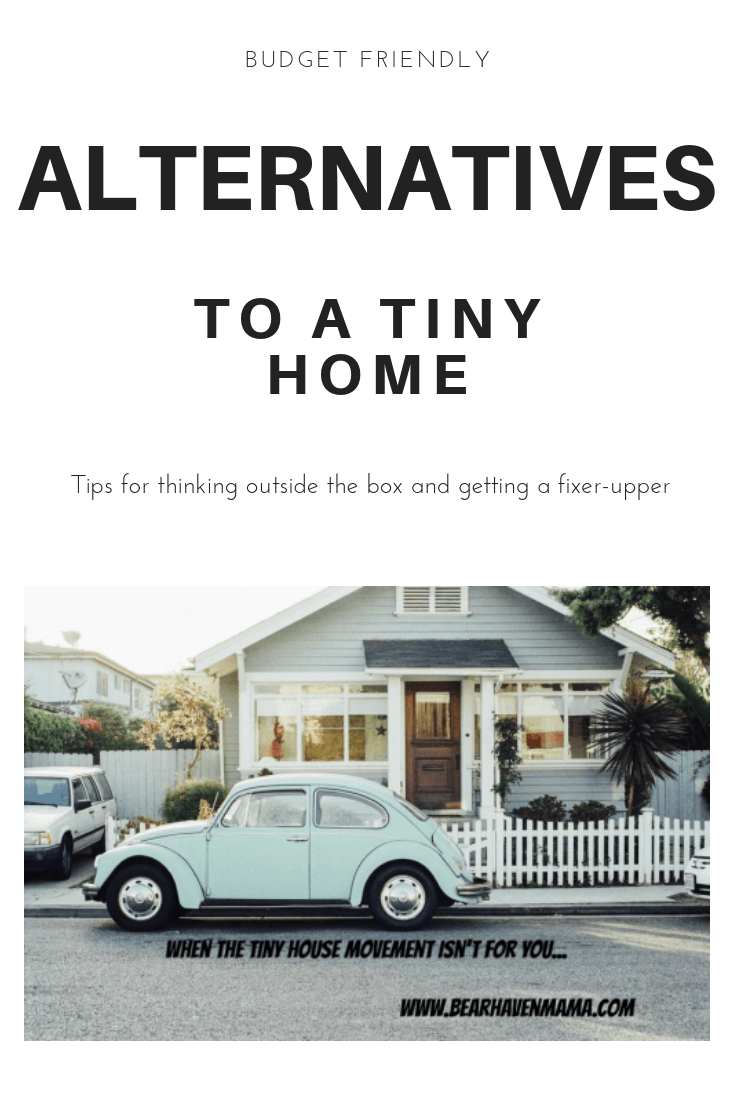 Many people in my generation are being swept away with the notion of tiny living. While the idea of living with less sounds appealing to me, the reality of tripping over my kids would keep me from ever doing this. Also, I am claustrophobic and would not be able to be in that close of quarters. The thing is that people in my generation are being forced to think about this mainly because the American dream is just not attainable for a lot of us.
Here we are in our 20s and 30s and strapped with student loans. We want to travel, but we also would like to retire before we are 80. The job market keeps changing, and the jobs that were in high demand when we were in college are now gone. For those of us with kids, we add the burden of wanting our kids to have it differently than we do…as in we would like to help them with the ever-rising costs of higher education but not at a detriment to ourselves down the road. For some of us, the cookie cutter lifestyle is just not attainable. Then there are also those of us that just don't want that lifestyle at all.
*This post contains affiliate links, which means I may receive a small commission, at no cost to you, if you make a purchase through a link! Misfit Mama Bear Haven is a participant in the Amazon Services LLC Associates Program, an affiliate advertising program designed to provide a means for sites to earn advertising fees by advertising and linking to amazon.com.*
So what are the alternatives?

Well…you could do the whole tiny house thing, OR you could look at what doing what my family is doing. We bought a house that needed love and decided to invest in our new community. For about the same price as some tiny houses we were able to buy a house, and even after we finish with the renovations, we still will have less invested in the house than some have in their tiny house. The best part is that we are investing in a community that wants to grow. So how do you get started on something like this?
Well here is what we did.
When we decided to start our adventure here, we originally thought of getting a house that was as much or more than our old house in price. However, we found that there were many houses for much less that required a bit of love. My husband and I had many discussions about this because you need to be aware of what you are getting into and need to think long and hard about what you can live with and what you cannot. My husband desperately wanted to look at this one house that was dirt cheap and needed work thinking we might be able to live in part of it while we worked on the rest. I made it through two rooms of that house before I just walked out the door saying "Nope, Nopety, Nope. Nope." For me, I could do something that needed some work, but boards across some of the windows and trying to live in the house while renovating a place that needed extensive help was out of my comfort zone.
We looked at others that were half finished. I bailed on one because I could see outside from the basement. It made me a bit uncomfortable. We looked at some that needed updated but were structurally sound. Those are the kinds of houses that are great for if you plan on living at the house during the renovation. You can move there and go room by room. That is kind of the route we chose. Our house was procured cheaply because the garage is falling apart, there is a walk through bedroom which we plan on fixing, it needs some updating, and the house really needs some tlc. However, this house is in a friendly community that is up and coming. The community gets together and works on improving the neighborhood. There is an AMAZING park practically in my backyard with trails, playgrounds, and a golf course. Plus, we live 10-15 minutes from great shopping. It is a wonderful location, but not well-known for that. Instead, it was known as being in the city, even though it is right on the edge. We had originally crossed it off our list the first time our realtor suggested it because we knew nothing about the area.
If you are willing to think outside the box and research neighborhoods, you might be able to find a gem in a neighborhood that you may not have thought of looking. You obviously want to make sure it is a safe neighborhood, but if you find a neighborhood that is on its way to bettering itself, you might be able to find a good property for less. If you invest in it, you not only can make a dream home for yourself for a lot less, but you are investing in your community. Investing in your community can give you a sense of pride to in knowing that you are helping make your area a better place.
Just make sure:
The place you choose is something you can live with for years and also during any renovations
If you are renovating, choose a home that can be adapted into your dream home without pouring a ton of money into it. It defeats the purpose of doing this over buying a traditional finished home.
Choose a community with amenities that appeal to you. If you are going for city living for example, find a neighborhood close to the things you like.
Realize that not everything will go as planned and be prepared to be flexible.
Get involved in your community. I cannot go to a lot of events in my community, but I at least keep up with the latest news. Also, I have made more of an effort to get to know my neighbors. By the way…I LOVE my neighbors.
Talk to your realtor about what you want. The day we chose our house, we actually looked at a finished home. He took us aside and asked us what we wanted. Did we want the more expensive home or did we want to take a chance and put a bit of sweat equity into something to end up with something that might cost less in the end? We chose the latter because we also would like to have the flexibility to travel eventually. That is something we wouldn't have with a more expensive house.
Finally, what are your long-term goals? Do you want to travel or maybe help with your kids' education? Do you want to be debt-free at an early age? If so, the kind of house we have might be right for you!
While I know the idea of a tiny house sounds like something that would help with financial freedom, the truth is that it is not right for all of us. Plus, a tiny house is hard to try to do if you want to have a family someday. Investing in a budding community by buying a fixer-upper is a great alternative to the tiny house movement and will give you great satisfaction as you invest in your potential dream home and the community in which you live!