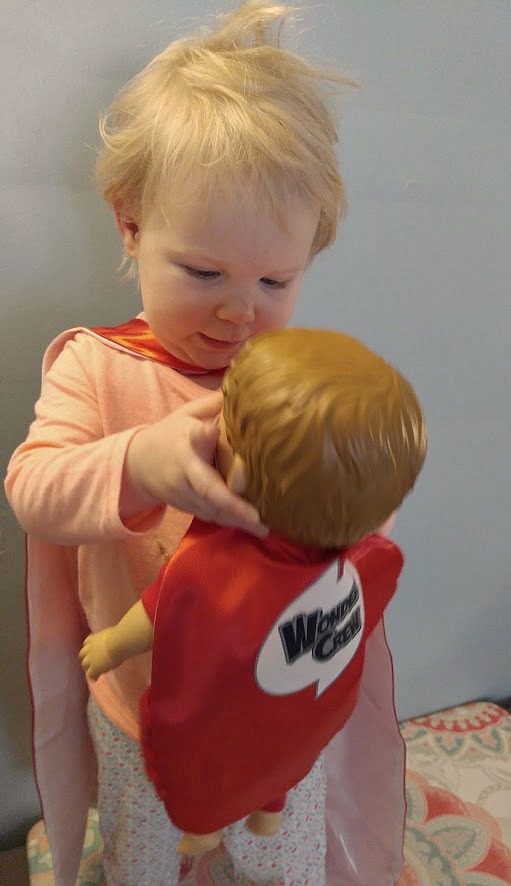 I received this product in exchange for review. All opinions are my own. This contains affiliate links which means I may earn a small commission if you click the link, then purchase a product or service from a third party website. Purchasing the product does not increase your purchase price, but it is a great way to say "thanks" if you enjoy my content and find my suggestions helpful. 
Who doesn't want to be a super hero? With Wonder Crew dolls, your child can be just that and go on super hero adventures with their Wonder Crew Doll! Today, I wanted to take some time and tell you all about these super cool dolls that Miss Crankles and I found!


These dolls have been on Miss Crankles' want list for a while, and if you held the doll, you would know why. These dolls are super soft. Her doll, Will, is now her favorite doll to take to bed at night because of the cuddle factor. However, that is not the only reason she loves him. He comes with a cape and mask, and there is a cape and mask for her too. She loves to play dress up, so having a doll that she can match for adventures makes him all the more fun.


I love the concept of these dolls and wish that they would have been around when Bubby was younger. When he was little, he wanted a boy doll. Do you know how hard it was to find him one? I eventually found a Cabbage Patch Doll for him, but it took forever for me to find him. These dolls were inspired by boys and help promote that dolls are not just for girls. However, these dolls are meant for everyone and really help break down barriers that say that boys and girls can only play with certain toys.


I also wanted to add that I really appreciate the packaging on these dolls. So many of the toys we get have hard to remove packaging, and as you can see, this is not the case here.


The easy packaging made it easy to get him out of the box and off on an adventure with Crankles!


Miss Crankles is totally in love with her Will doll, and we are excited to see what new dolls come from the Wonder Crew in the future. These dolls can be found at Target and run about $29.99. For my readers who celebrate Easter, these would make great alternatives to candy for Easter Baskets too!
I really hope to see more of these kinds of dolls, and if you have any questions, please feel free to ask in the comments below!