Little Bites Snacks, Half Birthdays, and Happy Faces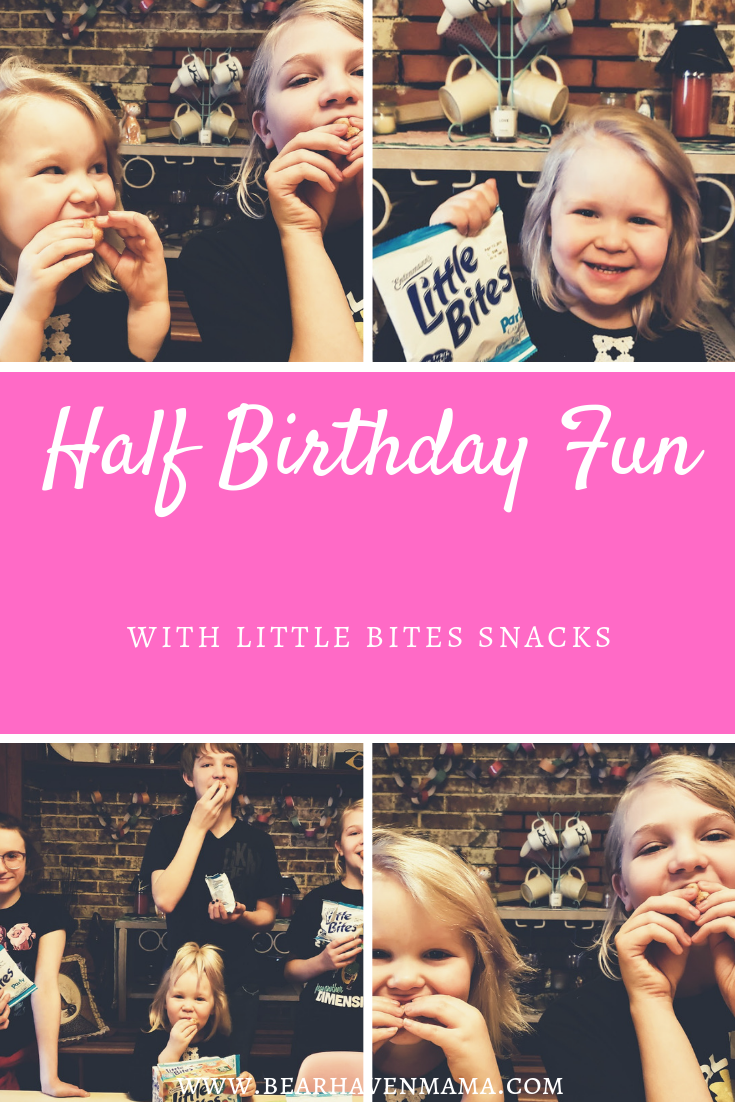 This week, I partnered with Little Bites and their 20th Birthday Bash to give some half birthday snack fun
For the last several weeks, Miss Crankles has been making plans for her birthdays, but her birthday isn't until August. Since her half birthday was this week, we decided that it would be fun to share some snacks with friends and give our littlest princess a small half birthday celebration! Since Little Bites is celebrating their 20th birthday and has some fun little party cakes, it made the "cake" portion even more fun!
To keep this simple, we made our own decorations. Sissy took over my craft stash and found some colorful scrapbook paper to make paper chains. We found that the Entenmann's Little Bites website had some printable decorations, which were super cute, along with games and recipe ideas. However, being that we have been using the printer a lot lately, I kinda forgot to grab ink cartridges this week. Oops! On the upside, Sissy had fun making some little decorations, and Miss Crankles was excited regardless of what we did!
Even though Miss Crankles is only four, she has taken a liking to all her sister's older friends. Apparently, she is just a tween trapped in a tiny person's body! We originally had planned to share our snacks and games with Sissy's homeschool book club crew, but unfortunately, everything got cancelled this week because of the weather. However, the weekend showed more promise, so my house was filled with 11 and 12 years olds for the weekend! This made Miss Crankles so super happy!
We had snacks, played some games, and busted out Just Dance (because it is tradition at our house to do that whenever anyone comes over and has been since 2010). Miss Crankles even got a Mulan doll because Mulan is her current favorite Disney Princess.
The whole shindig was super simple, but we had fun. Adding Little Bites made the snacks fun and extra special, not to mention super tasty for the kids! Miss Crankles is happy that she had a party. All she has talked about since was how she turned four and a half and got to see her friends! I love that my older kids' friends are so super nice to her and treat her so special.
Having a half-birthday celebration can be super basic and is a fun way to just celebrate life and the little things. If you want to check out some of the games and recipes we used for our little party, check out the Little Bites Website and don't forget to enter their 20th Birthday Bash giveaway!