How to host a playdate with some Disney Magic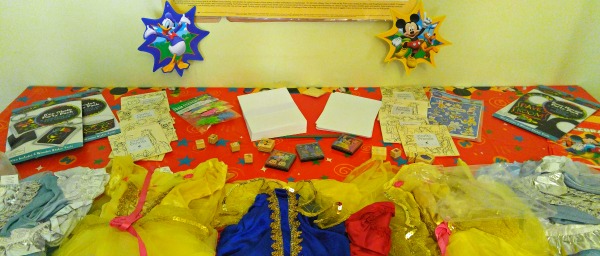 *Misfit Mama Bear Haven is reader supported. This means that when you purchase through affiliate links on this site, I may receive a small commission, at no cost to you. Misfit Mama Bear Haven is a participant in the Amazon Services LLC Associates Program, an affiliate advertising program designed to provide a means for sites to earn advertising fees by advertising and linking to amazon.com.*
Do you need some inspiration on how to host a playdate for your little one? We hosted a fun Disney Princess Party Playdate for some of our friends. So I thought it would be fun to share the recap and give some inspiration for some memorable playdate fun!
This post is sponsored by Disney as a part of the #DisneyKids Play Date campaign. All opinions are my own.
How to Host A Playdate
The Princess Party Playdate Set Up
Something we love is hosting themed playdates. If you are looking on how to host a playdate that is themed, start with a room! We have a fantastic homeschool room that also houses quite a bit of our toys. It is right off our kitchen and made it so easy to have everything in one place! We went wild with all our Disney decorations!
It would not be a princess party without princess costumes. As luck would have it, I had some extra princess dresses to share with our friends! I also cleaned out the craft bins to find some Melissa and Doug craft kits, some photo crafts from Michael's, and some stamp sets from Target! We had a card making kit from HP, so we used that with our Mother's Day craft!
The Food
Next, I made sure I had some colorful finger food for the little ones. Some of our most memorable playdate adventures have been all about the food! I was going to make cupcakes, but Miss Crankles wanted cookies, so I took my Disney themed cupcake liners and used them to put little treats that our small guests could easily grab!
As our guests arrived, some of them dressed up in their finery!
Princess Party Playdate Fun
We had fun making crafts for moms!
Someone was having fun pretending to be Cinderella!
A few of the girls decided to have an impromptu tea party!
If you want how to host a playdate for multiple ages, get the big kids in on the fun!
The best part is that we all had fun! The girls had a magical time. I made sure to keep toys like play food, dolls, and blocks to inspire imaginative play. We kept the toys in the homeschool room, so it was fairly easy to clean up once the playdate was over. We made sure the snacks were easy and asked about food allergies before everyone arrived.
Some Party and Playdate Tips
The most important thing to remember when hosting any playdate is to be relaxed and flexible. I love themed playdates because the focus is on certain toys or costumes. It is easy to get the kids engaged. At this age, organized playdates with lots of activities mostly falls flat. It is just too much for the little ones.
I like to keep it simple to mostly playtime and sometimes an optional, yet simple craft because we moms should be able to have fun too (instead of finishing the crafts for our kids)! Keeping the food simple and in one place is nice because it means less mess. If you want your guests to eat food in only one area, just make sure you let them know when it is time to eat.
Most of all, have fun! Enjoy the magic of playtime and friends!
What are some tips that you could add to hosting a preschool aged playdate? Please feel free to add in the comments below!
Tags:
#disneykids
,
craft playdates
,
Disney
,
disney craft party
,
disney playdate
,
disney preschool playdates
,
Disney Princess
,
how to host a playdate
,
hp
,
Melissa and Doug
,
mother's day playdate
,
playdate
,
playdates
,
preschool playdates
,
princess playdate
,
sensory friendly
,
sensory processing issues
,
themed playdate