How to Spring Clean Without Chemicals: Chemical-Free Cleaning Recipes and Free Printable Checklist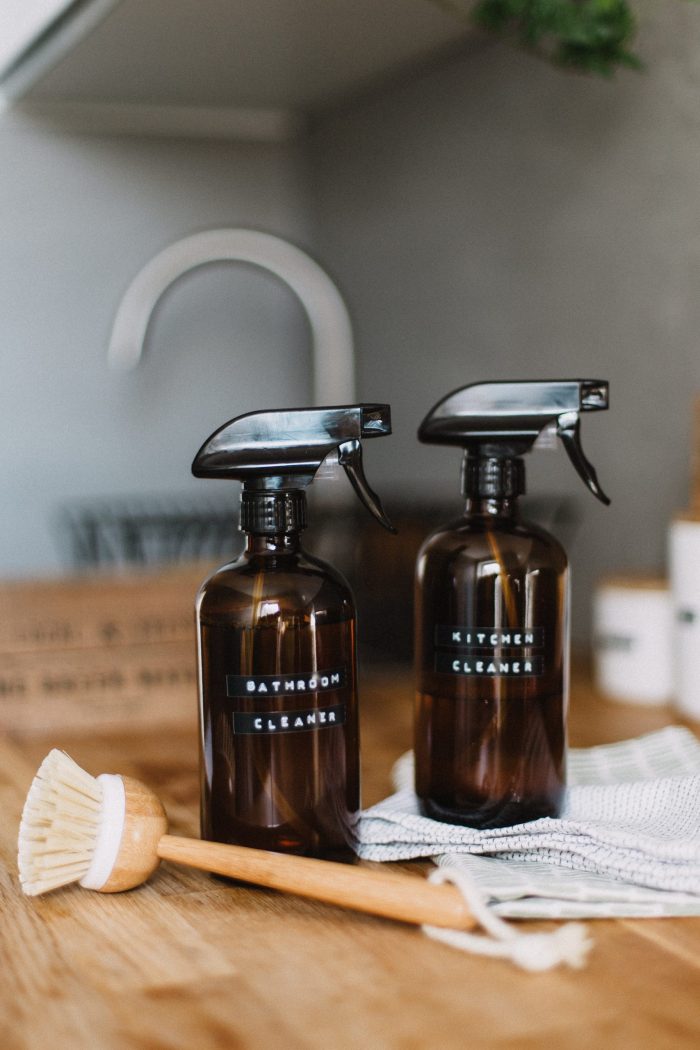 Cleaning without chemicals can have many benefits which include less chance of aggravating allergies and it is very budget-friendly! Whipping up some good smelling and effective chemical-free cleaning products is easy peasy! Check out these great chemical-free cleaning product recipes to get a start on your Spring cleaning!
*This post contains affiliate links, which means I may receive a small commission, at no cost to you, if you make a purchase through a link! Misfit Mama Bear Haven is a participant in the Amazon Services LLC Associates Program, an affiliate advertising program designed to provide a means for sites to earn advertising fees by advertising and linking to amazon.com.*
FLOOR CLEANER
Combine the following ingredients into a spray bottle:
2 cups warm water
2 drops Castile soap
3 drops lemon or orange essential oils
2 drops tea tree oil
Spray & Mop! Easy Peasy!
FURNITURE POLISH
Mix 2 parts white distilled vinegar, 2 parts olive oil, 1 part lemon juice. Lightly dip corner of clean microfiber cloth into mixture and rub into your wood surfaces.
GLASS CLEANER
Combine 2/3 cup distilled water, ½ cup white distilled vinegar, and 8 drops of lemongrass essential oils into glass spray bottle. Spray and wipe with paper towels or clean microfiber cloth.
If you don't use essential oils, you can mix 50% water and 50% white vinegar in spray bottle.
ALL PURPOSE CLEANER
Combine into a glass spray bottle:
2 cups distilled water
¼ cup castile soap
15 drops of lavender, peppermint, or orange essential oil (or combination of those—personally I love the mix of all 3)
NATURAL ROOM FRESHENER
Put 2-3 TBS of baking soda in a coffee filter and add 5-8  drops of your favorite essential oils. I prefer lavender and peppermint or lavender and citrus scents. Secure the coffee filter with a rubber band and place this little "sachet" in various inconspicuous places around your house. I put them in corner of my bedroom, bottom of a trashcan, or in clothing drawers. This is a great and simple deodorizer for your home!
Printable Spring Cleaning Checklist
I've included a wonderful Spring Cleaning checklist to guide you through each room of your home! Just click here or click on the photo below to download and get started!
I hope you enjoy using these easy chemical-free cleaning products as you clean this season! As always, I look forward to hearing from you! Don't forget to follow me on social media for more tips, parenting ups and downs, and homeschooling fun!
And Now For A Giveaway!
This month, my sister blog Prissy Missy Loves and Misfit Mama Bear Haven are sponsoring a $25 Amazon Gift Card Giveaway! With life being on lockdown for so many of us right now, I wanted to give something to one lucky reader that I know will be put to good use right away! Please follow the Rafflecopter link below for all the instructions!