Arts and Crafts Birthday Party, fun for kids of all ages!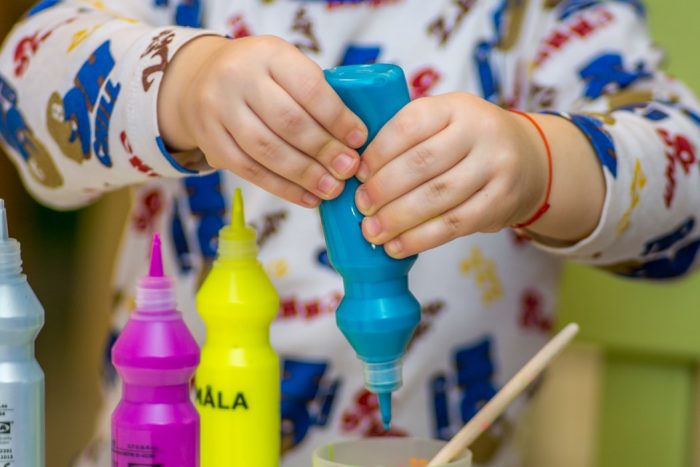 An Art themed birthday party sounds like it could be a lot of work, but it really isn't if you are prepared. I thought it would be fun today to share an updated version of the arts and crafts birthday party theme ideas that I loved!
*Misfit Mama Bear Haven is reader supported. This means that when you purchase through affiliate links on this site, I may receive a small commission, at no cost to you. Misfit Mama Bear Haven is a participant in the Amazon Services LLC Associates Program, an affiliate advertising program designed to provide a means for sites to earn advertising fees by advertising and linking to amazon.com.*
Invitations
If you are going to have an Art Themed Birthday Party, why not start out the experience by making invitations? Use stamp sets and card stock to make some cute invites. If you don't have a stamp set, you could also decorate the invitations with stencils and stickers or color something fun! Make sure you note on the invitation that the children need to bring an old t-shirt or smock to wear, so that they do not ruin clothing with the art projects at the party.
Decorations
Take some of your child's recent artwork and hang it around the room like a gallery. If you have any easels, set them up like an art studio! Use Art Paper rolls to decorate the table and add paint brushes and paints in the middle so that the kids can color the their seating area. If you have young children or do not wish to use paint, you could also put markers and crayons in the center as well. Then set up stations for your various art projects to keep the chaos under control.
Activities
An Arts and Crafts birthday party needs lots of art themed projects. Depending on ages and comfort level, here are just a few ideas to create fun stations for your party:
Coloring pages: You can print these for free from Crayola.com
Painting: You can find Paint By Numbers or all sorts of children's paint supplies at your local craft store.
Play Dough Station: Let the kids create using modeling dough by making your own and getting some fun tools. If you want to save yourself some time, you can also purchase Play-Doh and tools online!
Beading: This is a fun idea that also doubles as a great party favor. Make jewelry or use Perler Beads to create fun designs!
Sand Art: If you don't mind the potential mess, this is an activity kids always enjoy
Paper Bag Puppets: Using these templates from DLTK, the kids can make fun puppets to take home.
Food
Make sure you set up food in stations to do these foods. Some of these take a bit, but edible art is fun too!
Decorate your own Cupcakes: For this, you need plain cupcakes and whipped topping (like Cool Whip).
Make Your Own Sundae Bar: Pick One or two flavors of Ice Cream for the kids to use and colorful bowls if available.
Using small cups (think paint cups) to hold the toppings, include fun things like sprinkles, colored sugar, gummy bears, crushed graham crackers, Skittles, crushed candy bars, and M and M's.
The kids will have a blast creating and eating their "art!"
Add some chips, pizza, or other goodies, and a drink…and you are all set!
Treat Bags
The best part about a party like this is that the activities double as party favors. However, if you want to send everyone home with treat bags, some things you might want to include are Play-Doh, mini stamp sets, crayons, coloring books, and notepads.
That's A Wrap!
I hope you found these Arts and Crafts Birthday Party ideas helpful. If you have done a party like this, what else would you suggest? As always…I love hearing from you!
And Now For A Giveaway!!!
To help you get started on a fun arts and crafts party or just to get something for yourself, I am giving away a $10 Walmart Gift Card to one lucky winner. The giveaway ends at 11:59pm Feb 28. Click on the Rafflecopter link below to get started! I also teamed up with some other fab bloggers for a giveaway hop, so be sure to check out the other giveaways!
You are invited to the Inlinkz link party!