CTCMath Online Math Curriculum Review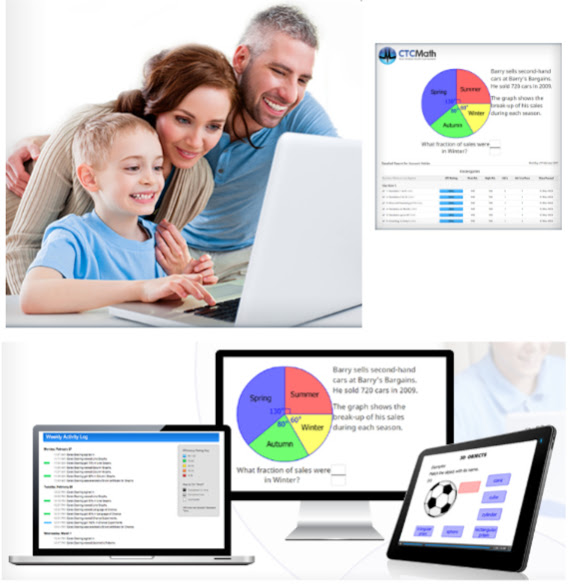 As we gear up for another year of homeschool, we are putting together our curriculum list for the year. We are so excited to be able to use Family Membership for 12 months from CTCMath as part of our homeschool program. CTCMath provides homeschool families access to all grade levels of mathematics with their family membership, and we were happy to be provided with one in exchange for our honest review.
Since this program provides access to all grade levels, it will be great for Miss Crankles, who turns five this month. However, my sixteen year old son is also excited to have access to this as he wishes to excel in mathematics.
How does CTCMath work?
CTCMath provides short, to the point, math lessons online. The lessons can be replayed, and the student can learn at their own pace.
With the subscription comes access for student accounts and a parent account. The students learn at their own pace and on their own. However, the parent can see the child's progress through the parent account at any given time. Students can choose their focus, and the courses range from kindergarten to high school. It provides a stress-free math program for both students AND parents!
A Student's Review
To get a better idea how the program works, my sixteen year old son gave me his review in his own words. This, of course, was in exchange for me not using pictures of him as he is not so fond of pictures of him in my blog these days.
This is what Bubby had to say about CTCMath:
I'm not very good at math. Because of this, I've done a lot of math programs over the past several years. CTCMath has been one of my favorite ones to use. Each lesson is fairly simple: you watch a video and then you answer questions. It's at your own pace too. There's no rush or deadline to finish anything.
You can also take a diagnostic test to see where you are with math and where you are struggling, which is helpful for me because as I said I'm not very good at math. Parents can also set tasks for their children to get done, which can be nice if you are trying to keep your children on track with this. Along with this, parents can also check the history of their children to make sure they are doing the work and not goofing off.
What I like about CTCMath as a Parent
There is a lot I like about CTCMath. I like that the lessons are short, so my children won't get bored. I also like that I can log into the parent account at any time and check on their progress.
I also love that they include questions for the children to answer as part of the lesson. Plus, there are worksheets for them as extra practice. It takes the headache and frustration out of preparing for class. I am happy that my son loves it and am looking forward to using it with my youngest in the fall!
Final Thoughts
If you are looking for a frustration-free math program, the Family Membership for 12 months from CTCMath is definitely a great option for your family. Whether, you have children at kindergarten level or Algebra level, CTCMath has you covered.
If you would like to learn more about CTCMath, be sure to find them on social media. Also, be sure to click the link below for more homeschool review crew reviews. As always, if you have questions, feel free to message or comment below!
Facebook: https://www.facebook.com/ctcmath/
Twitter: https://twitter.com/ctcmathofficial
Pinterest: https://www.pinterest.com.au/ctcmath/
YouTube: https://www.youtube.com/channel/UCWn5e6974bpIEAe46VnovZw
Instagram: https://www.instagram.com/ctcmath/