Drive Thru History® Acts to Revelation Review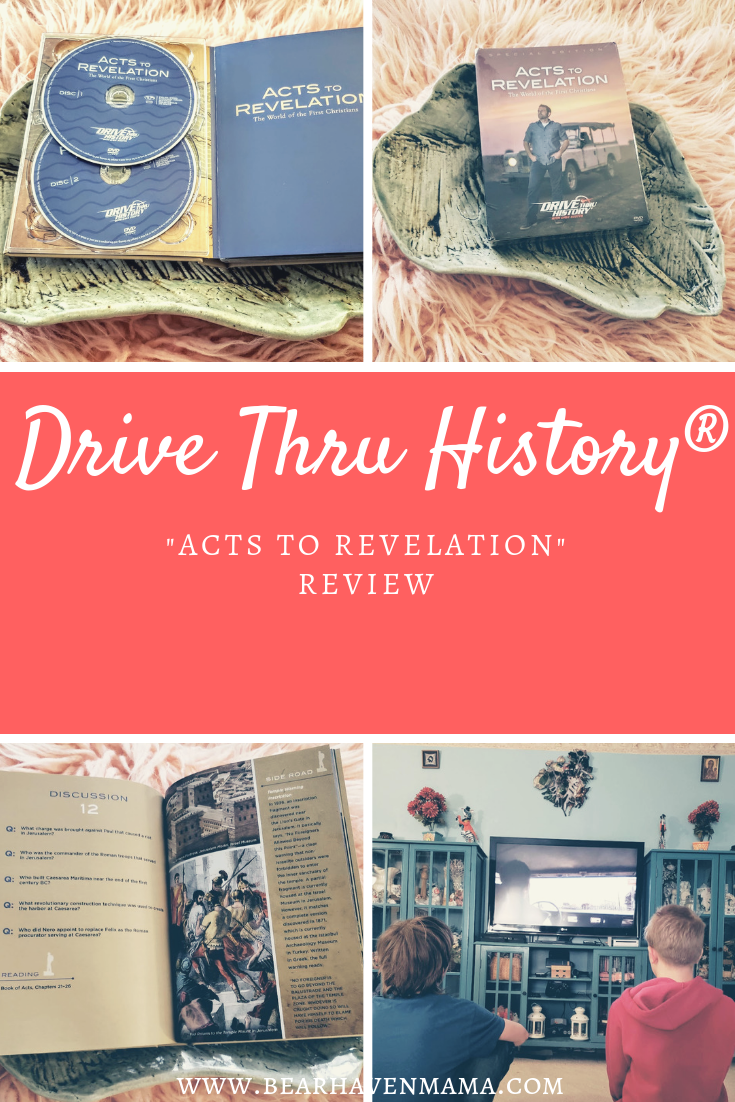 Our home is filled with history buffs, so when I got the opportunity to do an honest review of  Drive Thru History®  "Acts to Revelation" recently, the kids and I jumped on it right away! If you haven't heard of Drive Thru History® , it is a fact-filled and fun documentary series with Dave Stotts that takes you on a journey of historical discovery. This adventure is Biblical based, and if you are interested in Biblical history, this will be a great experience to give you background and history about what took place during the time period that Acts- Revelation was written.
This 18 part mini-series starts with Jesus' Ascension to Heaven and the beginning of the Christian Church.  Using the Book of Acts as his road map, Dave Stotts takes us on a journey along the Mediterranean and discusses the people, places, and events that took place during this time period. As someone who has studied the Bible over the years, partly for enjoyment and partly because I minored in Youth Ministry, I found this series fascinating. My two older kids have read parts of the Bible for Sunday School and Church programs over the years, and they were totally enthralled with this series because while it contains a lot of information, it isn't without humor and entertainment. Dave Stotts is funny, and he includes side bits in the journey like early on when he meets up with someone from Australia that does throat singing.
How the Series is broken down
As I stated earlier, the series is broken down into 18 parts. Here is the breakdown of the series so you can get a feel for how things are covered:
Episode 1: The Gospel shared at Pentecost
Episode 2: The Church grows at Jerusalem
Episode 3: The Gospel Spreads o the Gentiles
Episode 4: Saul of Tarsus & the Road to Damascus
Episode 5: Paul's first Missionary Journey: The island of Cyprus
Episode 6: The Journey Continues: Pamphylia, Glatia & Asia Minor
Episode 7: The Jerusalem Council & Paul's Second Missionary Journey
Episode 8: The Second Journey Continues: Philippi and Thessalonica
Episode 9: A Road Trip to Athens
Episode 10: Ancient Corinth
Episode 11: Paul's Third Missionary Journey: Ephesus
Episode 12: Paul's Final Trip to Trip to Jerusalem & Caesarea
Episode 13: Jesus Arrives in Jerusalem
Episode 14: A Final Journey to Rome
Episode 15: The Martyrdom of Paul & Peter
Episode 16:John and the Island of Patmos
Episode 17: The Seven Churches of Revelation
Episode 18: The Book Closes on the New Testament Period
Study Guide
In addition to the series, you also have a study guide with discussion questions for each part. In the study guide, it gives you a summary of each episode and then discussion questions. The kids and I decided to do this as a Biblical History Unit Study, so we are in the middle of the series currently. Using this as a unit study and utilizing the discussion questions allows me to see how much the kids are absorbing. Some of the questions involve a bit of thought and have lead to some unique discussions with me and the kids. This is the first Biblical History study that we have done together, and I really think the questions are easy enough for the kids to answer but interesting enough that they aren't bored with our discussions.
My thoughts
While this documentary is designed with children grades 6th grade-adult, you might be surprised to find that younger kids find it entertaining as well. My four-year old watched the preview for this when I first received information for this review. Because we homeschool mostly secular, I did want to discuss this option with the kids before applying. Even my youngest was on board to try this because the trailer made this series look fascinating. She has been watching right along with us and has been processing the series through play.
My big kids have been eager to start and continue this series. Since we did not watch the previous series with the Gospels, we are actually looking at doing that next. Dave Stotts has an amazing amount of knowledge and is a great storyteller. It makes this series so engaging that my kids want to learn more. I have been raving about this series to family and close friends because I love it so much.
To get a feel for the series if you are unfamiliar with Drive Thru History® , here is the trailer for Drive Thru History® "Acts to Revelation".
I hope you found this review helpful. You can find Drive Thru History® on social media on Facebook, You Tube, and Instagram! Also, make sure you check out more reviews by the Homeschool Review Crew as well!