Goldtown Beginnings Book Series Review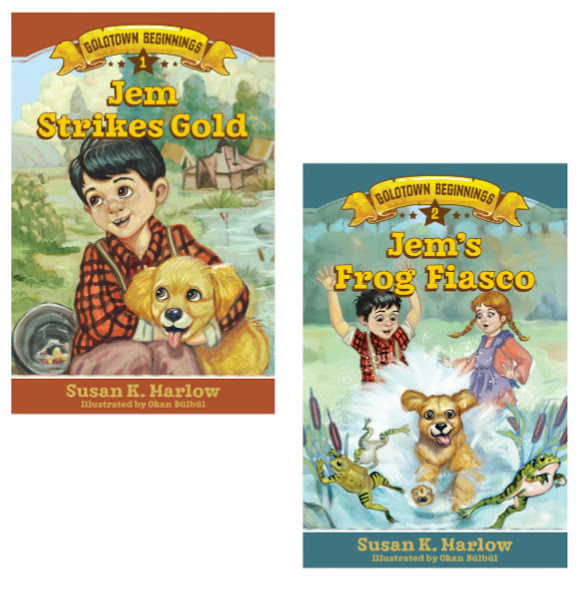 During our nighttime reading time together, my youngest daughter and I have been reading Jem Strikes Gold and Jem's Frog Fiasco.  These are the first two books in the Goldtown Beginnings Series published by Kregel Publications. We recently got the opportunity to review them, and I can't wait to share about this series with all of you!
*This post contains affiliate links, which means I may receive a small commission, at no cost to you, if you make a purchase through a link! Misfit Mama Bear Haven is a participant in the Amazon Services LLC Associates Program, an affiliate advertising program designed to provide a means for sites to earn advertising fees by advertising and linking to amazon.com.*
Goldtown Beginnings
Goldtown Beginnings is a prequel series to the Goldtown Adventures Series by Susan K. Marlow. It follows the early years of Jem Coulter, his sister Ellie, and their family during the late 1850's. The books are filled with lots of adventure and makes history come alive in a fun, unique way!
Jem Strikes Gold
Jem Strikes Gold is the first book of the series. In this book, Jem deals with a bully named Will Sterling. He has to find a way to make him stop so that he can help save his Mama's pie business. His idea is to take in a scrawny pup, but he has to convince his family that they need this dog first!
Jem's Frog Fiasco
In this book, Jem needs to find a way to make money to feed their new dog, Gold Nugget. Since he can't make enough money panning for gold, he decided to make money by frog hunting for a cafe owner. However, his sister gets in his way, and after an argument, she disappears. Now he has to find her before it's too late!
How You can Use this Series for Homeschool
These books provide a fun, fictional account of the gold rush time period. However, there is a free unit study available for these books to incorporate language arts including lap books, activity guides, and more! These activities enhance the experience and are a lot of fun!
What We Loved About this Series
Miss Crankles and I are just starting to read chapter books together. She does not quite read yet, but she loves having one of us read to her. As we read through the books, she asked a lot of questions, and it gave us the opportunity to talk about the history from that time period. We discussed how to pan for gold and why people were wanting to find gold in the first place. I love finding ways to make learning fun, and I love her eagerness to ask questions and learn about history!
Having the unit study material was great for us because I was able to make some of the activities work for us, and she loves to feel like she is doing actual "school work." I feel it helped reinforce the reading and helped her with comprehension.
Find Out More
If you would like to find out more about Jem Strikes Gold and Jem's Frog Fiasco, the first two books in the Goldtown Beginnings Series, please check out Kregel Publications on social media:
Facebook: https: https://www.facebook.com/KregelBooks
Facebook Group: https://www.facebook.com/groups/CircleCAdventures/
Instagram: https://www.instagram.com/kregelbooks/
Twitter: https://twitter.com/KregelBooks
You can also read more reviews from the Homeschool Review Crew by clicking the link below! If you have read this series or the Goldtown Adventures Series, please feel free to share your thoughts in the comments below! Also, don't forget to share this review if you found it helpful!