HiGASFY Art History Video Series for Kids Review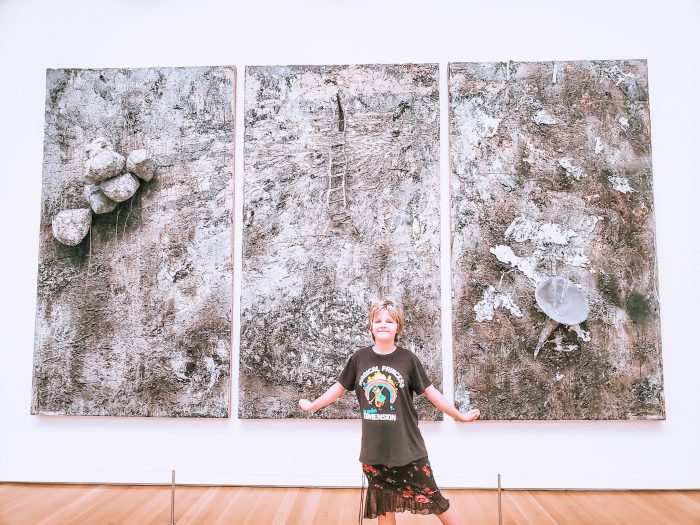 If you have ever visited our home, then you know that art is extremely important to us. This past summer, we toured some art museums while we traveled. It made my daughter want to add art education to our homeschool, and the opportunity to receive and review HiGASFY Art History Video Series made it possible to do just that.
*Misfit Mama Bear Haven is reader supported. This means that when you purchase through affiliate links on this site, I may receive a small commission, at no cost to you. Misfit Mama Bear Haven is a participant in the Amazon Services LLC Associates Program, an affiliate advertising program designed to provide a means for sites to earn advertising fees by advertising and linking to amazon.com.*
The Importance of Art in Our Home
Art has a special significance for my family. My father-in-law was an artist and taught at Lock Haven University. When he was still alive, he always strived to teach my kids something. His home showcased so much of his work, and we now have some of it in our home. Teaching the kids about art, art history, and why art is important is part of passing his legacy to our kids.
I think my father-in law would be happy to know that his oldest granddaughter has a fascination with art and is eager to learn all she can. As we visited art museums this summer, she expressed an interest in adding more art studies to her school day this year. Art history is important for her because she wants to know more about the artists and what was going on at the time they created their art. Needless to say, we were both excited for her to start this course.
About HiGASFY Art History Video Series
The "Have I Got A Story For You Art History Video Series," or HiGASFY Art History Video Series for short, is an online subscription based video series that introduces students to the world of art. It focuses on four time periods in art history:
Renaissance Series – daVinci, Raphael, Michelangelo
Baroque Series – Caravaggio, Rembrandt, Vermeer
Impressionist Series – Monet, Pissarro, Degas
Post-Impressionist Series – van Gogh, Matisse, Picasso
Each time period contains video lessons. It also provides lesson plans-complete with activity ideas and more, flash cards to print, and a "Name the Artist" Powerpoint. This program combines, art, writing, history, geography, and science. It does contain a biblical application for each lesson as well. The age range for this program is grades 1-8. However, I think that even my sixteen-year old could benefit from this course.
What We Like About HiGASFY
My daughter learns by using her hands. She doesn't like to just listen to a lecture or read a book. That makes this art history program a great fit for her. The videos are about 20 minutes long. After the lessons, there are other activities to do. Some of them include crossword puzzles and word searches. However, the kids get to do their own art work as well. They are encouraged to start a portfolio as they go along with the series.
We also love the flash cards. It gives my daughter the opportunity to learn and remember what kinds of art other artists created. She is proud that she can recognize different artists and their work!
One of the things I love most about this art education program is how it includes history, writing, and even science into the lessons. I strive for my kids to have a well-rounded homeschool curriculum and one that includes STEAM. This art history curriculum fits perfectly with my ideals!
Final Thoughts
If you wish to add art education to your homeschool days, then HiGASFY Art History Video Series just might fit your needs. It provides a lot of knowledge and activities. However, it also includes STEAM elements to your child's learning. You can find out more about HiGASFY by checking them out on social media:
Facebook: https://www.facebook.com/higasfy/
Pinterest: https://www.pinterest.com/higasfy/
YouTube: https://www.youtube.com/channel/UCjrNWpYDazk50FyV7AdKhkw
Instagram: https://www.instagram.com/higasfy/
Also, don't forget to check out other Homeschool Review Crew reviews by clicking the link below. As always, I love answering questions about my reviews, so don't be afraid to message or comment below!