How My Cat Has Helped Me Deal With OCD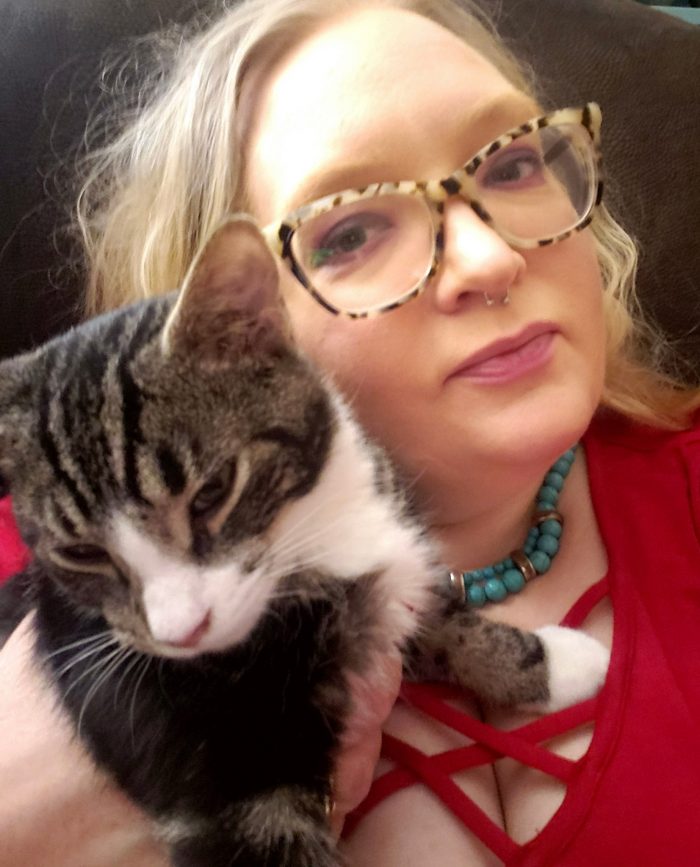 Who would have thought that getting a cat would actually help me with my OCD? Well, this is the story how our cat Lawrence has helped me deal with my OCD and other issues as well!
*Misfit Mama Bear Haven is reader supported. This means that when you purchase through affiliate links on this site, I may receive a small commission, at no cost to you. Misfit Mama Bear Haven is a participant in the Amazon Services LLC Associates Program, an affiliate advertising program designed to provide a means for sites to earn advertising fees by advertising and linking to amazon.com.*
How We Ended Up with A Cat
I post a lot in my Instagram stories about Lawrence the cat. He came to live with us in the fall, and it wasn't exactly planned either!
I have really bad OCD, in addition to anxiety and PTSD. The idea of having a pet scared the crap out of me for the longest time. There were too many scenarios that ran through my head making it hard for me to even think about having a pet for a really long time.
No time To Prepare
When my son asked if he could bring Lawrence back with him this fall when visiting his Nana, I told him to ask his dad. I figured my husband would say no. Obviously, I wasn't mentally prepared to have this cat come into my home. Imagine my surprise when he said yes!
This cat was not litter trained! We didn't have anything for him. I didn't even know where to put the litter box. The first few days were a bit rough. My son and I didn't sleep much as we kept tabs on the cat to make sure he didn't defecate everywhere. Eventually, a friend told us to give him a space of his own temporarily to ease him into living here. By the end of the week, he was litter trained and working on getting him used to our home.
How the Cat helped me Deal with OCD and other issues as well
Lawrence has been so therapeutic for me. Having him helped me mend my broken heart after a miscarriage this fall. Also, his presence slowly helps me remember the way I used to be with cats before OCD took over my life.  Once upon a time, I could pet and love on cats and other animals without having to wash my hands right away. I could have a pet in my home without being afraid of all the many hang ups I now have.
The other night I let him get comfy in my favorite chair. I sat next to him just petting him for a long time. It reminded me of being a teen and snuggling with my cats. I felt relaxed and calm.
So Thankful
I am so thankful my husband said yes to Lawrence coming to live with us, and I can't imagine not having my kitty boy as a part of our family. Having a cat has helped me deal with OCD and some of my other issues in a healthy way.
I still have a long ways to go, but this has been a positive start. Having OCD is so oppressive at times and sometimes makes little things seem like everything is out of control. Finding new ways to deal with my OCD helps me to feel like I can conquer this after all!
If you have OCD, what are some exercises and activities that have been helpful to you? As always, feel free to share your thoughts in the comments below! Don't forget to follow me on social media and subscribe to the blog at the bottom or side of the page (depending on whether you are using a desktop or mobile device)!