How to Host A Book Exchange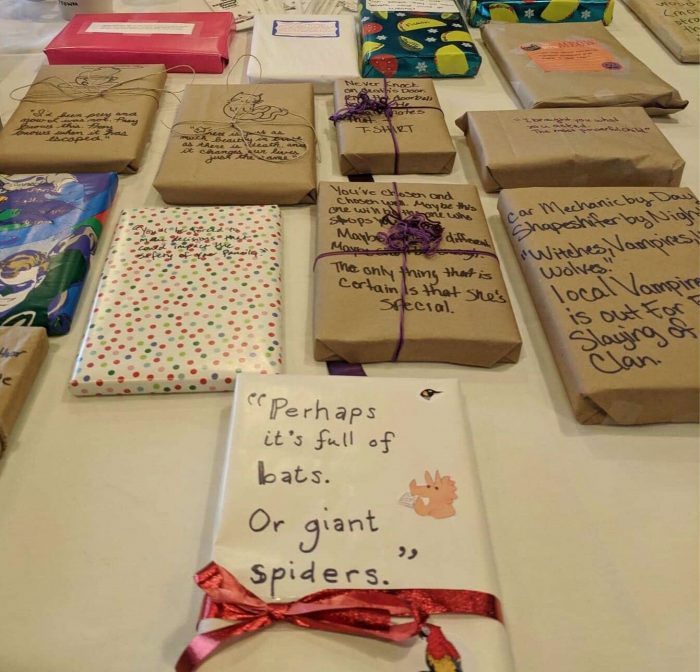 At our most recent Geek Girls Brunch, we had a "Date With a Book." It was actually a book exchange. We were told to bring a book that meant something to us (or a copy of that book if we couldn't part with ours) and wrap it to exchange at the meeting. The whole thing was a lot of fun, way better than a White Elephant exchange…and I got a new book!
The Rulez:
The rules were fairly simple but designed to make the whole process intriguing and fun. Here they are:
Each book must be wrapped.
On the package, a quote from the book needed to be written
Draw numbers and each person gets to go to the table to pick a book…BUT
You can steal a book from someone
Once a book has been stolen three times, the last person gets to keep it.
After everyone has had a turn and stolen books, you may open your present
There was one book that totally caught my eye. I ended up stealing it…
…but,
Someone stole it again. So I stole another book, but then someone stole that one from me. I ended up stealing it back to find myself the new owner of "Micro" by Michael Crichton and Richard Preston. It is my first Michael Crichton book, so I am pretty excited about reading it!!!
I know what you are thinking…these books have nothing to do with kids and parenting. However, this can be adapted for any age group!
Other ways to play
This could be adapted to work with play groups or your kids' friend groups. It might also be something fun to do as a family. If books are not your thing though, you could apply these same rules to a toy exchange or maybe even a crazy sock exchange!
The key to whatever you do is to have fun with it! This is not only entertaining, but it is also light on the budget too!
Have you ever done one of these exchanges? If so, how did it go? What did you get? As always, I would love to hear from you in the comments below or my social media pages!