How to Make a tasty Salted Caramel Whipped Coffee (Dalgona Coffee Recipe)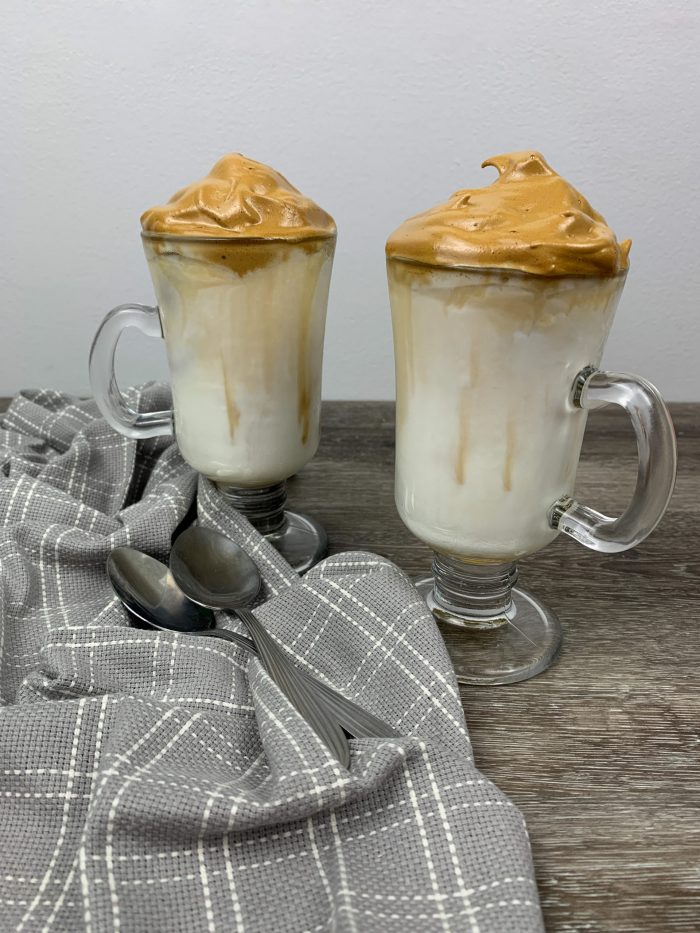 Whipped coffee is all the rage right now! As it happens, the coffee drinkers in my family love salted caramel. Therefore, today I am sharing how to make a Salted Caramel Whipped Coffee, also known as Dalgona Coffee!
*Misfit Mama Bear Haven is reader supported. This means that when you purchase through affiliate links on this site, I may receive a small commission, at no cost to you. Misfit Mama Bear Haven is a participant in the Amazon Services LLC Associates Program, an affiliate advertising program designed to provide a means for sites to earn advertising fees by advertising and linking to amazon.com.*
What is Whipped Coffee?
Okay, so this viral sensation's name came from a Korean sponge candy known as Dalgona. However, Whipped Coffee became very popular thanks to Tik Tok, and now everyone wants in on the craze!
Did you know that the process for whipped coffee is super simple. It only takes a few ingredients. Also, it is super fun to make. Plus, you can substitute some things too to make it work for your dietary needs!
Substitutions I use
For regular whipped coffee, I use coconut sugar. I also use almond milk instead of regular milk. Both still make it taste great!
Most people prefer to drink this take on the latte cold. However, you definitely can drink it warm as well, if that is your thing!
Salted Caramel Dalgona Coffee (Whipped Coffee)
Makes 2 Servings
Ingredients:
2 tbsp of instant coffee

2 tbsp sugar

2 tbsp hot water

Salted Caramel Syrup (You can always find it on Amazon, but you can try HomeSense, HomeGoods and TJ Maxx too!)

Milk of choice

Ice cubes
Instructions:
-Whisk together instant coffee, sugar, and hot water until peaks are formed. (You can use a hand whisk, a hand mixer or a stand mixer. Your choice). I prefer a hand mixer or stand mixer, but for demonstration, let's use the whisk!
-Fill a glass with ice cubes. Then top with desired amount of Salted Caramel Syrup. If you just want a little flavor go for a teaspoon. However, if you're looking for a big bunch of caramel sweetness, you might want to go with an ounce.
-Top the rest of your cup with milk of choice.
-Put one to three scoops of the whipped coffee mixture on top and serve!
ENJOY!
Final Thoughts
I hope you enjoy this take on the Dalgona Whipped Coffee recipe! If you do, please remember to pin it and share it with your friends! Also, be sure to follow me on here for more recipes and fun!