How to Make Pikachu Peeps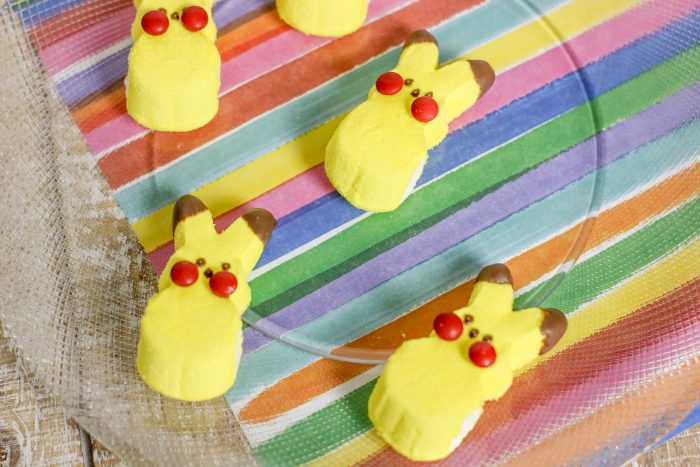 Peeps are a spring time staple, with the bunny ones appearing around Valentine's Day and sticking around until after Easter. However, you don't have to stick with plain old Bunny Peeps. Read on how to make Pikachu Peeps, great just for fun or for a Pokemon birthday party!
How I Like My Peeps
While I cannot eat Peeps anymore thanks to an extensive list of food allergies and restrictions, I have taught my kids my favorite ways. I love to open a package, let them get stale, and then enjoy them. I also like to use them around a campfire for s'mores.
My kids have a tendency to play with them before eating them, which makes this recipe all the more fun to do with the kids! Also, we love Pokemon, and Pikachu is a favorite with my youngest. I have a feeling we will be making these all spring long.
How to Make Pikachu Peeps
Ingredients
Yellow Peeps Marshmallow Bunnies

Milk chocolate morsels

Red M&M Minis
Instructions
Melt chocolate in a microwave safe bowl in the microwave on high, stirring every 15 to 20 seconds until melted. Do not overheat as the chocolate will seize. If the chocolate becomes tough, you can add 1 teaspoon of coconut oil or vegetable shortening. Do not add water.
Dip each ear of the Peeps bunny, gently pushing or pulling through the chocolate to make a clean diagonal line. Place on wax paper until set.
Using a toothpick, apply a drop of melted chocolate to the printed side of a red M&M mini and immediately press against the Peeps Marshmallow as Pikachu's cheek. Repeat with the other cheek.

Allow chocolate to set completely prior to packaging or serving.
I hope you all have as much fun as we did making these. They are great just for fun. However, if you have a Pokemon fanatic, these would make a great addition to your Pokemon party menu!
If you enjoyed this recipe, don't forget to follow me for more fun recipes, homeschool, and parenting fun! Also, how do you eat your Peeps?