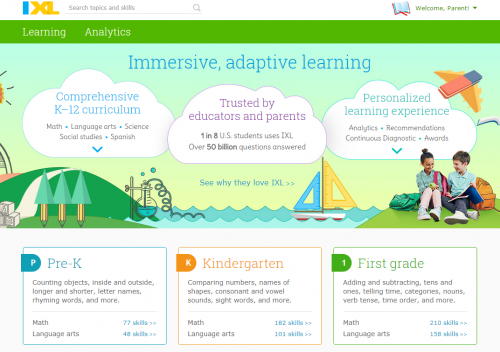 As we have been changing up some of our homeschool routine, we recently added IXL Learning to the mix. Before having the opportunity to review  of IXL, I heard great things from a few friends who used it with their kids for math, language arts, social studies, and science. My friends were not wrong! IXL has been a super beneficial edition to our homeschool mix! For this review, I will be sharing about the IXL Annual Membership which we received for each of the older kids in exchange for this honest review.
What is IXL?
IXL is a comprehensive K-12 curriculum providing education for Language Arts, Math, Science, Social Studies, and even Spanish! It is adaptive in that it adjusts its difficulty to fit your child's needs. It's interactive and offers incentives to your child to keep going.
For homeschooling families, it works as a nice addition to your homeschooling routine as it provides a way for your child to get extra practice on various subjects. You can also get notifications via email and can track your child's progress via the website. If you are concerned about state standards, IXL is a super handy tool to have at your disposal because this program is set to state standards. We were provided an annual membership for each of my older kids to IXL.
How We Use It with Bubby
My son has been using IXL primarily to help with his math capabilities. While he excels at many subjects, math has not come to him naturally. He hopes to go into engineering someday, so he wants to do all he can to catch up and excel in math. Currently he is at 8th/9th level with most of his subjects. He has been using it to test his math skills and find out where he needs more practice. He actually looks forward to spending time every day doing this, and he loves the rewards system. He says it is easy to use, and he likes the interface.
How we Use it with Sissy
My older daughter is at a 6th/7th grade level with her subjects. She mostly uses IXL for Language Arts and Math practice. She loves the pins, and she says that getting a new pin is motivation for her to do more. She uses IXL for practice, and I don't even have to tell her to get on the computer and do it. She likes it enough to log on independently. She also likes how simple it is to use.
Final Thoughts
I love using IXL as a tool to enhance the kids' education. The design, structure and fact that they teach state standards helps my kids learn and gain confidence in learning. While we don't use this as a core curriculum, having this as a supplement has helped my kids enhance their skills and gain confidence!
You can find out more by checking out their website and also finding them on Facebook, Pinterest, Twitter, and You Tube. Also, don't forget to check out some of the other reviews by the Homeschool Review Crew about IXL Learning!