Just Dance 2019 Review (More Like A Love Story Really)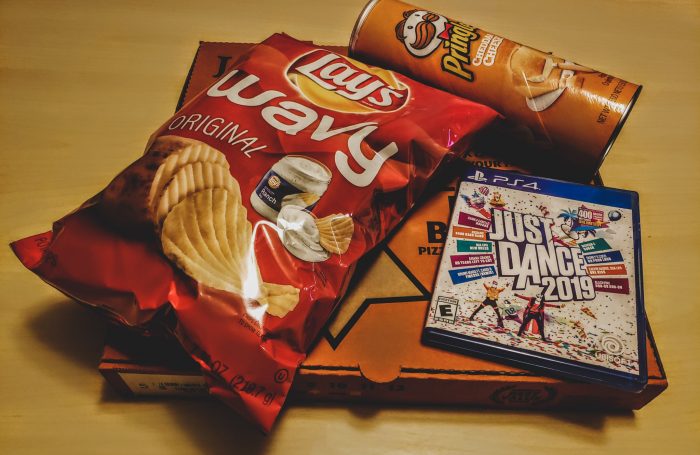 *Misfit Mama Bear Haven is reader supported. This means that when you purchase through affiliate links on this site, I may receive a small commission, at no cost to you. Misfit Mama Bear Haven is a participant in the Amazon Services LLC Associates Program, an affiliate advertising program designed to provide a means for sites to earn advertising fees by advertising and linking to amazon.com.*
I remember when the first Just Dance game came out! It was the only thing I asked for my birthday that year, and Sissy was this tiny three-year old who instantly fell in love with the game. I remember after we all tired out, she just kept playing until she fell over. Our family became obsessed. We own every version of the game and have spread our Just Dance love all over the globe as we introduced it to every single exchange student who came to stay with us!
My Love Story With Just Dance
While the kids and all of my exchange students absolutely love the game, I have a bit of an obsession myself. Also, playing Just Dance has gotten me through some tough spots in my life. When I was in a severe depressive state after my first miscarriage, Just Dance is what I used to start exercising again. With the health issues I have had the past few years, the Just Dance series has kept me movin' and groovin' when I didn't feel like being more than a potato. Needless to say, when the opportunity arose to share my Just Dance love with all of you, I jumped on board quite enthusiastically!
The Deets
Over the last few years, we moved consoles for the game. I started out on the Nintendo Wii, but we now use the PS4. I love being able to use the PS4 because you can download an app on your phone and use your phone as the controller. THIS IS HUGE! You don't have to worry about running out of batteries or buying more controllers. I think this is one of my most favorite features!
Let me tell you some more deets about Just Dance 2019. It includes 40 chart topping hits like Finesse by Bruno Mars and Cardi B, Havana by Camilla Cabello, and Un Poco Loco by Disney Pixar's Coco. If you subscribe to the Just Dance Unlimited service (which is extra), you get over 400 songs. Plus there is a kids mode with a tailored interface for the youngest players to enjoy with 8 new kid-friendly choreographies and curated songs. Your Just Dance experience is now personalized as the game learns your dancing habits and suggests content! It is a game, it is a competition with friends, it is a work out, it is whatever you want it to be!
Here is a look at everything in action!
We had a few of Sissy's besties come try it out with her! They had a blast as I am sure you will too!
How to Buy
Just Dance 2019 is available at Target, Best Buy, Amazon, and other major retailers! It makes a great gift, and it is one of the most versatile games on the market. It works for sleepover fun when your kids have friends over for the night. It makes family night fun. You can also use it for a great workout! I highly suggest splurging for the Unlimited subscription because it gives you so many songs in which to choose!
If you have Just Dance, what is your favorite song from the series? What would you like to see next? As always, I look forward to hearing from you! I hope you found this review helpful, and if you did, please feel free to share it. Also, if you watched the video, don't forget to subscribe to the channel! I am starting a new series there and would love your viewership!