Let's Visit White House Fruit Farm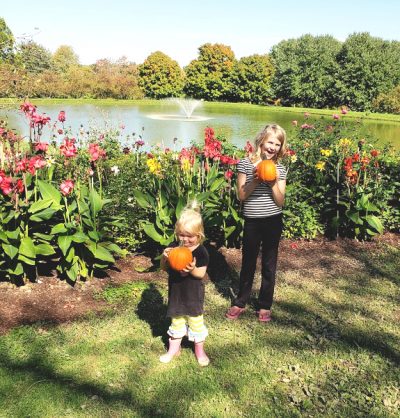 While we didn't do a ton of activities this fall, the kidlets and I finally got a taste of White House Fruit Farms in the fall. It has been something that everyone has raved about since we moved here, but we never had the chance to take advantage of all they have to offer in the fall until now…and boy were we missing out!
White House Fruit Farms is located outside of Canfield, OH and is open year 'round. In the early summer, we visited for strawberries. This time we came for the apples! They grow over 20 varieties of apples, and we got to tour the orchard with some of our homeschool friends on our visit.
After our tour guide gave us a tour and some background on fall produce and the farm, we got to enjoy some of their fabulous donuts and apple cider! Side note: while I cannot eat donuts anymore due to food allergies, I did get to enjoy some before the diagnosis. Hands down, they were some of the most delicious donuts I ever ate! Many of my friends visit there just to pick up donuts.
Since the weather was nice, the kids got a chance to play at their play area. Their play area is super cool. It looks like an old coop and has slides coming out of it. Then there is an area with a sandbox and another with a playhouse. If you are in the area and want to spend a relaxing day in the country, this is a great place to take your kids! It is also super picturesque. There is a pond there too where you can sit and enjoy the scenery and the beautiful flowers. In the spring, summer, and fall, they also offer lots of family friendly events. Plus, they have a market where you can buy produce and deli items as well.
When we were all done, we got pumpkins to take home, and they are still sitting as decorations in our living room. We were lucky enough that we got to enjoy it all on those few last days of warm weather in October. While we were a bit hot and sticky, it was still a great time!
White House Fruit Farm makes for a great day trip, either with friends or with kids. In warmer weather, you can enjoy the beauty of the outdoors and the play area, but in colder weather, you can find delicious produce and purchase some tasty pastries! It is definitely one of the gems we have found as we have been learning the Mahoning Valley area!