Library and Educational Services LLC Homeschool Review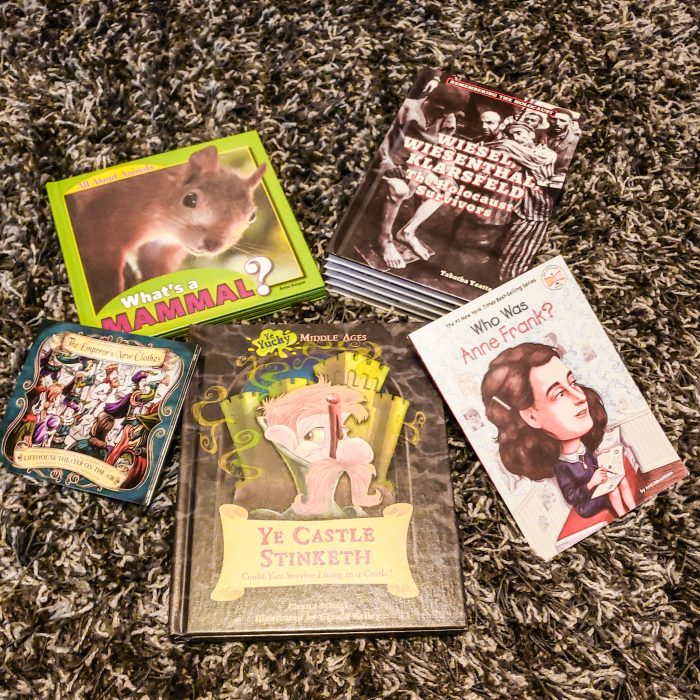 One of our homeschooling goals was to build a library filled with educational and fun materials for our children, and with Library and Educational Services LLC, we can add beautiful Reinforced Hardcover Library Binding Nonfiction books. They also carry paperbacks like the Who Was . . . series with titles like Who Was Anne Frank? In addition to books, Library and Educational Services, LLC also carries CDs such as the Lifehouse Theater CD: The Emperor's New Clothes.
Recently, we received the opportunity to explore the Library and Educational Services LLC website and pick out some resources to use for this school year. I can't wait to share what all we found!
How it Works
Library and Educational Services LLC provides wholesale books, CDs, and DVDs. They primarily sell to Christian schools, churches, specialty stores and resellers with a specialization in materials for children. Their prices are 30% to 70% (or even more) off publishers' list prices. Also, they give homeschools the same discount other schools receive.
For a family of book lovers, this is a dream come true. Also, the books they carry work great for supplementing unit studies and adding more reading materials to your homeschool library. The materials carried range from pre-k through high school age, which is fantastic if you have children of wide age ranges, like me.
Here are just some of the types of materials you can find:
Children's books
Books for teens
Adult fiction
Nonfiction
Audio series such as Lifehouse Theater On-The-Air
DVD's such as Drive Thru History
Biographies such as the Who Was Series
Christian authors such as Karen Kingsbury, Beverly Lewis, Max Lucado and Dr. James Dobson.
Supplemental Books great for Unit Studies
What We Chose for Our First Experience
With so much from which to choose, I decided to look at materials that would complement unit studies I have planned for the school year. With a budget of under $80, I managed to get materials perfect for all of my children!
I chose Who Was Anne Frank and a set of five hardbound series titled, Remembering the Holocaust for our Holocaust study. My son wanted to study WW2 and the Holocaust in depth, so this was perfect.
For Miss Crankles, I found a 3 hardbound book series called All About Animals. She practically tore them from my hands when everything arrived. They are sturdy and contain lots of color and facts.
I also found a four book series entitled, Ye Yucky Middle Ages. It is a fun way to study the Middle Ages, and my older daughter loved the concept.
We also received The Emperor's New Clothes CD from Lifehouse Theater. Library and Educational Services has a wonderful collection of Lifehouse Theater CDs. These are fantastic for road trips, and it is something all three of my kids enjoy. Bonus: it keeps them off their devices for a bit!
What I Loved
First of all, I loved how easy it was to use the website. It was easy to sign up and easy to navigate. They have their materials organized according to categories, but they also make it easy to see what is available for various ages.
I also love that they carry between 200 and 300 nonfiction book series in stock, all with reinforced library binding. Plus, they are priced at the same price as many paperbacks.
As a homeschooling mom who is very budget conscious, I love that Library and Educational Services provides me a way to build a homeschool library without breaking the bank. Also, the materials shipped super fast, which also made me super happy!
Final Thoughts
If you are looking to add to your homeschool library or just looking for great materials to add for a unit study, you really should make Library and Educational Services LLC your first place to look! Between their extensive providings in the Who Was… series, hardbound non-fiction, and cd's and dvd's, you will be amazed at all you can find for your homeschool journey!
If you want to check out more reviews, please see what other Homeschool Review Crew members have to say by clicking the link below!Also, you can follow Library and Educational Services LLC on social media!
Facebook: facebook.com/libraryanded
Pinterest: https://www.pinterest.com/libraryanded/
YouTube: https://www.youtube.com/channel/UCf-f2T2eIghJkxinFu4xVgQ
Instagram: https://www.instagram.com/libraryanded/
Be sure to follow my blog and me on social media for more homeschool reviews, family fun, and travel adventures!