Lightning Literature & Composition British Mid-Late 19th Century Review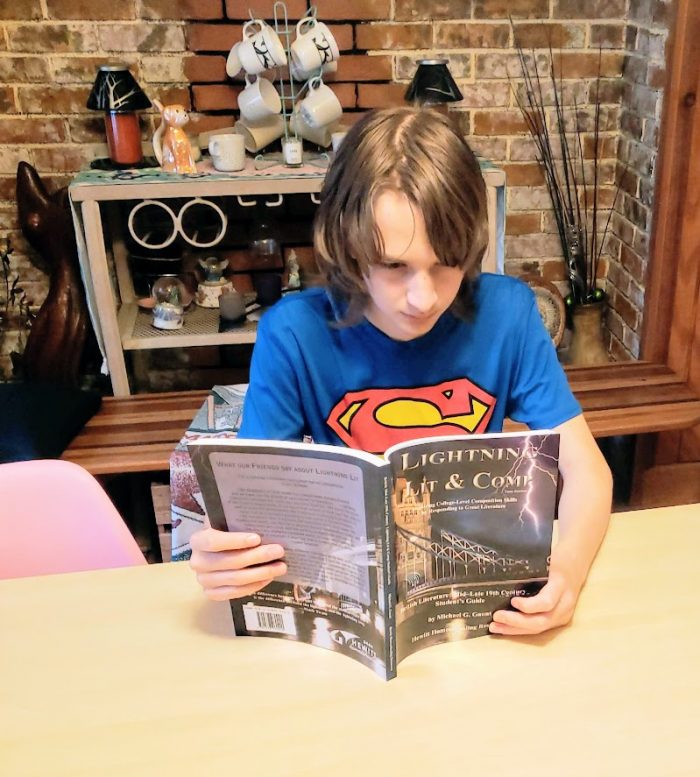 As my son prepares himself for college, I want to make sure I provide ways for him to have the materials he needs to do just that. Recently, I received the opportunity to review Lightning Literature & Composition British Mid-Late 19th Century from Hewitt Homeschooling Resources's Highs School Lightning Lit series. If you are looking for a way to improve your high schooler's understanding of literature and writing skills, then this program might be for you.
*Misfit Mama Bear Haven is reader supported. This means that when you purchase through affiliate links on this site, I may receive a small commission, at no cost to you. Misfit Mama Bear Haven is a participant in the Amazon Services LLC Associates Program, an affiliate advertising program designed to provide a means for sites to earn advertising fees by advertising and linking to amazon.com.*
Who is this Course For?
 Lightning Literature & Composition British Mid-Late 19th Century is designed for students grades 9-12 who have preferably taken another high school level Lightning Literature course, have studied World History, and have an interest in British Literature. The literature used in this course comes from the late 19th century, a time of social unrest and Romanticism in literature and the arts.
This is our first experience with Lightning Literature. While it took us a bit to get used to the curriculum, you could start with this one. This course is definitely for students that need to learn comprehension and writing skills for college. Students learn about rhyme and meter, conflict, comprehension, and writing. They also cover the following authors and literature:
Alfred, Lord Tennyson (selected poems)
George Eliot (novel: Silas Marner)
Charles Dickens (novel: Great Expectations)
Lewis Carroll: (selected poems)
Robert Louis Stevenson (travelogue/essay, "The Silverado Squatters")
Oscar Wilde (play: The Importance of Being Earnest)
Sir Arthur Conan Doyle, (short story, text in this Guide: "The Adventure of the Speckled Band")
Rudyard Kipling (novel: Stalky & Co.)
How We are Using this Course
This course is designed to be used over an 18 week period. However, we will most likely spread it out a bit more because I know that my son may need more time to absorb the knowledge. He wants to learn how to write papers for college and needs better reading comprehension. The comprehension questions included in this course, as well as the writing exercises will help him do just that.  While we have covered various literature in the past, this course gives us our first in depth experience.
Your student could do this course on their own, but you will still need to grade the exercises. We will be doing a lot of the work together. I feel that discussing together will help create a better comprehension. There is a lot to process, and I want to make sure that he stays on track. I want to be able to guide him and make sure that he can answer the questions and do the work without frustration. Also, I wanted to read Great Expectations again as Charles Dickens was one of my favorite British authors.
What We Like About This Course
One of the things I noticed right away is that the student book is very well organized. The introduction, while long, lays out the expectations for the course and what your student should be able to accomplish by taking this course. This is our first comprehensive high school literature course, and it provides not only novels but poetry as well. It teaches students about poetry and how rhyme and meter work. Plus, one of the first writing lessons is having your student write poetry using the lesson from the Alfred, Lord Tennyson selections. It lays foundations that my son will need in college, and it does it in a way that is not over his head.
My son likes the format, and he is excited to learn how to write papers and short stories. He loves writing, so having a comprehensive course that will teach him how to organize his thoughts and write them correctly makes him extremely excited! He enjoys the literature we have read so far, and is excited about the one on one time we have together doing this. Since I was an English major, I love talking about the novels and writings used. It is a nice way to bond and learn at the same time!
Final Thoughts
I feel that Lightning Literature & Composition British Mid-Late 19th Century from Hewitt Homeschooling Resources's Highs School Lightning Lit series makes a great High School Literature program for older high school students. It gives your student a solid foundation for what they will need as they go to college. If you would like to learn more about other products from Hewitt Homeschooling Resources, be sure to check out all the reviews from other Homeschool Review Crew members!
Don't forget to Hewitt Homeschooling Resources on Social Media as well!
Facebook: https://www.facebook.com/hewitthomeschooling
Twitter: https://twitter.com/hewittonline
Pinterest: https://www.pinterest.com/hewittonline/
YouTube: https://www.youtube.com/user/HewittOnline
Instagram: https://www.instagram.com/hewittonline/