Doctor Who Party Ideas for Kids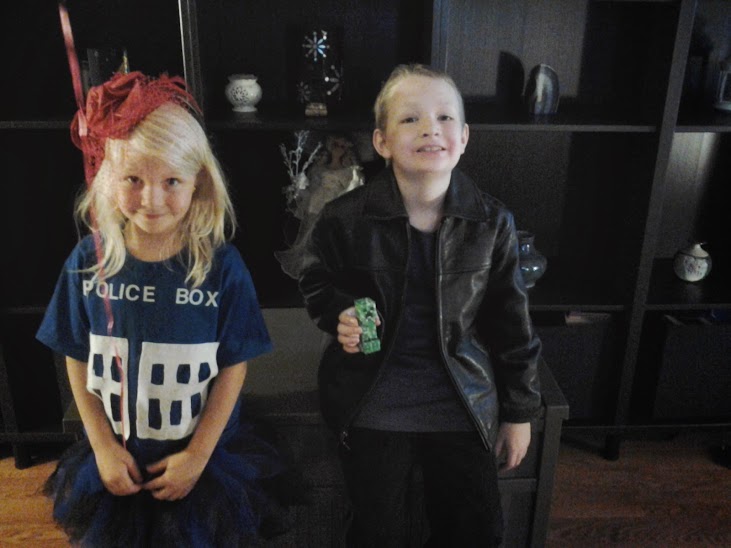 *This post contains affiliate links, which means I may receive a small commission, at no cost to you, if you make a purchase through a link! Misfit Mama Bear Haven is a participant in the Amazon Services LLC Associates Program, an affiliate advertising program designed to provide a means for sites to earn advertising fees by advertising and linking to amazon.com.*
Doctor Who is one of my family's big obsessions. We even celebrated Fish Fingers and Custard Day a few times! In honor of our love for the Doctor, I thought it would be fun to share some Doctor Who Kids Party Ideas with all of you!
(This post may contain affiliate links or Amazon links, which means I may earn a small commission if you click the link then purchase a product or service from the third party website. Purchasing a product or service from a link does not increase your purchase price, but it is a great way to say 'thanks' if you enjoy my content and find my suggestions helpful.)
Decorations
Think TARDIS blue! Blue tableware makes for a perfect party! Also, if you have a chance, get a stand up Police Box or make one yourself out of a refrigerator box. You could get creative and make something out of cloth and wood, like this one a friend and her dad made for our Steel City Geekettes family picnic this fall!
Other things that would be fun to use include star streamers and the glow in the dark stars for the ceiling and walls.
Games and Activities
When you send your invitations, you should, of course, tell your guests to come as their favorite Doctor Who characters. Have a contest to see who is your favorite.
Here are just a few activity ideas:
Weeping Angel Tag: One child is the angel. When the child's back is turned, all the children move around the room. When she turns around, the children must stop. Whoever moves is out.
Toss The Adipose: It's kind of like "Hot Potato." However, try to find a white bean bag to use as an Adipose.
Pin The Tie on The Doctor: Either draw one of the doctors or print a picture from your computer. Make bowties out of paper and have the children try to put one on the Doctor like you would if you were playing "Pin the Tail on the Donkey."
Musical Planets: Draw Planets on pieces of poster board or cardboard. Place them around the room. Play like "Musical Chairs."
Treasure Hunt: Pretend the TARDIS is broken and hide pieces that the children would need to "fix" it.
Food
What's a party without food? Here are some ideas for some fun eats!
Marshmallow Adipose. Crisscross toothpicks into large marshmallows. Add four miniature ones for hands and feet. Use black icing to make faces
Fish Fingers and Custard. Self-explanatory. You probably want to serve them separately, but my children did try them together tonight and loved it!
Doctor Who Cookies. Etsy always has fun Doctor Who cookie cut outs. You can have the kids decorate them as a fun treat!
Jelly Babies! Use Sour Patch Kids for some homage to the Fourth Doctor!
Have fun!
The most important part is to have fun! What would you add for Doctor Who Party ideas? As always, I look forward to hearing from you! If you found this party idea helpful, don't forget to share! You can also find other party ideas I love on my Pinterest!