F is for Fall: An ABC Club Book Review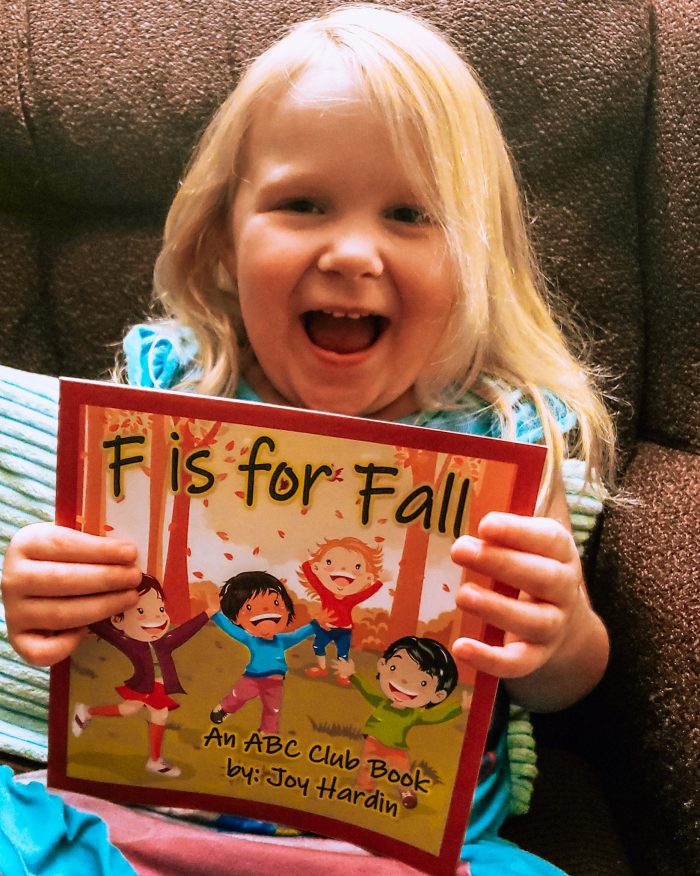 As a homeschool mom, I love doing themed homeschool units for the season with my children. Since my youngest is still learning about the alphabet, I was excited for the opportunity to review F is For Fall: an ABC Club Book by Joy Hardin for my honest review! This book is a great read for early reader or for bedtime reading.  Plus, this fun fall themed book can be used to create a homeschool preschool/kindergarten homeschool fall unit study.
About the Book and Author

F is For Fall uses every letter of the alphabet to describe fall in a unique way. For younger children, you can use the short version. However, there are longer descriptions that can be used with older children. Plus, if you purchase through Amazon, you can download an enhanced Kindle version for free through the matchbooks program. The enhanced version gives great ideas to expand the book into a homeschool fall unit study for younger children.
This book contains so many topics for discussion about fall, including holidays and activities. It is very interactive in that the author asks questions, asks kids to count, and recall information from previous pages. Also, the illustrations are very colorful and diverse.
The Author, Joy Hardin, is a former public school teacher and homeschooling mother. She recently started pursuing her dream to become a writer. Working with her daughter as a homeschooling mom inspired her to start writing.
What We Loved About the Book
As I said earlier, I love doing themed homeschool units for my children. With the Kindle enhancement, it made it easy to do that. Also, I loved how the topics for each letter sparked discussion with my child. We love books that include a wide variety of information and diversity. This book definitely fit that perfectly.
This book is great for all families. While we used it in a homeschool setting, this book is also perfect for a nighttime reading before bed. It is very interactive and a great way to spend one on one time.
Final Thoughts
If you are looking for some fun fall-themed books for your littles, I highly recommend adding F is For Fall: an ABC Club Book by Joy Hardin to your list. Whether you use it as a themed homeschool unit for fall or just as a bedtime story with your child, you and your child will enjoy the colorful illustrations and fun topics covered in this book. I hope you found this F is for Fall book review helpful, and as always, I would love to hear your thoughts in the comments below!
And now for a Giveaway
One lucky reader will receive a paperback version of F is For Fall: an ABC Club Book by Joy Hardin. To enter, please follow the rafflecopter instructions below. Also, I teamed up with some other fun bloggers to share about upcoming giveaways, so be sure to check out their giveaways too! Giveaway has ended