Heroes of History: Harriet Tubman Review by YWAM Publishing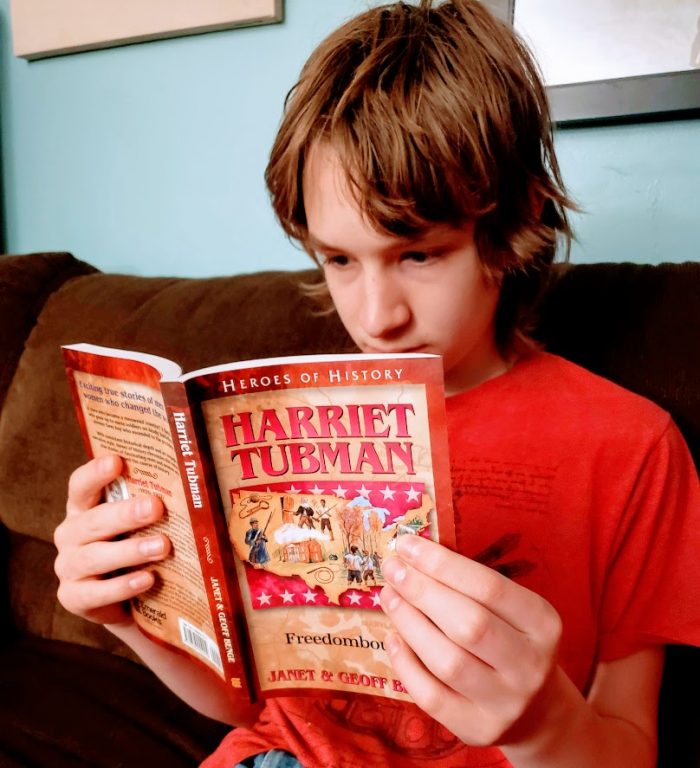 Our family is full of history buffs, so when we got the opportunity to review a book from YWAM Publishing and their Heroes of History series, it was a hard choice deciding which one to read. We settled on Harriet Tubman: Freedombound.  This has been a great unit study for us, and I am so happy we got to review this book!
*Misfit Mama Bear Haven is reader supported. This means that when you purchase through affiliate links on this site, I may receive a small commission, at no cost to you. Misfit Mama Bear Haven is a participant in the Amazon Services LLC Associates Program, an affiliate advertising program designed to provide a means for sites to earn advertising fees by advertising and linking to amazon.com.*
About the Heroes of History Series
This series of books features historic figures and tells about their lives. We chose Harriet Tubman for our review, but we were also interested in George Washington Carver and Milton Hershey (mainly because we used to live close to Hershey, PA). Here are the other titles in the series:
Christian Heroes- C.S. Lewis
Christian Heroes- Gladys Aylward
Christian Heroes- Jacob DeShazer
Christian Heroes- Corrie ten Boom
Christian Heroes- Amy Carmichael
Heroes of History- Christopher Columbus
Heroes of History- William Bradford
Heroes of History- Captain John Smith
Heroes of History- William Penn
Heroes of History- Benjamin Franklin
Heroes of History- George Washington
Heroes of History- John Adams
Heroes of History- Meriwether Lewis
Heroes of History- Daniel Boone
Heroes of History- Davy Crockett
Heroes of History- Abraham Lincoln
Heroes of History- Harriet Tubman
Heroes of History- Clara Barton
Heroes of History- Thomas Edison
Heroes of History- Theodore Roosevelt
Heroes of History- Milton Hershey
Heroes of History- George Washington Carver
Heroes of History- Laura Ingalls Wilder
Heroes of History- Orville Wright
Heroes of History- Douglas MacArthur
Heroes of History- Alan Shepherd
Heroes of History- Ronald Reagan
Heroes of History-Billy Graham
Heroes of History- Louis Zamperini
Heroes of History- Ben Carson
These books all have unit studies available, and the unit study guides give you ways to enhance your learning experience. They have arts and crafts activities, study questions, essay options, and more. You get a rich unit study with each book you choose.
Harriet Tubman: Freedombound
When my kids thought of Harriet Tubman, they thought of the Underground Railroad. However, they knew very little about her life. The book starts early in Harriet's life, when she was sold at the age of 5 or 6. As the big kids have a little sister who is four and a half, we used her as an example to show just how young slaves were when they started serving a master. This book gave a new perspective to how horrible slavery was. Reading Harriet Tubman's story has been fascinating.
We were given a digital unit study as part of this review, and I really like the way it is designed. It gives you ideas such as chapter questions, essay questions, creative writing assignments, and hands-on projects. You can adjust it to fit the age and ability of your child. I think it is really helpful!
What We Thought
We have been enjoying doing this as a family. My big kids and I used to read other history texts together and have gotten away from it. This gave us and opportunity to do that again and discuss the book. The book is fairly easy to read for my twelve and fifteen year old. The study questions are a great way to see how much they absorb. While we have not finished our unit study yet, and we plan on doing some more of the creative writing assignment ideas!
If you want to learn more about the book we are reading or the Heroes of History series, you can visit the YWAM Publishing website and also find them on social media.
Facebook: https://www.facebook.com/YWAM-Publishing-482973445102/
Twitter: http://twitter.com/YWAMpublishing
Pinterest: http://www.pinterest.com/YWAMpublishing
Instagram: @ywampublishing
I hope you found this review helpful, and as always, I look forward to your comments. You can also check out more reviews by clicking the Homeschool Review Crew Link below!