Bring History to Life with Heroes of History, Our review of Benjamin Franklin by YWAM Publishing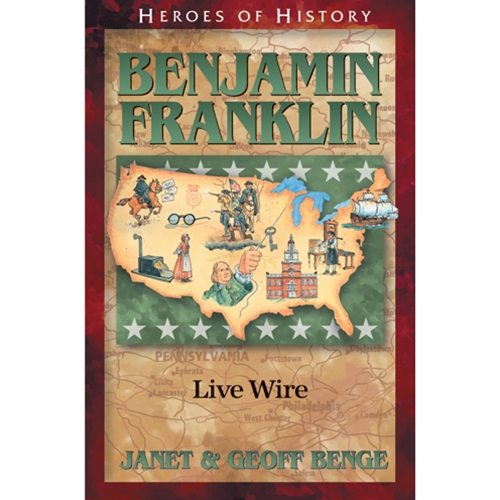 Disclaimer: I received a FREE copy of this Heroes of History: Benjamin Franklin Book product through the HOMESCHOOL REVIEW CREW in exchange for my honest review. I was not required to write a positive review nor was I compensated in any other way.
Bring history to life with the Heroes of History series! Recently, we had the opportunity to read and review Benjamin Franklin: Live Wire by Janet & Geoff Benge from that series by YWAM Publishing, the publishing side of Youth With a Mission. These books present history, geography, government, and science in a unique way, and the tales of these inspirational people leave a lasting impression on children as they grow.
About the Heroes of History Series from YWAM Publishing
Written by Janet and Geoff Benge, the Heroes of History features historic figures and tells about their lives. This series of books features historic figures and tells about their lives. We chose Benjamin Franklin for this one, but there are many others from which to choose like:
Downloadable Study Guides
Each book in the series has an accompanying study guide to enrich the learning experience. These books all have unit studies available, and the unit study guides give your child or family ways to enhance your learning experience. They contain arts and crafts activities, study questions, essay options, and more. You get a rich unit study with each book you choose.
Thoughts on Heroes of History Benjamin Franklin: Live Wire
My son used this book as part of American History studies. Here is what he had to say:
Benjamin Franklin: Live Wire tells the story of Benjamin Franklin and his discoveries with electricity.

At 195 pages, it is not an extremely long read, although I admit I am a slow reader. It took me a bit longer to read it than it would take most. I found the book informative and very detailed. I like when books contain a lot of details. Therefore, I found it enjoyable.
The book starts off with Ben and his son William experimenting with a kite and brass key in a thunderstorm. The next chapter goes back to Benjamin Franklin's childhood and then progresses from there. Throughout the book you learn about how he apprenticed at a printing press and even how he was ambassador to France!
I think I might be a bit above the reading level for this book (I'm 16 in 10th grade). I'd say this is definitely a good read for around 6th or 7th grade and above. I thoroughly enjoyed the book from start to finish. As I said it was very informative. I definitely recommend this book to anyone that wants to learn more about Benjamin Franklin.
Connect with YWAM on Social Media
I hope you found our review of Heroes of History Benjamin Franklin: Live Wire helpful. Find out more about YWAM and connect with them on social media! Don't forget to check out more reviews about other books in the series by clicking the Homeschool Review Crew link below.
Facebook: https://www.facebook.com/YWAM-Publishing-482973445102/
Twitter: http://twitter.com/YWAMpublishing
Instagram: https://www.instagram.com/ywampublishing/
Pinterest: http://www.pinterest.com/YWAMpublishing