Learning the World through Homeschool (Printable)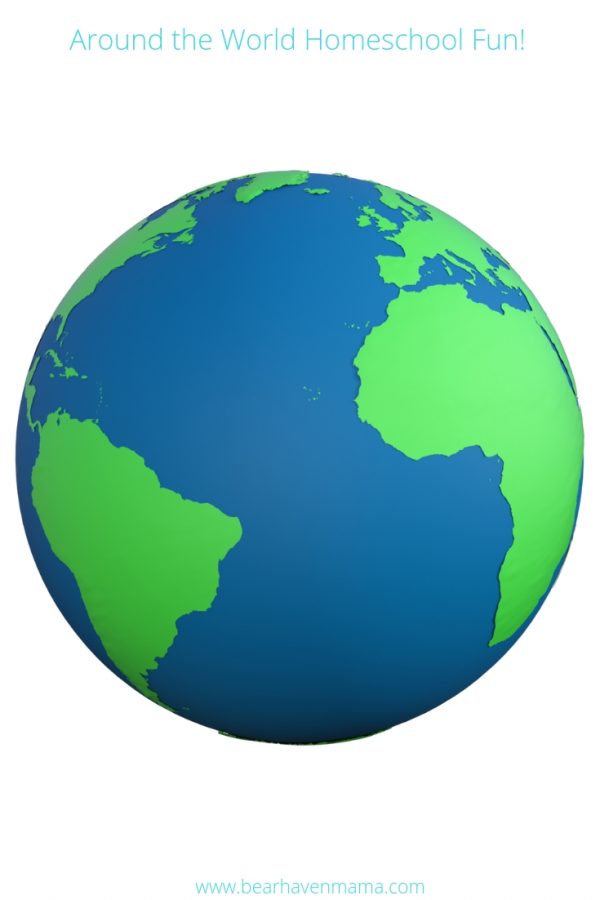 Misfit Mama Bear Haven is a participant in the Amazon Services LLC Associates Program, an affiliate advertising program designed to provide a means for sites to earn advertising fees by advertising and linking to amazon.com . For the more about affiliate disclosures, please click here.
As if I did not have a plate that was already loaded, I decided to help a few friends in creating a secular co-op this year, and our theme is "Around the World." With this theme, we will be exploring countries and cultures all over the world, and the kids will be choosing places for each region covered every month. They will then share amongst their peers at the meetings what they learned through reports, songs, food, stories, pictures, or whatever way they decided to do their portion. While I am starting to feel a little overwhelmed, I am also excited about this program!
Just like many other homeschool moms, I often find myself over-scheduling us. Every activity I see, I want to make sure my kids can take part. I want them to see their friends as much as possible, and I want them to learn as well. However, I am also very introverted. I have anxiety, and while I love my friends too, I get overstimulated and tend to shut down at some point.
We did a great job in organizing for the first semester, and for that I am glad. We built our foundation with all age groups in mind, and while some activities are better for older kids, there are others for younger kids as well. The best part is that after we get going, we all can participate as we are able, which makes the anxiety in me feel a little less anxious.
To begin our co-op classroom session, I came up with this printable to let the kids make their own passport. I know my older kids are going to find it cheesy, but I also know they will do it just the same. For all of my readers looking for something fun to do for geography, I am sharing my passport with all of you. It has room, once folded that you can put a sticker or stamp each time you learn about another country or continent. There is a page to put your location and to even draw a self-portait! My suggestion is using this fun stamp set I found on Amazon! I am planning on ordering one for myself for our group!
I also found another good way to get started is to look at maps of the world. If you want to find some that you can color and that also have countries marked, check out Printable Maps. We found a great one for South America, which is where we are starting!
These are super simple, but fun ways to encourage learning, especially when you have kids of various ages. I have been really trying to find more ways that I can encourage learning amongst all my kids in fun ways, which is difficult since they range from 4-15.
I hope that you all have fun with this, and feel free to share your geography plans or passport pictures with me! Also, don't forget to subscribe for more homeschooling and parenting fun!
Passport Printable. Click to Download and Print