Life With Dog Family Movie Night Review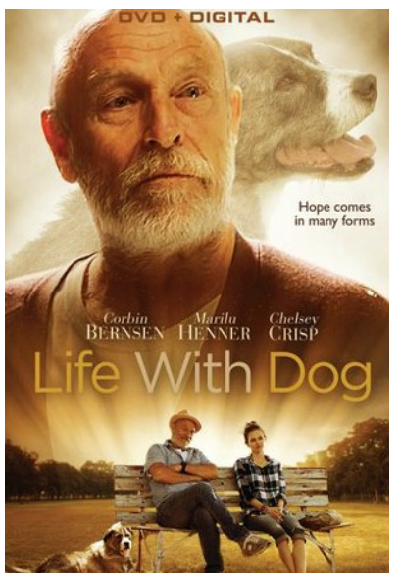 *Misfit Mama Bear Haven is reader supported. This means that when you purchase through affiliate links on this site, I may receive a small commission, at no cost to you. Misfit Mama Bear Haven is a participant in the Amazon Services LLC Associates Program, an affiliate advertising program designed to provide a means for sites to earn advertising fees by advertising and linking to amazon.com.*
Recently, for family movie night, we watched Life with Dog from Mill Creek Entertainment. The premise of the movie sounded interesting to me and the kids, so we were happy to review it. The film filled us with a lot of emotion, and I wanted to take a moment to share about this film with all of you.
What this film is about
Written and directed by Corbin Bernsen,  Life with Dog shows the raw grief of a man, Joe Bigler, who had just lost his wife, Alice, played by Marilu Henner. While Alice was a woman of faith, Joe was not, and the movie focuses on his lack of faith, as well as his path to dealing with grief and closure as his wife's death. While dealing or not dealing with his grief, as well as some developers that want his home, a silent dog entered his life. This dog became his catalyst to ultimately start dealing with the grief and also finding closure for his loss.
What the Kids thought of the Film
All three of us agreed that this movie was definitely a family movie night film for older kids and adults. Some of the themes and Joe's anger issues may be a bit intense for younger viewers. Both of my older kids enjoyed the movie and said they would recommend it to others to watch. They both said the movie was pretty heavy, and they would have liked to see the dog more in the film. However, all in all, they liked the film.
What I thought of the Movie
I read some of the other reviews on this movie before watching it, and I wasn't sure how I would like it based on those reviews. Therefore, I wanted to add my perspective on the subject of grief and faith in this film.
I found the character of Joe Bigler very relate-able to someone who has lost someone very dear to them. While, I thought he might have had some mental issues, as he did talk to his dead wife quite a bit, I also know that grief and the stress from it does some strange things to a person. I found parts of this movie quite raw.
There was a moment where he was talking to his wife and daughter's pastor. He talked about his losses and how he actually prayed, and then he spoke of his anger of how God didn't answer his prayers. For me, I began to cry because I felt that pain…I felt it when I miscarried the first time. I remember praying and yelling at God to bring him back. The anger I felt was so intense. I have had those moments of anger the past few years in dealing with illness and how much it took from me. To go through a deep loss is enough to cause pain, anger, and a loss of faith.
While I also think the dog needed to be more present in the movie, I thought the movie did a great job of showing some of those real and raw emotions of loss. Also, it would have been great to see a bit more to the ending, but I think it did show closure in the end and that Joe moved forward with his life. Overall, I thought this was a great family movie night pick.
Where to Buy Life With Dog
The DVD release of "Life With Dog" will be available at Walmart stores starting June 4, 2019.  You can also purchase it on Amazon for $11.99.
You can also find Mill Creek Entertainment on Social Media, so be sure to check them out there for more about this movie and other family friendly entertainment!
Facebook: https://www.facebook.com/MillCreekEnt
Twitter: https://twitter.com/millcreekent
YouTube: https://www.youtube.com/millcreekent
If you would like to read more reviews on Life with Dog, please be sure to also check out the other Homeschool Review Crew Reviews! As always, I would love to hear feedback from you, so feel free to ask questions or tell me how you liked the movie in the comments below!