Make a Fun Easter Egg Basket Card Craft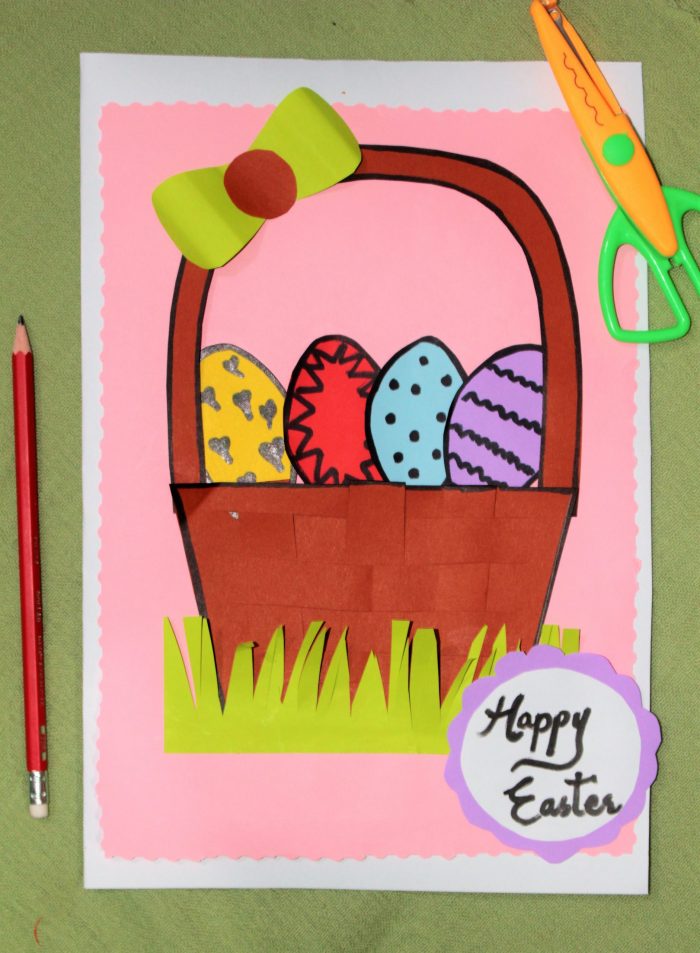 My littlest one loves to make crafts, cards, and decorations for any occasion or holiday! If your kids are like mine, then you will enjoy this Easter Egg Basket Card Craft! Even if you have little ones, you can still do this craft together!
*This post contains affiliate links, which means I may receive a small commission, at no cost to you, if you make a purchase through a link! Misfit Mama Bear Haven is a participant in the Amazon Services LLC Associates Program, an affiliate advertising program designed to provide a means for sites to earn advertising fees by advertising and linking to amazon.com.*
How to Make an Easter Egg Basket Card Craft
Materials
To make your Easter Egg Basket Card Craft for Kids, here is what you need:
white card  21 x 29 cm

colored cards 21 x 15 cm

construction paper or origami colored sheets

coconut rope 25 cm

scissors

glue stick

markers
Instructions
Let's start our Easter Egg Basket Card Craft for Kids!
Step 1: Start by organizing all the materials together. Believe me, this makes any craft making so much easier with kids. Also, when you don't have everything together, some times kids lose interest. Make them the guardians of all the materials if they are too young to handle the cutting or even pasting.
Step 2: Fold the white sheet into a card. Now using a pair of curvy scissors, if you have them, cut down the pink sheet one inch smaller than the size of your card front. This will give your card a nice white border. You can use different colors too.
Step 3: Cut 12 one-inch pieces of brown paper. Paste them in the form of a basket weave. One way you can do this is to paste one side pieces and then start pasting as you weave. You might have to take charge at this point because it's a little tricky.
Step 4:  Cut out egg shapes drawn on colored papers.  Draw their outlines using a black marker if the edges are too rough. This will make it look neater and give the eggs a nice pop. 
Step 5: Paste that eggs around the basket. Let your kids handle the pasting and placement.
Step 6: Encourage the kids to add in more details in the basket. Mine added a bow and a Happy Easter sticker.
And that's it!
Hope you found this Easter Egg Basket Card craft tutorial a fun one! If so, don't forget to share and pin it! Also, don't forget to follow me for more fun, parenting stories, and homeschool adventures!