The Tastiest Red, White, and Blue Mini Fruit Pizzas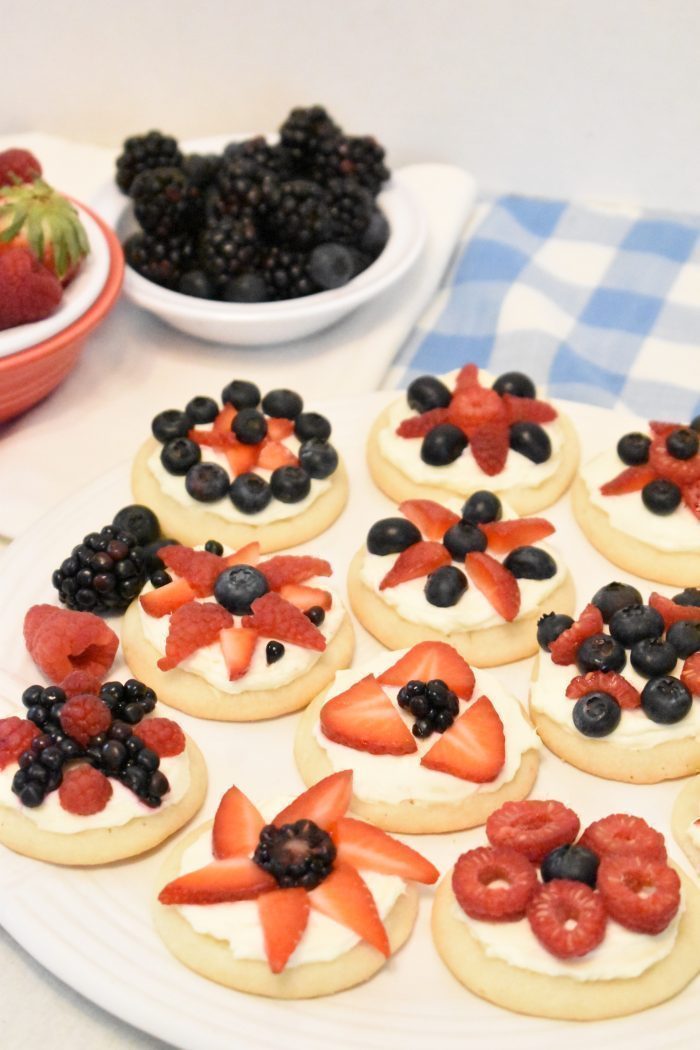 With the Fourth of July approaching, many of us are trying to find fun recipes to make for family gatherings and bbqs. If you are like me, you want something that tastes delicious, but also doesn't take a lot of time which is why these patriotic red, white, and blue mini fruit pizzas are a great idea for any gathering!
(If you want, you can skip to the bottom to print the recipe)
For me, I love making things that look like I spent a lot of time making them. I like my foods to be fun, yet colorful. However, I have a very active little person who loves to "help," but that help often results in needing to be quick and/or entertaining in order to hold her attention as my little sous chef! Desserts like this are great for little helping hands!
I think it is wonderful to introduce your kids to the kitchen early! While they may make a mess, this is a great way to create wonderful memories with your kids! Also, it doubles as homeschool Home Ec too! These mini fruit pizzas are great because you can buy cookie dough or make up cookies ahead of time to make this easier on you. These mini fruit pizzas with a patriotic twist are sure to be a hit with big and little people alike! So without further delay, here is the recipe! Enjoy!
Red White & Blue Mini Fruit Pizzas 
Ingredients:
For this recipe, you will need the following,
2 Dozen sugar cookies (your favorite recipe or refrigerated dough) 

8 oz Cream Cheese (softened) 

¼ Cup Powdered Sugar 

½ tsp Vanilla

Strawberries

Blueberries 

Raspberries

 Blackberries 
Directions:
Bake your cookies according to recipe or package directions and cool completely. 
In the bowl of a mixer combine your sour cream, vanilla and powdered sugar. 
Spread each cookie with an even layer of icing. 
Cut your berries up into a variety of shapes and sizes. Arrange them in patterns on your cookies to create a beautiful and festive platter!
Easy peasy and tastefully delicious! I hope that you enjoy making these, and that they are the hit of your next bbq! Also, be sure to tag @bearhavenmama on social media if you take pictures, as I would love to see how yours turned out!